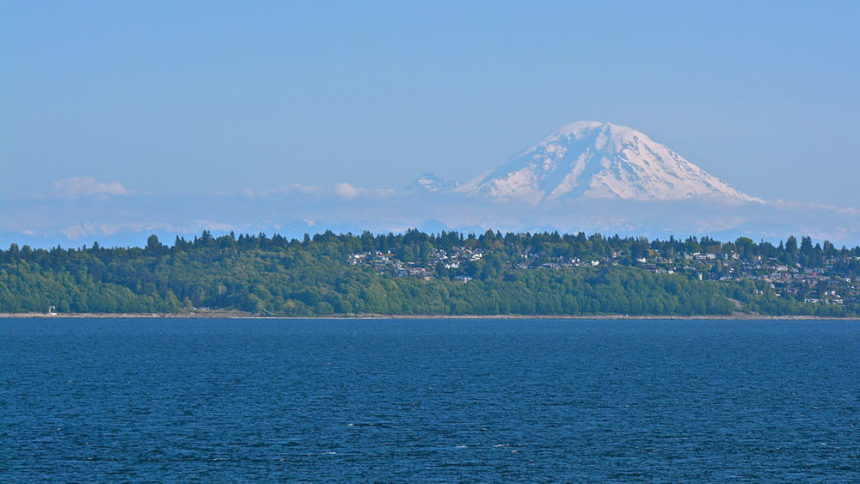 Alaska In Sight: Sailing Away On Holland America Sip Savor Sail
The beginning of the Alaska cruise season is a big day for the Port of Seattle, Holland America Line and a whole bunch of people. On our sold out sailing of Holland America's Westerdam, we found out firsthand just how important Alaska season is, beyond the numbers as we began sailing away on Holland America Sip Savor Sail.
Don't get me wrong, the numbers stack up rather nicely. The 2015 Alaska season will pump $millions into the local economy as nearly 200 ships will sail round trip from the Port of Seattle. Important to we who watch such matters, that means a whole lot of travelers will take a cruise. Better yet, they will visit some truly unique destinations along the way to a lifetime-quality memory to be cherished forever. I had forgotten what a beautiful place Seattle is until high above the city at the Space Needle restaurant where it's hard not to see the attraction.
Still, being at the traveler-friendly Port of Seattle on the first ship sailing of the season is a special time. As the nearly-hibernating cruise business wakes up after a winter's nap, Holland America passengers were happy to be here and ready for adventure.
On hand for a quick preview of Holland America Line and ms Westerdam, about 50 journalists from the Seattle and Washington area.   Chosen mainly because they had never been on a cruise, I was curious what they thought about the great big ship that will sail with a 1922 passengers, totally sold out.   Simply "We love it" said one. "We're going to Vegas next week and wondered how a cruise might compare" said a more inquiring one. All enjoyed a preview lunch in the ship's main dining room.
Another hit, a preview of Holland America's entertainment program, today focusing on the line's signature BB King Blues Club.
On hand, Holland America Line President Orlando Ashford, just about as nice of a guy as you might like to meet and a great fit for the line.  We like that Ashford respects and honors Holland America Line's rich history and wants to energize the brand to insure future generations will enjoy it too.  We also like that after the BB King Blues Club preview, Ashford stayed behind to talk to the musicians rather than run off to schmooze the press. Classy.
We did not have to wait long for the view to get better either. Mt Rainier came to the party on a clear evening as we sailed away from the Port of Seattle on our Sip, Savor, Sail itinerary. On board, passengers enjoyed sailing away as regional wines were featured on deck along with Alaska Brewing Company's complete lineup of craft beers.
Over the next seven days, many of those passengers will participate in a variety of events hosted by the invited wine expert, brew master and guest chefs. A Northwest Wine Tasting will take advantage of our day at sea with wine expert Bob Bertheau sharing the flavors and history behind some of the great Northwest's most popular wines.
Already an instant hit with passengers, many of whom were locally sourced and fully aware of his brand, Alaska Brewing Company's Steve Gamba passed out logo bottle openers from his company. Later Gamba will host a Brew Master's Lunch pairing craft beers from his company in a lunchtime feast.
Chef Jeff Maxfield who we met pre-cruise at Seattle's Space Needle restaurant along with Chef Seis Kamimura from another little local place, Centurylink Field. At a meeting of Sip, Savor, Sail celebrities and the Westerdam's culinary team, it looks like everything is in place for a great cruise experience.
Our new friend and wine expert Bob Bertheau will bring his knowledge from the vineyard to the cruise ship with a Northwest Wine Tasting seminar, later today, taking full advantage of our only day at sea.
Frankly though, how could this not be good? We're sailing to Alaska. The weather looks good. We have a ship full of cruise travelers ready for fun. Holland America Line's market dominating and seamless package of Alaska experiences are primed and ready to go.   All we have to do is pay attention and enjoy the ride.
Alaska opening day hoopla out of the way, camera crews gone along to the next story, provisions stocked, shore explorations booked, schedule in hand, we're ready for adventure.   Stay tuned, our Sip, Sail, Savor Alaska Cruise is underway and we invite you to sit back, relax, unbutton your slacks and enjoy the ride.
Catch up with Holland America Line's Sip-Savor-Sail Alaska cruise right here, where there will be daily posts, along with these other resources:
*Flickr account required – Sign up here