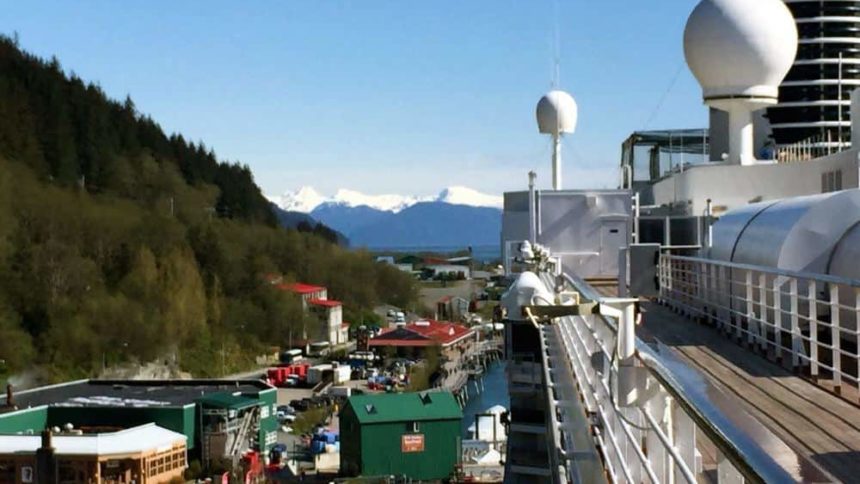 Alaskan Wonder Awaits, One Way Or Another
On the way to Juneau, the first stop on our Holland America Sip-Savor-Sail itinerary, I was reminded of one of the best parts of an Alaska cruise. Once there, I tested some of the advice we commonly provide for those on the way to the land of the midnight sun for the first time. Mixed in, we met a new chef, learned a few interesting facts about Holland America Line and ended the day happy to say "We're in Alaska!"
Just before arriving in Juneau, we met Chef Seis Kamimura who has some impressive credentials with stops along the itinerary of his career that include Spago Beverly Hills.  Also a Seattle resident, Kamimura connected equally well with the Westerdam audience, also mainly from the Pacific Northwest.
Making a very nice Venison Chili was almost as well accepted as some truly unique Jalapeno Sour Cream Corn Bread…which would be best described as "to die for".

Find recipes in our Facebook Photo Gallery
Flightseeing Worth Considering Our Strategy
Flightseeing, getting off the ground and up in the air, tops our list of shore explorations at a number of Alaska destinations. This same thought pattern supports the notion that a cruise tour (cruise + land time before or after) is a good idea. Both reveal a wonderful dimension of Alaska not available on a standard cruise 7-day cruise on one but our feet never leave the ground.   There are marvelous things to see deeper into Alaska than a ship tour can take us and get us back before the ship leaves. Getting up in the air takes us closer to glaciers, mountains, hidden lakes and more…if you get to do it.
Weather is a term that means a whole lot more in Alaska than it does in, say, the Caribbean. Bad weather or just high winds, can cancel flying tours by helicopter or plane. For that reason, we always suggest booking flightseeing twice, once early in the voyage then again a couple days later. That strategy allows for a bad weather cancellation to ruin one experience, with another as a backup.
Our first booked flightseeing tour was a Tour of Four Glaciers With A Salmon Feast of some sort thrown in for fun. High winds caused that to cancel, as sometimes happens.   Thinking ahead, I also booked an Exclusive Mountaintop Flightseeing and Crab Feast for a couple days from now in Ketchikan.   Backup plan in place, I am not concerned about missing the 2nd one, although it could happen.
Odds are that there will be some other "get me off the ground" tour available that I can switch to. In Juneau, I could have also switched instantly to a helicopter viewing of something and may very well do just that, should my 2nd tour cancel as well. Helicopters, it seems, are not as weather sensitive.   Who knew?  End result today: No flightseeing, price paid automatically refunded to my shipboard account.
So What To Do Now?
Right about here is where the advantages of sailing a big ship in Alaska come into play. I could have gone back on the ship, had a spa treatment, resumed engaging the onboard programming that continues even in port or just taken the rest of the day off.
But this was the first day of the Alaska cruise season, ms Westerdam was the first ship in port so these two ladies were the first two visitors to Alaska on a cruise ship in 2015.
Instead,  I wandered into the Red Dog Saloon for a nice Alaska Brewing Company White Ale, served on tap which is only marginally more amazing than in the bottle.   A bowl of seafood chowder worked nicely there too.
Leaving Juneau for an overnight sailing to Glacier Bay and scenic cruising, one of my most favorite parts of any cruise, I was reminded of just how very peaceful and quiet it is here.  This is slow travel at it's best and bears a strong resemblance to the river cruise version of scenic cruising.  Once in Glacier Bay,  park ranter and Huna Cultural Interpreter will come on board about 7:30 and be introduced to those who are really into scenic cruising at a meet and greet onboard.
About 9:00am, we will enter Glacier Bay and that same ranger will narrate our visit, teaching us about the waters and forests throughout the day.  We'll have Wine and Cheese on the Bow, a signature Holland America Line Alaska event and later in the afternoon, the opportunity to take a Polar Bear Plunge will have passengers in the water for a Glacier Bay Tradition, certified in writing so the can prove to the folks back home that they did it.
The jury is still out as to wether I will attempt this plunging thing, something this Florida boy would probably fare better watching than participating in.
We'll see!
Catch up with Holland America Line's Sip-Savor-Sail Alaska cruise right here, along with these other resources:
At ChrisCruises.com:
Check These Other Resources Too:
Live Flickr Photo Albums*all the photos, (good and bad) updated throughout the voyage, Internet signal permitting.  Check back each day as we add more photos to each of these albums:
Facebook Photo Albums photos added throughout the voyage here as well.
*Flickr account required – Sign up here