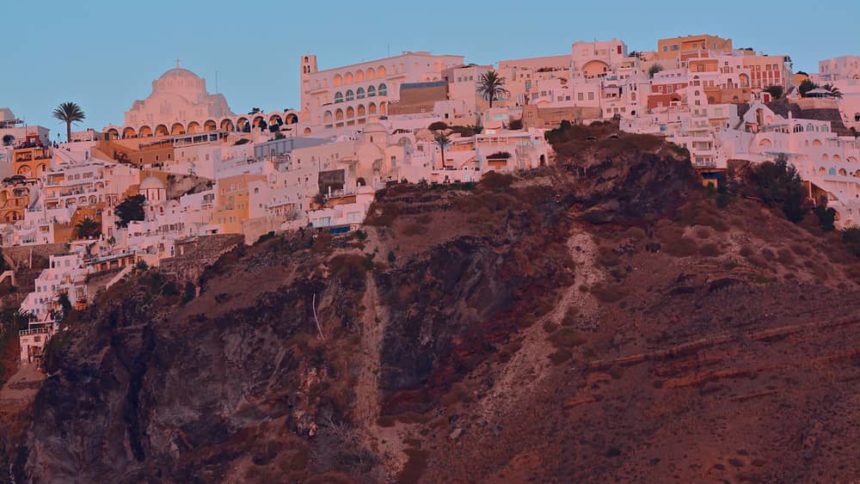 Viking Star: The Thought Behind The Ship
Making our way to Greece, we stopped in Santorini (Thira) for the day on Viking Cruises new Viking Star.  The result of a volcanic eruption 3,600 years ago and thought to be where the lost city of Atlantis was, it takes ascending to the top of a steep cliff to visit.  That climb can be done a number of ways, each taking a different kind of energy.   After visiting this lovely place a number of times in the past, each time taking an easier route to the top, I chose to walk up this time.  The Viking-enabled experience brought some reflection on a number of topics.
I walk every day at home, counting steps less than 20,000 a day are unacceptable.  When traveling, that number often drops but is understandable.  It's hard to get steps in on airplanes and tour busses.  Checking the Viking Daily newsletter, noted was that the climb to the top took 300 steps.  Going ashore early, I thought that might be a good idea and proceeded up the side of the cliff.
It did not take long to realize that the 300 steps mentioned were actually like giant steps that equalled over 1000 in regular people (me) steps.  Add that they were on a steep incline all the way up, sometimes at a 45 degree angle had me stopping from time to time to catch my breath/prevent a heart attack. Still, I continued to the top much like I did as a small boy, following my father up a mountain in Colorado.
Then, it was a matter of choosing to do something and seeing it through; a lesson of sorts peppered with interesting/disconcerting comments like "If I die, go back down the mountain and find a ranger" and "when we get to the top we need to scream as loud as we can so save your breath" and "slow down boy, it's a long walk.  Steady wins the race".
Looking down upon Viking Star, at anchor 300 steps (or 1000 depending how one counts) below, I was reminded of the Herculean effort it must have taken to launch not only a new cruise line but the first of a number of ships as well.  After more than a week on board Viking Star, it has become apparent that Viking is well on their way to doing for the world of ocean cruising what they did for the world of river cruising.  In a number of ways, they are re-writing the book on how ocean cruising is done.
Will we see some of the unique elements introduced on Viking Star spill over to other cruise lines? Maybe, but the most positive outcome fans of cruise travel can hope for is a bit different thinking on the part of other lines.  They won't seem afraid to try something different.  They will actually listen to their passengers and fans more, bringing to the table what they really want as opposed to telling them what they will get. Which brings us to Manfredi's, one of three included dining venues that would go for an extra charge on most cruise lines.
Every part of it worthy of an upcharge on major cruise lines, this one is also part of the more-inclusive Viking Cruises experience.  A multi-course extravaganza of Italian delight (seriously) this venue hits the mark for anyone well-versed in Italian eateries.   Course by course (with a total of six possible), Manfredi's could very well be the new gold bar standard of Italian eateries at sea.
A bustling venue where the movements of waiters go about in blurring speed, what happens via well-trained Viking chefs remains in clear focus, as it should.  From beginning to end, Manfredi's well-defined menu offers clear choices for diners in what can often be a confusing mess of options elsewhere.
Example: Pasta Fagioli, a standard staple in any decent Italian restaurant is served piping hot. So hot that shaved parmesan melts over the top when added just before hitting the tabletop.  Impressive.  But such is the case in many areas on Viking Cruises new Viking Star.
Frankly, I'm just eager to answer reader questions about this marvelous cruise experience, on a number of never-asked-before topics.  Realizing no one may never ask the questions I am so prepared to answer, I'll jump in here with some unique qualities owned by Viking Star that I have never experienced on any other ship.
There will be more of these unasked questions coming up. It's just the nature of this very unique cruise travel experience. Stay tuned.
Follow Along On Our Viking Star Voyage
Right here at ChrisCruises.com-
See our Flickr Photo Albums–  (check back often, more photos added as we sail)
Facebook Photo Albums-
Twitter and #VikingStar