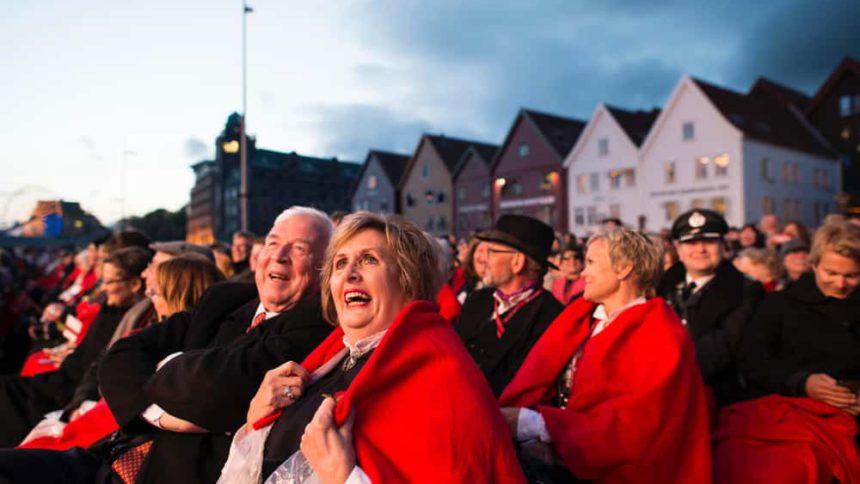 Viking Star + Norwegian Flag + Bergen = Dream Come True
It was a dream come true for Torstein Hagen, Chairman of Viking Cruises as new Viking Ocean Cruises christened its first ship, 930-passenger Viking Star at a Bergen, Norway ceremony. Timed to occur in conjunction with a citywide celebration of Norwegian Constitution Day, the christening occurred two years after a gala Beverly Hills event set a goal to refocus the world of ocean cruising.
"This is a ship that was built for exploration and designed with our Scandinavian heritage in mind, and our guests will experience it from the moment they step onboard." – Torstein Hagen, Chairman of Viking Cruises.
Significant to note: Viking Star's arrival in Bergen marks the first time in 10 years that a Norwegian-flagged passenger cruise ship has chosen Norway's second-largest city as its homeport.  In a nod to Hagen's Norwegian heritage, the mayor of Bergen, Trude Drevland, served as ceremonial godmother, offering a blessing of good fortune and safe sailing for Viking Star.
Viking Star's christening occurred following a maiden voyage that began April 11 when the ship set sail from Istanbul, making stops along the way at what will be regular ports across the Mediterranean and Western Europe.
At the christening ceremony, Viking Star served as the backdrop for a first-of-its kind floating concert with over 20,000 local residents and invited guests in attendance.  The world-renowned artists and musicians who performed,  all of whom have a personal connection to Bergen, including Norwegian soprano Sissel, actor Bjarte Hjelmeland, singer-songwriter Sondre Lerche, acclaimed violinist Charlie Siem and comedy duo Ylvis.
Following the concert, christening ceremony, and a fireworks show,Viking Star set sail on a special journey to Oslo and from there will continue on to Copenhagen, Berlin, St. Petersburg, Tallinn, Helsinki and Stockholm.
Designed For Destination Cruising
47,800-ton Viking Star accommodates 930 passengers in 465 staterooms, each with its own veranda. Built to allow direct access into most ports, Viking guests enjoy easy and efficient embarkation and disembarkation with few time-consuming tender operations, allowing more time to enjoy each destination.
Like the popular Viking Longships of Viking River Cruises, details throughout Viking Star honor Viking Ocean Cruises Nordic heritage and address many common concerns of cruise travelers:
How about a pool with a view?  A unique glass-backed infinity pool off the stern offers unobstructed views.
Indoor-outdoor spaces in multiple locations offer more options for al fresco dining than any other ship we know of.
Extra large windows and abundant skylights make nearly every table in dining areas a window table with a coveted ocean view.
A wrap-around promenade on a lower deck and easy walk-around access on a higher deck brings a variety of views for walkers.
Designed For Comfort
On Viking Star, a variety of design elements speak to the Viking spirit of discovery and connection to the natural world.
A carefully curated collection of Norwegian artwork adorns the walls of the restaurants and public spaces.
In the two-deck Explorers' Lounge at the bow of the ship, the décor was inspired by ancient Viking trade routes and navigation methods – imagery of star constellations and astronomical maps are complemented by antique globes, astrolabes and sofas with cozy pelts.
In the Spa, the Nordic ritual of the hydrotherapy pool and the first Snow Room at sea (both complementary), are inspired by Scandinavian nature and feature Swedish limestone and black slate; juniper and teak wood details; recycled and etched opaque glass; and cast iron.
In the all-weather top deck Wintergarden, blonde wood "trees" stretch their branches up to the glass ceiling, forming a lattice canopy over a serene space where guests can enjoy afternoon tea service.
A favorite space, the Viking Living Room, has a geometric garden was inspired by the wild lichen of Norway's Finse Mountain Plateau.
Carefully Curated Itineraries 
Viking Ocean Cruises guests enjoy itineraries designed to best showcase the destinations that they visit. Each includes a complimentary excursion in each port.   An onboard cultural enrichment program includes academic lecturers, local speakers and interactive demonstrations.
Special Introductory Pricing Offer
From now through May 31, 2015, Viking is offering U.S. residents 2015 Special Savings and 2016 Early Booking Discounts with 2-for-1 pricing on cruise departures and savings of up to $750 per person on international air. This is the way to go.
Of special note: pricing includes a veranda stateroom, shore excursions in each port of call, all onboard meals, and all port charges and government taxes. Better yet, Viking guests also enjoy many complimentary amenities as part of their fare, including: beer and wine with lunch and dinner service; wi-fi; self-service laundry and 24-hour room service.  To explore the idea of a Viking Ocean cruise,  contact a travel agent or call Viking toll free at 1-855-8-VIKING (1-855-884-5464).
Photos  – Viking Cruises
See more about Viking Star  in these previously published posts:
See more of Viking Star in our Facebook Photo Albums