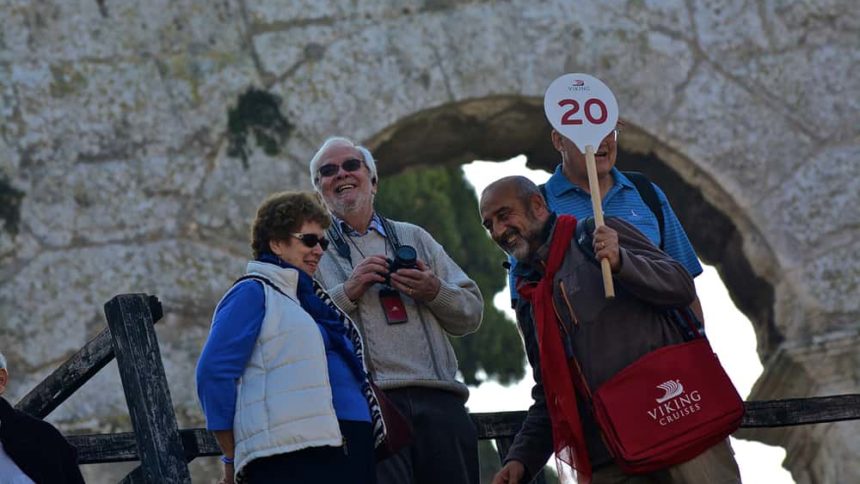 Viking Star Included Tours: Promise Vs Reality
One of the big reasons we're fans of Viking River Cruises is the included tours at every stop along the way. Normally something one might pay extra for on a cruise, getting a good orientation of the interesting places Viking Longships stop adds genuine value. When we heard that Viking would be including a tour at each port on an ocean cruise, we were impressed. Still, it was hard not to wonder how well that process would go in action. Surely there is a big difference between moving less than 200 people off a river cruise ship and nearly 1000 off new ocean-going vessel Viking Star. Indeed there was but the execution of the plan was done in a typical Viking way that turned out wonderfully, at our very first port of call.
Stopping in Pula, Croatia for the day, the proposition of moving so many people off and back on Viking Star was further complicated. Pula is a tender port, requiring the additional step of gathering tour group members twice, once on Viking Star so they are all together then again ashore before the walking tour could proceed. We'll get to the mechanics of how it works shortly. First, let's back that up to the booking process for a bit.
Viking Star Included Tours: Planning
The process begins for most passengers in advance of sailing. Once booked, at a certain point before sailing based on level of stateroom accommodations, everyone is invited to choose shore excursions. The included, guided tour is one of those choices. One might also choose from a select number of optional tours, flavored very much like the few optional tours on Viking's river cruises; an intense immersion into some specific topic at a particular location.
Arriving on the Viking Star, we found tickets for all our selected tours waiting in our stateroom.   Still, we could have visited Viking Star's Explorer's Desk, a pleasant area just off the comfortable Living Room area of the ship, to discuss other options with people well versed on each destination. In a way, that process is sort of like visiting the Shore Excursion desk on other ocean cruise ships…but not. The Explorer's Desk is an area with tables and chairs where Viking Star destination experts sit with passengers to chat, as opposed to a counter with employees on one side and customers on the other. That difference may seem subtle but the significance is huge in the overall Viking Star experience. It's typical of how things are handled on board by a first class hotel operation: personally.
Viking Star Included Tours: Execution
'So we have our tickets, now what?' is a typical first time Viking ocean cruises passenger question. Where to go and when to go there also follows a pattern familiar to those who have sailed with Viking River Cruises. The larger number of those on tour is broken down into smaller, manageable groups, each with a local guide and an assigned time to meet in Viking Star's main dining venue, The Restaurant.
The exact time to meet comes the day of the tour in the ship's daily newsletter, The Viking Daily. Times are staggered too, with early, mid- morning and early-afternoon options available. Jumping ahead to the verdict: the entire process on Viking Star took no longer than walking off a Viking longship on any given river, with the exception of the time needed for an efficient tender boat ride to shore.
Viking Star Included Tours: The Experience
That said, the ocean tour itself was very much like the river cruise tour as well; knowledgeable local guides engaged group members, answering questions and pointing out places we might return to during ample free time at the location. It's that 'ample free time' element that we were particularly interested in. On river cruises, we get greedy about that part of the experience, wanting time to savor the moment our own way which might mean simply sitting at a sidewalk café for a few hours to pass the time.
Good news here: There is a surprisingly huge amount of free time due to long stays in port possible by a destination focused cruise operation. We could have stayed ashore after our tour for hours…but we were also anxious to return to the ship.
Viking Star is one very nice ship full of pleasant crew members who seem genuinely happy to be here, as opposed to the 'I am being pleasant because I have been told to be' demeanor we see so often elsewhere.  Not that the 'robotic nice person' is not better than the 'surly, complaining crew member one might think works on a slave ship' we also see quite often, they are.  No crew member we have met on board Viking Star has been anything other than pleasant, to the point where passengers bring up that topic in conversations among ourselves.  At the end of the day, I don't know that one could as for much more.

Follow Along With Us:
Up next some interesting dining and culinary operation observations, two places in Croatia and more.