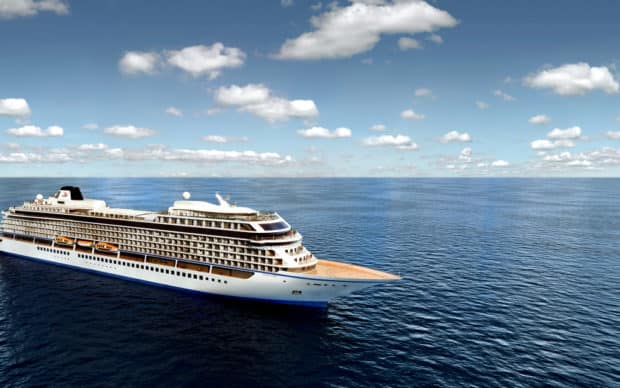 Viking Ocean Cruises: Fearlessly On Track
Viking Ocean Cruises is on track to launch May 17, 2015, promising a new and unique ocean sailing experience.  With initial itineraries that will explore Scandinavia, the Baltic and the Mediterranean, Viking Ocean Cruises will feature an inclusive travel experience inspired by what they do on the popular longships of Viking River Cruises. The notion of a more inclusive ocean experience on brand new ships is resonating with cruise travelers too. Flagship Viking Star, under construction right now,  is sold out for the 2015 maiden season.  For any other cruise line, that would be a huge win.  For Vikings, it's a call to action and an opportunity to set clear direction for their version of ocean cruising.
When we first met Viking Ocean Cruises about a year ago at a Hollywood gala,  the event had been billed as "the biggest cruise story of the year".  Details revealed then supported that claim as Torstein Hagen, the plainspoken chairman of Viking Cruises explained the need.
"There is a hole in the market somebody should fill," said Hagen "I feel we invented modern river cruising.  Now I hope we can revive the destination part of ocean cruising."
Viking Oceans looks set to do just that and more with an included tour at each port plus complimentary wine, beer , soft drinks, Wi-Fi and more fueling a nearly sold out maiden season for Viking Star.
"It is our view that in the race to build enormous ships, some cruise lines have lost sight of the destinations to which they sail. Based on the incredible response we have received, it is clear that our guests want a new experience to truly explore their destinations." 
Fearlessly Defining The Market
Answering that call of popularity, Viking announced earlier this month the addition of two additional ocean ships, bringing the total number  in its new fleet to three. Viking Sea and Viking Sky will both debut in 2016 and will be sister ships to 930-passenger Viking Star. 
"Based on the incredible response we have received, it is clear that our guests want a new experience to truly explore their destinations," said Hagan in a press release.
Fearlessly Defining Themselves
Better yet, while we were with Viking for the launch of 18 new longships earlier this year, Hagan nailed what we believe is the single most important ingredient for Viking's success, saying "We can't be everything to everyone".
That single, simple, bold statement would send shockwaves through the boardrooms of mega ship lines.  At family-owned Viking Cruises, its the fearless way they go about business.
Those who have sailed on Viking River Cruises' longships know very well how Viking delivers that destination-focused package, wrapped up nicely and tied with a bow.
Indeed, the Viking Ocean Cruises experience also looks to be quite unique.
All Balcony Staterooms
All staterooms will have a balcony and vary from 270 square feet (considered mini-suite size on existing ocean ships) to actual two-room suites ranging from 757 to over 1000 square feet.
Destination Focus Weaved Throughout The Experience
Like the Viking river experience, Viking Oceans promises enriching entertainment closely connected with destinations the new ships will visit.  Continuing that destination focus, dining venues will feature meals prepared with fresh, local ingredients.
Nearly All-Inclusive
In addition to an included excursion at each port, something no other ocean cruise line does, Viking adds a variety of other normally extra charge items.  Included are wine, beer and soft drinks during meal times; a snappy wi-fi internet connection, self-service laundry and 24-hour room service.
The Evolving Viking Experience
Unlike the Viking river experience, the ocean ships will have pools, two of them including one with a retractable dome for all weather use.  A glass-backed infinity pool will be cantilevered off the stern which Viking says will allow passengers to "swim surrounded by their destination".
Dining Done Right
In addition to the The Restaurant and the World Café an Aquavit Terrace-like venue, the two choices on Viking river longships,  Viking Oceans will offer intimate dining experiences at The Chef's Table, Italian Grill and The Kitchen Table, also included in the price.
A Continuing Focus On A Positive Environmental Impact
Viking made a big impact on reducing the carbon footprint of river cruise ships with the introduction of their revolutionary longships.  Viking's ocean ships continue that focus, featuring energy-efficient hybrid engines, hydro-dynamically optimized streamlined hulls and bows for maximum fuel efficiency, onboard solar panels, and equipment that minimizes exhaust pollution and meets or exceeds worldwide environmental standards.
Viking Cruises- Staying Ahead Of The Game
Viking Star does not set sail until 2015 but already, Viking Ocean Cruises has a rich library of video as we see in the introduction to the revolutionary ship featured with this post.
Stop by Viking's ever-increasing video library for more on destinations the new ocean ships will visit, online learning assets aimed to make for a rich travel experience and more.
Now Is The Time To Book
From now through June 30, 2014, Viking is offering an Early Booking Discount with 2-for-1 pricing on cruise departures and savings of up to $2,000 per couple on international air. Contact a travel agent or call Viking toll free at 1-855-8-VIKING (1-855-884-5464).