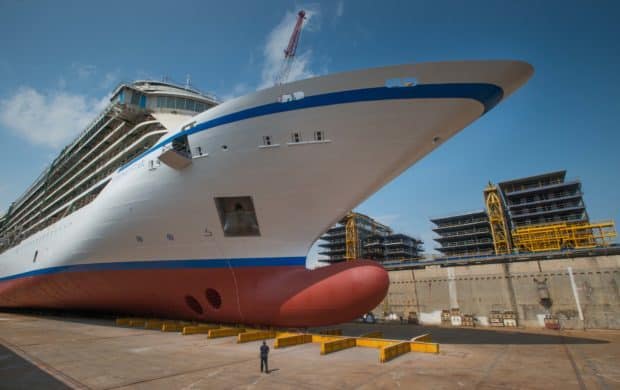 Viking Family Grows, Ocean Ship Marks Milestone
Continuing unprecedented growth fueled by an intense focus on the destinations they visit, Viking Cruises today celebrated the float-out of new Viking Star, the first of a trio of ocean-going cruise ships.
"Today is a proud day for our entire Viking family, as we are one step closer to launching a new era of ocean cruising," said a proud Torstein Hagen, Viking Cruises Chairman, noting that the new ship's maiden season was sold out before she even touched water.
At Italian shipbuilder Fincantieri's Venice shipyard, 930-passenger Viking Star is taking form, with the float-out offering the first public view of a ship we believe will have a huge influence on the future of ocean cruise travel.
Taking The River To The Sea
The ships of Viking Oceans are being built around a concept that has proved amazingly popular on the rivers of the world, perfected by Viking River Cruises, reported here and right for the times.  Bringing like-minded, curious travelers directly to iconic landmarks and dream destinations, Viking River Cruises is an inclusive experience that leaves no stones unturned from beginning to end.  Every step of the way, Viking is there for those that sail with them and, in a resounding vote of approval; the travel professionals that those well-traveled passengers rely on.
Fans of the Viking River Cruise product overwhelmingly support the notion of taking that experience to sea, a fact that "just demonstrates how enthusiastic our guests are for destination-focused ocean cruises," noted Hagan.
Unprecedented Growth: Defined
How popular is the idea of a destination focused, all inclusive, small ship ocean cruise? Popular enough for the Viking Oceans family to grow, even before the first ship has set sail.  At a press briefing not long ago Hagan said that at Viking "we don't try to be everything to everyone," a heartfelt commitment that really resonated with me.  Instead of spreading themselves thin, appealing to all sorts of travelers in all stages of life, the Viking focus is razor-sharp and one difficult to emulate by other lines.  Concentrating on mature, well-traveled and affluent travelers the response has been overwhelming.
"It is this enthusiasm that has led us to place orders for two additional sister ships, Viking Sea and Viking Sky," concluded Hagan.
With a trio of ships now under construction, Viking Star will be the first to debut in early 2015 with maiden voyages in Scandinavia and the Baltic as well as the Western and Eastern Mediterranean.  Ports will appeal to those interested in history, art and culture but not in the details of what makes travel happen. Viking takes care of that for them, seamlessly.
Uniquely Different, Solidly Popular And For Good Reason
Every cruise fare will include a veranda stateroom (there are no inside or oceanview staterooms on the ship) and shore excursions in each port of call with hand-picked Viking guides, not the same tour company used by whatever ship happens to drop by.  Competitively priced for genuine value, in addition to actually enjoying all onboard meals and cultural enrichment programming, guests quickly buy into what happens onboard becoming 'Vikings' themselves with an appreciation for the many complimentary amenities.  Part of the deal: beer and wine with lunch and dinner service; high-speed Wi-Fi; self-service laundry and 24-hour room service.
In this video, one of a rich library that is just one part of the resources at the disposal of Viking passengers, we get an idea of the theory behind the idea