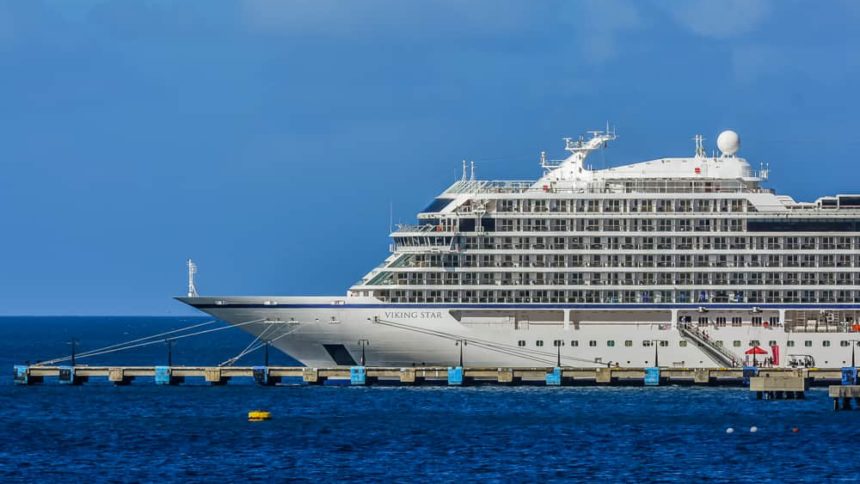 Viking Celebrates Next Ship, We Highlight Unique Viking Features
Viking Ocean Cruises has marked a major milestone in the construction of Viking Sun, the fourth ship in a rapidly growing fleet. That the 930-passenger ship was "floated out" is indeed something to celebrate as Viking Sun touched water for the first time. The Float Out ceremony is one part of a shipbuilding tradition that is respected by most cruise lines. Different here, Viking Sun is one more example of a unique ocean cruising option unlike any other. As the world of cruise travel marks the occasion, we take a look at unique Viking features that have proven popular in a growing book of itineraries around the world.
"It is always a proud moment for the entire Viking family when a new ship meets water for the first time," Viking Cruises Chairman Torstein Hagen said at the ceremony. And a family operation it is indeed. Hagen's daughter Karina guides the onboard experience of the global travel brand, insuring continuity and quality in all they do. Also on on hand at the ceremony was the ship's 'madrina', a special woman of honor who assists in the ceremony.  It's a scene we're familiar with after traveling to shipyards for other float out ceremonies.
When we traveled to Italy for the float out of Princess Cruises then new Royal Princess, it was Carolyn Spencer Brown (@CruiseEditor), Cruise Critic Editor-in-chief who was chosen for that honor. Viking Ocean Cruises chose Mrs. Yi Lou, Vice President of China Merchant Bank Financial Leasing. An appropriate choice, Viking Sun will be the first ship in the fleet to call on China as part of a 141-day World Cruise that spans 5 continents, 35 countries and 66 ports. Also part of the ceremony, Mrs. Lou welded commemorative coins representing her birth year, as well as the birth years of her parents. A special coin, dated 1911, was also welded to represent mother Ragnhild "Mamsen" Hagen, the mother of Viking's Chairman and the woman after whom the onboard Norwegian deli Mamsen's is named.
Mrs. Lou then cut a cord to allow water to begin flowing into the ship's building dock. Following a two-day process that will set Viking Sun afloat, the ship will then be moved to a nearby outfitting dock for 'fitting-out', the final stage in the construction process.
All of the above is an interesting story, similar versions of which are shared by a number of cruise lines. Where this one departs the usual and customary is in the ship itself and the unique ocean cruising experience that continues to receive rave reviews every day.  Let's take a look at those unique Viking features.
Distinctly Unique Viking Features
All Veranda Staterooms: Starting at 270 sq. ft., all staterooms feature a balcony and every one has an unobstructed view
Explorer Suites: The ship features 14 two-room Explorer Suites ranging from 757 to 1,163 sq. ft. that offer sweeping views from wraparound private verandas as well as the most amenities and privileges of any category onboard.
Two Pool Choices: The Main Pool has a retractable roof permitting any-season swimming.
LivNordic Spa: In keeping with Viking's Nordic heritage, The Spa onboard is designed with the holistic wellness philosophy of Scandinavia in mind — from the centuries-old tradition of the sauna to a Snow Grotto where snowflakes gently descend from the ceiling through chilled air. Berlitz Cruising & Cruise Ships 2016 named it one of the "5 best cruise ship spas."
Explorers' Lounge is a two deck high space that features sweeping views through double-height windows.
Mamsen's is a gourmet deli with a menu that evolves throughout the day, beginning with a Norwegian breakfast and ending with Split Pea Soup served late at night
The Wintergarden: Guests looking for serenity will find it in the Wintergarden for afternoon tea service under a canopy of Scandinavian trellised wood.
Dining Choices: Viking's ships offer multiple restaurant locations and food choices, all included as well as the most al fresco dining at sea.
Enriching Entertainment: No generic production shows here. Onboard entertainment includes Viking's Culture Curriculum and Destination Performances featuring folkloric shows and musicians playing regional and classical music; an onboard cooking school allowing guests to learn how to prepare local specialties.
Sustainable Features: Designed with the environment in mind, Viking's ships feature energy-efficient hybrid engines, hydro-dynamically optimized streamlined hull and bow for maximum fuel efficiency and equipment that minimizes exhaust pollution and meets the strictest environmental regulations.
Interestingly, not one of the features mentioned here includes the stellar crew of the Viking ocean cruising ships.  That's a factor we've covered here in great detail and also one of the most unique Viking features.  See Viking Crew for a whole lot more on that topic.
Deployment and Booking Information
Viking Sun will debut in late 2017 with maiden voyages to Cuba and the Caribbean before embarking on that 141-day World Cruise . Now through December 31, 2016, Viking is offering U.S. residents special savings and discounted airfare on the Viking Homelands itinerary – plus a new "choice" offer, allowing guests to choose between a free beverage package, $400 shipboard credit per stateroom or prepaid onboard gratuities.