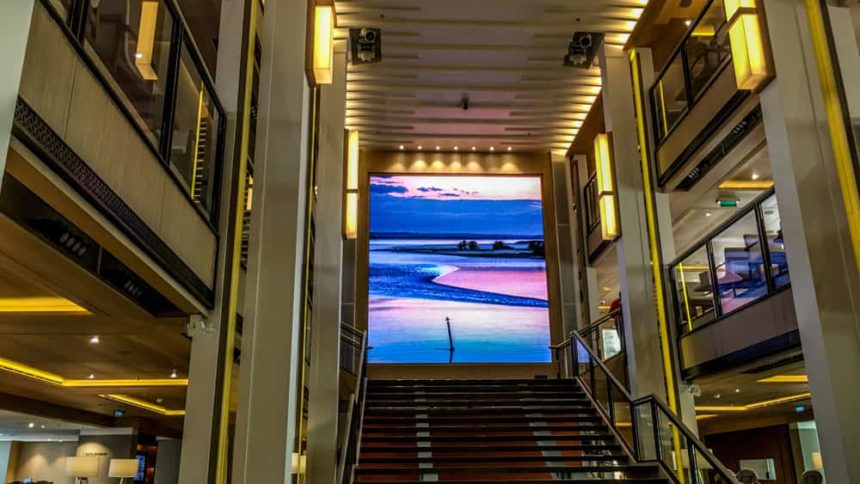 Viking Caribbean Preview: More Of Your Questions Answered
This time next week, we'll be at sea on Viking Ocean Cruises new Viking Star.  It will be the first of three full days at sea, on the way to San Juan on a 15- day New York to the West Indies sailing that will include 9 guided tours in 9 different countries.  One of the big questions has to do with life on board Viking Star.  Let's jump right in.
Sally G from Omaha asks "I am excited to hear what those included tours are all about. I'm a big fan of the Viking River cruises but wonder; What will you do at sea for three days??"
Great question Sally and a logical one.  As we've already covered in this Countdown to the Caribbean series, Viking Star has no casino and few top deck attractions to occupy our time.  Before settling in to what we will do, let's further define what we won't do.  Other common elements on other ocean cruise ships that are absent on Viking Star:
No ice skating rink
No water slides
No rock climbing walls
No pool games
No children play places
No hydra cycling or watersports of any kind
No Starbucks, or other branded dining or drinking venues
No virtual features at all
No planetarium, illusionarium, 3, 4 or 5D theaters
No grass growing, no trees planted or anything that sticks out over the side of the ship
That said, back to your question.  What will you do at sea for three days?  The answer: Lots more than we ever have on any other ship.
I have to admit, that notion of what to do on days at sea crossed my mind recently, when sailing Viking Star on their In The Wake Of Vikings Itinerary.  That one had three full days at sea as well.  While evenly disbursed among the other days of the itinerary, I wondered if there would be times when there was nothing to at all to do.  The good news: there absolutely was.
There is a huge difference between having nothing to do and having nothing to do on Viking Star.   If one so chose, they might pick a book off the shelves of Viking Star to enjoy in one of the many comfortable spaces that flow throughout the 930-passenger ship.   Many did.
Other spent time in daily lectures, where experts on the geographic locations we would be visiting delivered a part of Viking's Culture Curriculum, an onboard ambiance that goes much farther than an enriching series of lectures.  A focus on engaging us begins early in the morning with Mindful Yoga for those so inclined.  Don't care for yoga, go see Yoga the bartender at the Living Room bar for an espresso or some other hand-crafted coffee drink.  And why not? It's included in the price.

Perhaps you might want to sleep in?  Go ahead.  When you're ready for breakfast, pick up the phone and order it.  The only breakfast room service menu to speak of is a very nice door hanger type to put out the night before. Nevermind that. You slept well, woke at your own time and were hungry.  Call room service.  Odds are whatever you want, they have.  Better yet, it will be delivered shortly, fresh as though it had been prepared in the hallway.   Sally, are you starting to get the idea here?  Let me go on.
Like the Viking River Cruises you are fond of, Viking Ocean Cruises does not have a lot to say in advance about onboard entertainment.  The focus here too is off ship and the do it with style.  Still, to say there is nothing to entertain you would be inaccurate.  Stroll down to the Living Room before dinner to enjoy Munch Moments.  That's when the Viking Classical trio presents Norwegian music while the works of Edvard Munch (in a partnership with the Munch Museum) grace the Atrium screen. One night it's Munch's works celebrating nature and architecture, another it's Munch's dramatic pieces, works related to oceans and travel or some other theme.  For a number of travelers on our cruise, it was a wonderful way to study art, a little bite at a time before dinner.
Also interspersed throughout the day, Resident guitarist Laslo appears from time to time in the Explorer's Lounge, in the Living Room or poolside.  Similarly featured in a variety of venues at different times, Resident Pianist Olga…which might strike a familiar chord from your enjoyable Viking River Cruises.  It's that sort of pleasant interlude that continues the flow of the day from one event to another in a relaxed and enjoyable way.

Turning up the entertainment factor a notch, house band Oaseas appears from time to time and an evening show features the Viking Star Singers and Dancers, often accompanied by instrumentals and sizzling soloists.   Still, the lions share of enjoyment comes from other passengers we have come to know along the way.
Tours are made up of small groups of Viking travelers, small enough to get to know one another and even a solo traveler as I was gets invited to dine with others, it's just a natural part of the experience.
All of the above merely touches on the 'what to do on board' element of Viking Star and, quite frankly, there is too much to do here as there often is on other ships too.  Unique: the choices here are really hard to make.  Coming up on our New York to the West Indies sailing, Viking's first in the Caribbean, we plan on focusing a bit more on entertainment including a popular venue onboard that we have not even mentioned up until this moment: Torshaven and a rather huge part of the entire Viking Ocean Cruise experience: the Program Director.   I could go on for days answering this question so let me end with a list of other onboard events you might not want to miss:
A visit to the spa- it's included in the price and a must-do at least once.  Many do it every day
Nordic Bathing Ritual- contrast bathing the Nordic way will probably be one of the highlights of your cruise.  I'll just leave it at that.
Movies- Viking Star actually does have two cinemas and shows classic films there daily. Also featured, night time Popcorn Movies in the Star Theater
TED Talks-also in the cinema and on your stateroom televisions, the TED Talks series of personal enrichment.  A different talk each day, they may (this is Chris from 1968 talking) blow your mind.  While all are offered on stateroom televisions, again the shared experience of it all works on this ship and you know that so and so was at that last TED talk and knows what you do now.
Wonder what Bocce ball is?  They play it here and someone will show you how
Afternoon Tea is not to be missed.  Period.  (Suggesting the White Strawberry although new friends John and Sam from the UK tell me Black Tea is the only tea)
Pre-Dinner performances:  See them all but absolutely don't miss The Music of ABBA
Dancing – Torshaven is the place for those who do not have two left feet as I do
Super Duper Tip Top Shelf (not an actual event) but speaking of Torshaven, an impressive ultra top shelf of liquors are found here (extra fee is reasonable)
Great Viking Cook off- features officers of the Viking Star competing to create a culinary masterpiece.
Viking Heritage is a self guided tour on deck two of the Atrium and in the Explorer's Lounge on deck eight showing realistic replicas of fascinating artifacts
All of the above aside, your stateroom itself is a very pleasant space that you will want to spend some time in.  Proof: I do not think I have ever seen as many "Do Not Disturb" signs on stateroom doors during the day.  I know this because one day at sea it was raining and cold on the way to Greenland so I walked the interior hallways of the ship, deck by deck.  There were a lot of Viking travelers enjoying a variety of stateroom configurations.   We'll get more into those different stateroom categories with the next question but know this right up front: Every stateroom has a balcony and not one of them has an obstructed view.
The Countdown Continues
Facebook Photo Albums