Verified: Koningsdam Brings Future Of Holland America Line
My sailing on new ms Koningsdam represents nearly the end of a journey that began a little over two years ago. That was when Holland America caught my attention as a cruise line where something substantial was about to take place. The energy was in the air.  The pieces were falling in place. A blip on my passenger experience radar said 'pay attention, something good is going on here'.  Experiencing the end result of that effort during our Norse Legends sailing with Holland America Line, we're nearly at the finish line.  But before we go there, let's take a look back at the robust moves that have taken the nearly 150 year old cruise line this far.
It was the opening of Alaska cruise season 2015 when we flew to Seattle to sail a 7-day Voyage Of The Glaciers itinerary with Holland America Line.  Coming in town a couple days early, I was impressed with the long and deep relationship Holland America has with Seattle and the Pacific Northwest. 
Visiting Chateau Ste Michelle winery brought me in contact with winemakers as passionate about what they do as Holland America Line is about presenting unique itineraries on their fleet of ships.  Up in the Seattle Space Needle the local connection between that iconic landmark and Holland America Line was also hard to miss.  That wonderful local connection between cruise line and other concerns is a huge indicator of a cruise line's relationship ability in general.
That ability is something of importance to cruise travelers who will likely sail with one cruise line multiple times and others less frequently.  The relationship they have with the cruise line is a substantial factor in the buying decision. This is beyond the bullet point list of benefits to past guests, flashy ads on TV or direct mail offers to buy.  That's sales and marketing.   This is more than that.
This is a travel company obviously focused on taking good care of their clients.  That's opposed to a travel company focused on profits, to the point that profit dominates all they do and it's painfully obvious.  In addition to the opening of Alaska season, that 205 sailing was also what Holland America calls a Sip – Savor – Sail cruise. 
Packed with wine and beer focused content, seminars, presentations and special events, it was an additional layer on top of the normal Holland America hotel operation.  And it was done well.
In the Fall of 2015, I traveled to Seattle for a few days, to meet with Holland America Line's Culinary Council at the Chateau Ste Michelle Winery in Washington state's wine country. Featured at the event, a hands-on wine blending along with a luncheon featuring dishes from council members.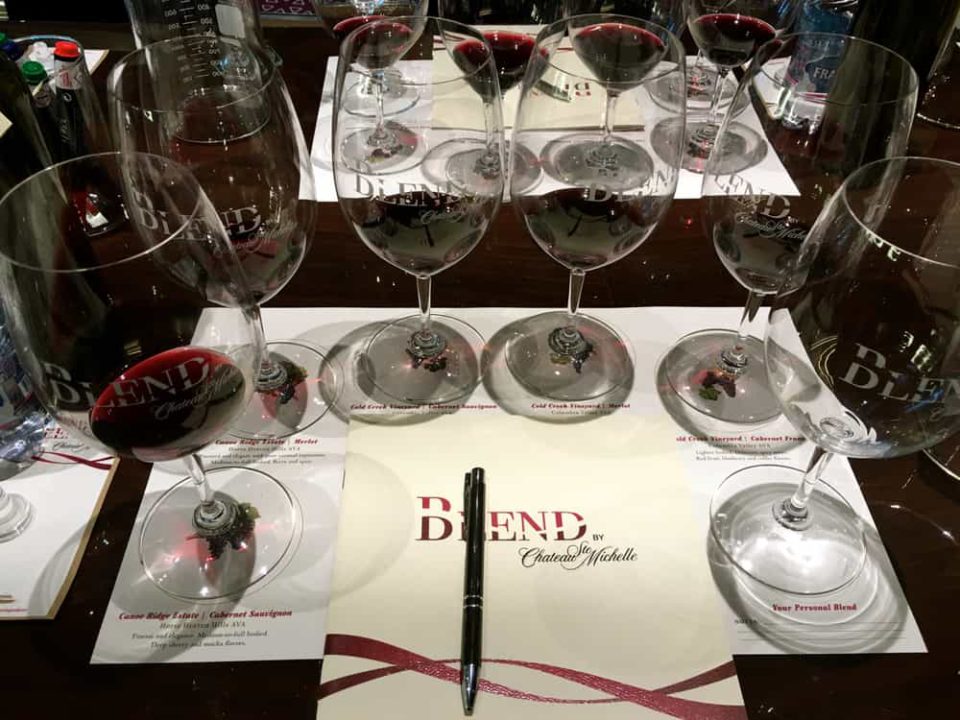 The event highlighted Holland America Line's commitment to culinary excellence and a new onboard wine-related experience: BLEND, which we did during our Koningsdam sailing.  Along with this story, every step of the way, Holland America Line president Orlando Ashford.
Along with Ashford came a forward thinking focus he calls Collective Intelligence, a process that draws on the capabilities, knowledge and abilities of everyone in the organization to craft new onboard programming. In Holland America Line To Reveal Future we introduced that concept, predicting  "it will be that same Intelligent Collective Effort that will fuel the fire behind the ideas, concepts and partnerships to be announced."
Indeed, that is what we see here aboard new ms Koningsdam.  Happy crew, a nicely appointed ship, entertainment worth watching; a customer-focused effort that has paid off and made it down to passenger level unscathed.
Interestingly, our last port of call in Norway is Bergen.  Regular readers here know Bergen as the place where Viking Ocean Cruises began and first ship Viking Star entered the history books.  You won't have to look far here to find a great amount of support for the Viking brand.  Much of that support comes from trusting the people of that organization to deliver what they promise.
Still, Viking is an entirely different universe than other cruise lines.  The Viking organization has created a unique travel product unlike anything else offered anywhere.  In a remarkable move, Holland America Line has evolved their offering to have same 'new and fresh' feel.  The right product at the right time; a rather herculean effort for a cruise line that has tradition going back nearly 150 years.  No other big ship cruise line does business the way Holland America Line does nor with as high a level of passenger focus. They are not expected to. Sheer numbers of people to attend to dictate some efficiencies that take away from the guest experience…or do they?
Room service is available 24 hours a day.  Comparatively lengthy breakfast, all day and late night menus are offered.  Delivery time estimates are accurate.  The food is good.  Call it a win and go home for most other big ship cruise lines.  Holland America saw the notion of charging for extra special room service food being tried by other lines, thought about it, added a few premium items then flipped on the Collective Intelligence switch. The result added select items from the ships's specialty restaurants for a reasonable price, delivered during early evening hours.  In a box. Smart.
While other cruise lines do everything but make room service crew wear shirts that say "WE HATE ROOM SERVICE",  Holland America figured out how to do it well and make it work…with 2000 passengers.
The Next Chapter
My sailing on new ms Koningsdam represents nearly the end of a journey for Holland America Line.  The next chapter brings ms Koningsdam to the Caribbean in the Fall.  As we believe Viking Cruises in the Caribbean this Fall will add a new and easy-to-compare platform from which to launch fabulous cruise vacations, so will Holland America Line.  That puts two distinctly different options in the Caribbean and I believe will put other lines on notice: It's time to clean up your act.
Coming Up:
More From Our Koningsdam Sailing
Posted Live as we sail  the North Sea to Norway
Facebook Photo Albums
Flickr Photo Collections– check back later too- more photos loading all the time