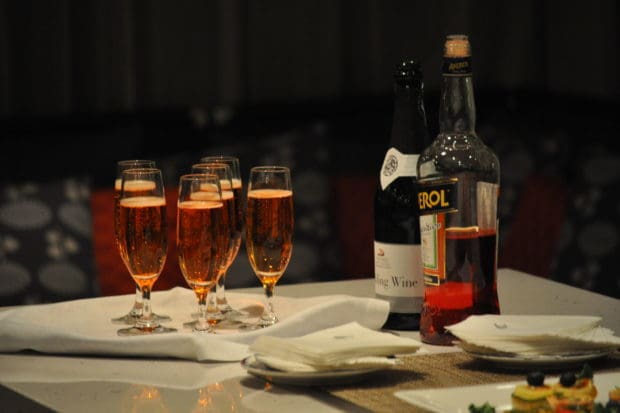 Unique Culinary Events Highlight Viking Cruise Experience
If we had to break down all the elements of a cruise vacation that add up to a win for travelers, cuisine would surely be one commanding a lot of attention.  Along with visiting multiple destinations but only unpacking once, a good value and other ingredients for any given cruise line's recipe for success, cuisine ranks high with passengers.  On our Viking River Cruise, sailing from Passau to Budapest, cuisine both on and off our ship was unique and also seasonal.
Amazing Experiences Ashore
Up close and personal with Christmas markets typical of Europe on our Viking longship,  the December sailing was rich with holiday fare.
In Salzburg, Austria we used free time for lunch at St Peter, the oldest restaurant in Europe, in operation since 803AD.  Talk about ambiance, St Peter the restaurant is adjacent to St Peter's Abbey, perhaps the oldest Benedictine monastery in the world.
In Vienna, we had lunch in the same building we would return to later that night for a unique concert featuring the music of Austrian composers Mozart and Strauss.
Budapest brought dinner at Gundel, Hungary's Michelin-rated traditional restaurant since 1910 located in Budapest City Park where the largest outdoor skating rink in Europe is located.
These were grand, elegant culinary institutions where kings, queens and presidents have visited for hundreds of years.  But they were just one part of what Viking provides.
Street Food Like No Other
We found similarly interesting culinary offerings on the streets of Passau as long but thin sausages were inhaled quickly, raising the bar for 'real sausages' beyond the reach of supermarket brands.  The aroma of fresh Gingerbread  led us to Simon bakery, stopping along the way for our first taste of glühwein, a mulled wine beverage we would run across at every Christmas market we saw (recipe below).  Giant pretzels in flavors ranging from the salty kind we might find at home to Apple Cinnamon, Chocolate, Hazelnut and more.
One of our favorite things to do when visiting Europe (or Winter Park, Florida for that matter) is to sit at a sidewalk cafe and watch the world go by, enjoying a cup of coffee or a glass of wine.  I did that our summer Grand Euro tour with Viking but cold winter temperatures had shut down a great many of the cafes that thrived on hot summer days and nights.  Still, we found a few in Budapest that had been enclosed with see-through plastic and armed with heaters to warm the air inside.
Regional Cuisine OnBoard Viking Longships
On the ship, dining menus included local specialties as we sailed through the various regions that lined the river Danube.  Wiener Schnitzel, the traditional breaded veal version, on board Viking Skadi rivaled the version I had at St Peter restaurant in Salzburg.  Lunch one day in the ship's Aquavit Terrace brought a Taste of Austria, featuring a variety of the sausages offered in the region as well as other traditional Austrian cuisine.
Also on our Viking longship, a cooking demonstration was well-attended by passengers.  We learned how to make Lebkuchen, the German version of Gingerbread; how to decorate Christmas cookies, making a pastry bag of parchment paper with some amazing results; and how to make glühwein, the (sinfully) potent holiday wine beverage available at all the Christmas markets.  That one you need to have right now.  Glühwein (Hot Mulled Wine) is one of many recipes we can find on Viking's website along with videos that we highly recommend viewing before sailing.
"Around the Christmas season, public houses in nearly every European town offer mulled wine as a delicious antidote to the season's chill," says Viking River Cruises. "To warm up on a stormy evening or put yourself in a celebratory mood, you can make your own glühwein at home."
See more images at Culinary Experiences On Our Viking River Cruise, a Facebook Photo Album
Ingredients:
Four quarts dry red wine (e.g., zinfandel, pinot, burgundy)
One quart dry white wine
One pint brandy
One cup white sugar (more to taste)
Six cinnamon sticks
Twelve whole cloves
One-eighth teaspoon allspice
One-eighth teaspoon mace
Two oranges
One lemon
Directions:
Pour red wine into a three-gallon pot (or larger) and begin gentle heating. Add sugar and spices. Stir until sugar is dissolved. Add brandy and white wine, slices of one orange and the lemon. Steep for one hour over low heat. Serve hot and garnish with orange slices or a cinnamon stick.
Makes 12–15 servings.
Special Tip: Glühwein is served at Christmas Markets in special glühwein mugs which can be returned for refill or refund of a €1 -€2 deposit on the mug.  Don't give it back; each one shows the location of that market and makes for a unique, wonderful and inexpensive souvenir.
Miss any part of our journey?  Our Sealogs have the entire experience, every word, photo, song and more.