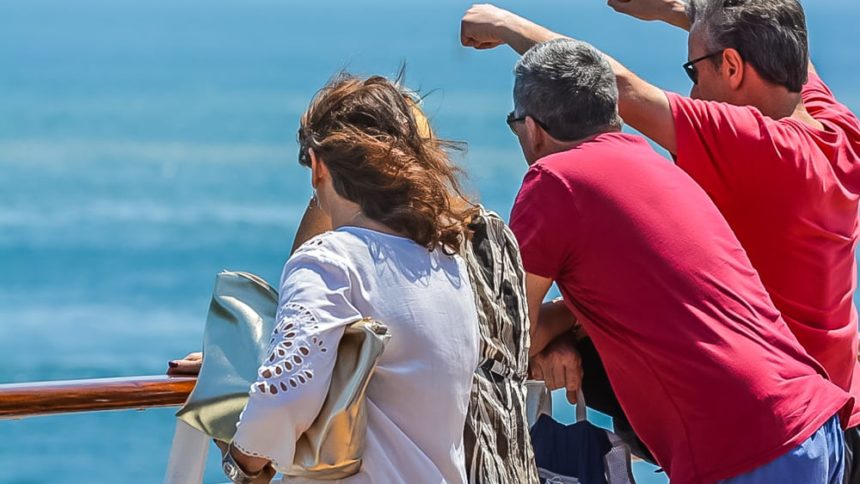 Transformative Adventures Bring Notable Advantages To Cruise Travel
When sailing with any cruise line, what we do off the ship often makes the difference between a good and a great travel experience.  It makes sense to invest some time noting what we will find at each stop along the way.   Considering organized tours is one way to guide our shoreside plan. Cruise lines and third-party tour operators make short work of deciding what to do, offering a variety of options.  Still, some sources are more thoughtful of our time off ship than others. Online resources sponsored by destinations bring information on popular attractions, UNESCO World Heritage sites and places of particular personal interest. In reality we find that some are passive, ride along and learn tours while others are what might be an unfamiliar term: transformative adventures.
The easy definition of transformative adventures comes to us from the world of adventure travel. Backpackers on a gap year travel quest might come to mind as a go-to example of adventure travel; the picture we have in our heads of what that means.  But that would be a dated characterization.
A new study by the Adventure Travel Trade Association (ATTA) revealed that, more than any other motivating factor, adventure travelers are seeking out transformative experiences that include an expanded worldview, nature, mental health, and learning opportunities.  Interestingly, the best cruise line tours happen when a learning opportunity occurred naturally, contributing to a clear mental focus going forward and an expanded worldview upon reflection.
Transformative Adventures
A Personal Example
Viking Home Visits
On Viking Ocean Cruises interesting In The Wake Of Vikings itinerary, we sailed for 15 days from Norway to Canada.  One stop along the way was Qaqortoq, Greenland where we visited a typical family home.  Walking to that tiny hillside house was a steep climb, made interesting by occasionally stopping along the way to rest.  During those breaks our guide gave flowers names, explained the topography and answered questions. Our voices broke an otherwise silent scene, save for the howl of a local dog or wind navigating itself through rock formations.
Once there, we talked about life in Greenland while enjoying traditional cakes and cookies in their home.  No questions were off limits.  Answers from the family gave us a vivid feel for what it is like to live in Greenland. The answer to one question proved to be a takeaway from this travel experience that might very well be the most meaningful of all.
When asked if the harbor that this family's home overlooked froze in the winter, the senior gentleman of the family explained  "It used to freeze, before global warming".
He went on to explain that many locals still pull their small boats out of the water before winter,  but only out of habit. What was once a required part of preparing for winter is simply irrelevant now as the water does not freeze nor has it for the last 2o years or so. Line up on whichever side of the global warming issue you want to, the effects it is having on the life of people in Greenland right now are profoundly real.   I commonly use that story as my way of explaining transformative adventures.
Transformative Adventures
Unconventionally Archetypical
The ATTA goes a bit further, defining transformative adventures with illustrations that might also be classified as extreme shore excursions.
Track Endangered Black Rhino – Explore the Sand Dunes of Sossusvlei, track the endangered black rhino on foot, and participate in traditional game drives in Etosha National Park. This Adventure Life tour of Namibia also spends two nights walking the Tok Tokkie Trail and interacting with the isolated Himba people.
Train with Russian Cosmonauts – On this exclusive Russian space tour offered by MIR Corporation, witness the manned launch of the Soyuz spacecraft, tour Russia's premier cosmonaut training facility where you can participate in optional cosmonaut training, and experience the live Soyuz-International Space Station docking.
Hangout with Mountain Gorillas – Encounter some of the last remaining mountain gorillas in the world by trekking into the lush forests of Rwanda with Gondwana EcoTours. Track chimpanzees and the beautiful golden monkey, and keep an eye out for elephants and buffalo.
See more ATTA suggested transformative adventures below
Transformative Adventures
Engagement – Knowledge – Purpose
Any one of the above transformative adventures or a version of them can be an add-on before, during or after a cruise travel experience.  Indeed, if not planned ahead, this is where visiting the ship's concierge or shore tour desk is a good idea at the beginning of any sailing.   Still, even what appears to be a rather standard tour can be a transformative adventure with the right curriculum and guide.  Back to Viking for a moment, we saw this first hand on a Viking River Cruise in Germany.
When it comes to tour guides, we have had everything from yackety-yack people who appear to just love the sound of their voice but have little of interest to say, to engaging local Viking guides who seem to be a step up from the rest.
Then there are exceptional guides like our friend Christine Couper, met via Viking on a tour of Bordeaux. Guides that play on this higher level make contact and provide a conduit to make connections with the destinations we visit. At the end of the day, it boils down to three qualities: Engagement, Knowledge and Purpose.  We found all three and a bonus on a Viking River Cruise in Eastern Germany.  On Viking's Elegant Elbe itinerary, an unexpected example of transformative adventure came from a guide on a walking tour of Wittenberg.
Dr Silvio Reichelt brought not only the knowledge that comes from someone who has devoted their life to the study of their subject but an engaging way of delivering it that was interesting and had purpose. In this case we enjoyed a guide who was a historian doctorate with a thesis on the Protestant culture of remembrance.  There is something captivating about having someone show you their world who is passionate about it.
Transformative Adventures
Same Song, Different Singer
We also saw this same level of commitment on a Costa Rica Rainforest and Wetlands tour with Windstar Cruises aboard 212-passenger Windstar Pride. Our guide here too was engaging, taking a solid personal interest in us actually seeing wildlife along the way.  This attitude was a distinct departure from what I had experienced on a number of big ship sailings where the guides were far more blase about what we might see.   A similar level of commitment as guides who had defined stellar transformative adventures with other travel companies, this tour operator took our experience personally.  Rightfully so, along with us on the Windstar Panama Canal & Costa Rica Itinerary was an onboard naturalist, fully schooled on what we would see along the way.
Nationally designated as a Forest Reserve in 1977 and registered as a Wetlands International RAMSAR site in 1995, the Sierpe Terraba Mangroves National Wetlands are entirely state-owned and managed by the Ministry for the Environment and Energy.  The wetland reserve is a bird and nature tour attraction and host an important habitat of many species of birds, fish, shellfish, mammals and reptiles.  It was resident and migratory bird species we found most plentiful in Terraba Sierpe including Herons, Egrets, Cotingas, and Pandion haliaetus.  Our guide pointed these out as we sailed through the protected area, noting that all these species depend on this ecosystem for their complete life cycle; reproduction, growth and feeding.
Transformative Adventures
Extreme Shore Excursions
The Adventure Travel Trade Association has some other suggestions too:
Bike from London to Rome – Ride & Seek has created a cycling tour of historical proportions, tracing the footsteps of Julius Caesar on a 33-day, 2,929 km journey from London to Rome. Crossing waterways, vine-clad hills and mountain passes, this is the only tour of its kind being offered today. Participants will never be the same.
Visit Isolated Tribes of Ethiopia – Encounter the unique and diverse cultures of Ethiopia's Omo Valley and learn about the rich traditions tribes there have maintained for centuries on a new tour from Adventure Life. On the Isolated Tribes of Ethiopia tour, see the fossilized remains of the early hominid "Lucy" and learn about the region's cultures in museums before traveling out long dirt roads to meet and interact with the Hamer, Mursi, Karo, Arbore and Konso people in their villages.
Sip Tea with Mongolian Nomads – Explore the Mongolian capital, Ulaanbaatar and then fly to the red sands of the Gobi Desert to celebrate the Naadam Festival with parades and sporting competitions, such as archery, horse riding and wrestling.  We did a version of this last one traveling with luxury travel company Abercrombie & Kent in Jordan on a small group signature tour. The quiet of the dry, hot desert surrounding us, that tea gave time to talk with local people who appeared to be quite happy and at peace with the world.
Trek Glaciers with Climate Change Scientist – Big Chill Adventures offers an opportunity to explore the southern part of Iceland, known for its glaciers, icebergs and black sand beaches. Highlights include dogsledding, trekking glaciers, snowmobiling, spelunking, and soaking in geothermal hot springs.
Transformative Adventures
The Best Part
Rounding out that experience while driving to the Dead Sea, a lively discussion with our guide about the flawed stereotypes so commonly applied to people from that part of the world.  This came on the heels of spending a lot of time with our guide and driver in Jordan, becoming comfortable with these former strangers from a strange land.
This tour was winding down what would later be referred to as a transformative adventure that began with an A&K signature Egypt tour and Nile River cruise.  During that part we went into the mosques of Cairo to verify first hand, in a nutshell:  people around the world are far more similar to us than they are different.
Meaningful moments from any travel experience are often what we remember.  That's why we really don't mention price very much in this space.  Ten years from now, odds are the price is not what we will remember unless the experience did not live up to expectations.   Focusing our attention on curating at least one transformative adventure during every travel experience will guarantee good memories in the future if not a more fulfilling life right now.