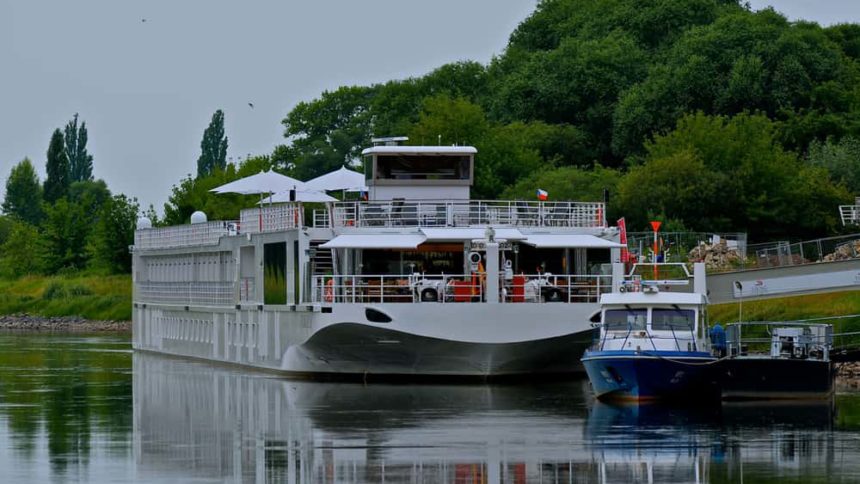 The Viking Advantage: The Nature Of Travel, Applied
Coming in to this 10-day trip with Viking River Cruises, I addressed the issue of how low water on the Elbe River would prevent us from sailing.  The plan was to let that topic go once the experience was underway and focus on what we actually ended up doing. While we're still not done here, today is the day we get off the ship and travel to Berlin which is indeed the end of the road.  In the first of two parts detailing what we will call the Viking Advantage, we have some parting thoughts that will prove helpful to other travelers in a similar future situation.
Ocean vs River
In the world of ocean cruising, defining the experience when a ship does not sail is easy.  It's cancelled.  There is no practical way to take travelers from Cozumel to Grand Cayman without the ship.  Ocean cruise lines will try to modify itineraries for weather-related events and are pretty successful at it, rarely cancelling sailings.  Still, if that modified itinerary causes the ship to miss a favorite port of call, it's a negative situation that is often hard to get past.
The Nature Of Travel
It's right about here that when the nature of travel separates the men from the boys.  Some will move past the unexpected disruption while others will allow it to define the experience.  We had made detailed plans for every stop along the way, dissected the itinerary to consider photo opportunities and had an idea of what we would experience in advance.  Viking helped with those efforts, providing detailed information in advance with a rich library of online resources and printed materials sent just before we began.  We were ready.  We were prepared.  Then the music stopped.
Just Go With It
It was at that time when every person we traveled with made a decision to go or not to go.  These are the longships of Viking, not the slaveships of Viking, and no one was forced to be here at gunpoint.  Our best advice for those in a similar situation: just go with it.  We know from experience: at the end of the day, Viking will deliver.  We have the confidence from traveling with them in the past to know how they actually operate.  This experience energized that faith.
Keep It In Perspective. Let Them Blow You Away
I am reminded of a removed but similar situation that might help put this into perspective.  Last summer we also sailed with luxury land tour operator Abercrombie & Kent on what turned out to be a fabulous travel experience.  Still, what ended up defining local connections possible during travel got off to a rough start.
While several of those traveling with us were unraveling and about to let some negatives get the best of them, one nice couple who had traveled with A&K frequently were calm and serene.  "It will all work out well.  Trust them" said Joe Ford, a very well traveled man who had a high degree of confidence in the A&K product.  He was right.  Our A&K 'angel', swept in and not only fixed what was broken but added additional layers of wonder that more than compensated for any minor disruption. Similarly, our modified itinerary enabled us to see everything we bargained for and much more.
Even Under Fire, Cruising Comes Out Ahead
Throughout this post I have scattered photos of our experiences along the way. Many of these images would not have been collected had the actual experience been what was originally advertised.  We simply would not have had the time at these destinations.   That we did is an interesting concept to consider.  Does that mean we are good candidates for a land vacation?  Maybe,  but in this case we got the best of both worlds.  On a land vacation we would have changed hotels, packed and unpacked at every turn and had more variables to consider.
Where would we eat?
Who would serve us?
Would the bed be comfortable?
Would the tour guide be good?
All of the above are questions with answers provided in advance by Viking,  then on the scene through Program Director Emma who stayed with us the entire way. She has been a trusted voice we could count on that provided continuity; basically the glue that held everything together.
Stay tuned for part two of this mini-series that details the advantages of sailing with Viking River Cruises on a modified itinerary.  We'll also have details on the end of this experience, touring on the way to Berlin, overnighting there and the flights home.
Follow Chris and Lisa on their Viking River Cruise, right here and any or all of these engaging ways: