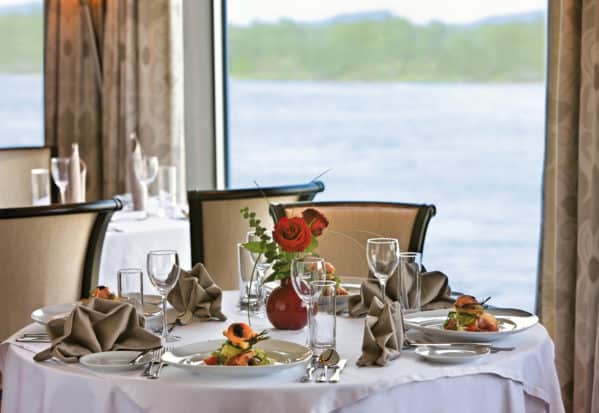 The Foremost Travel Company On Earth
Abercrombie & Kent (A&K') made a name in luxury adventure travel as the foremost travel company on Earth beginning with their first African safaris in 1962.  Today the award-winning travel service company offers travel options that extend around the globe to more than one hundred countries on all seven continents.  Looking forward to an upcoming A&K' river cruise, let's take a look at what the small-group specialist is all about.
The A&K Difference
The significant A&K difference appears to be the intimacy of the group.  On a river cruise, that group size is limited to just 24 passengers.  The idea is that those two dozen travelers get to experience Europe and appreciate the local character in a way that's not available to larger groups. A&K groups avoid delays with priority group boarding then explore Europe together in a relaxed, intimate atmosphere.
Small Groups Are Key
This small group advantage promises access to unique onshore sightseeing experiences and smaller boutique hotel lodgings included as part of what they do, both before and after sailing.  That level of service weaves its way through all they do, providing travel opportunities not possible to receive when in a larger group.  What looks to be unique to the A&K experience, guests go to European neighborhoods and markets, meet with local artisans, musicians and culinary experts; all in an effort to reveal destinations from a decidedly different perspective.
Unique Shoreside Experiences
Called A&K Onshore Connections, the travel company believes their version of the standard 'shore excursion' provides unforgettable travel moments, only possible because of their laser-focused local expertise, as those who know about such matters have told me.
A safari?  I have not done and could not tell you which operator might be the best.  Those who have, rank A&K number one.
A river cruise?  This I have done, will be doing much of the same stretch of river as on other sailings and am no stranger to the mode of travel.  Tagging the A&K difference should be no problem at all.
Abercrombie and Kent Should Fare Well

To give you an idea of what the foremost travel company on Earth is capable of, consider an upcoming A&K travel opportunity.  Titled Around the World by Private Jet: Islands, Savannas & the Amazon, the $108,000 per person trip of a lifetime was designed by A&K founder Geoffrey Kent, combining some his favorite destinations with exotic locales few travellers ever visit.
Limited to just 50 guests, the 26-day flight from October 12-November 6, 2015 takes Kent's guests to exotic locations ranging from world's mightiest river to its most mysterious islands, from a land where dragons roam to savannas thriving with iconic wildlife.  Included is a meet with Geoffrey Kent at an exclusive event in his adopted home of Monaco.  Let's look at some highlights:
Enjoy a true feast for the senses with a special dinner on board your luxury Amazon River cruiser, prepared by rising culinary star Pedro Miguel Schiaffino
Experience an intimate side of Easter Island with a celebratory feast at the home of a noted islander, accompanied by a party of local dignitaries
Indulge in some mid-journey relaxation and pampering in tropical Samoa
Learn the ways of a genuine pre-modern civilization at an encounter with Papua New Guinea's Huli tribe, accompanied by local experts
See one of the world's most remarkable predators — the Komodo dragon, the world's largest lizard — in its natural habitat
Discover Madagascar's rich folkloric tradition when a local storyteller regales you with tales of the island's mythic history
Search for wildlife in Kenya's Masai Mara with the company that pioneered the luxury safari, A&K
Celebrate the end of your journey in Geoffrey Kent's adopted home of Monaco at an exclusive breakfast with friends of Geoffrey in attendance
Hungry For More?
That's just one of the custom adventures offered by Abercrombie and Kent and this is the first of a series of posts over the next few weeks, detailing what they do on land and at sea.
Up next, details on another unique Abercrombie & Kent voyage that sails the fabled Northwest Passage, – 4600 nautical miles in 23 days.
Join the world of A&K by following the foremost travel company on Earth on Facebook and Twitter: @AKTravel_USA.
Abercrombie & Kent Photos