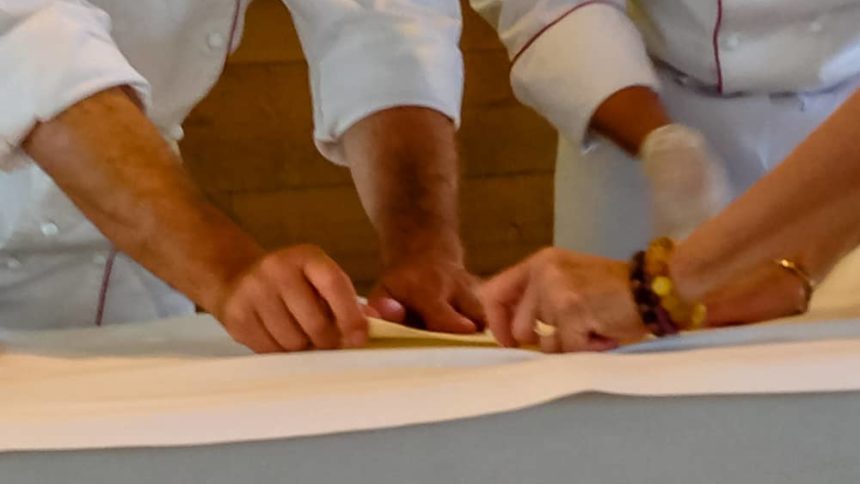 The 12 Days Of Viking Christmas: River vs. Ocean Experience
Sailaway, when the ship actually begins to move for the first time, is one of my favorite times on an ocean cruise.   Watching the land-based cares and concerns of passengers melt away as the giant ship begins to move, is one of the most gratifying moments anyone in the travel business can experience.  Passengers who buy into the well-orchestrated choreography of it all via shipboard activities, trips ashore or something as simple a dancing waiters in the dining room can truly relax, refresh and walk away from the experience rejuvenated.  The world of river cruising has its own choreography, a plan that also rewards travelers with a memorable experience they may never forget.  On the growing fleet of Viking Longships, interpersonal communication is a major element of the river cruise experience. one that goes a long way towards describing what a Viking River Cruise is like.
One distinction between an ocean cruise in the Caribbean and a Viking River Cruise is the sailaway event.
On the mega ship in the ocean, thousands hear 'Hot, Hot, Hot' while being pitched umbrella drinks.  On a Viking River Cruises longship, 190 passengers might sample a local liquor.  The ship's resident piano player will probably be tickling the ivories when when passengers arrive there and local wine varieties will be stocked on the ship, reflective of the area of the world that we are sailing in.
Quick, Interesting Daily Briefing-
Held every night at 6:45, 15 minutes before dinner is served, the ship's Program Director meets with the passengers to wrap up the day, talk about what is happening that night and then sets an expectation for the next day.  This is not a sales pitch to buy from Diamonds International or some other ship-approved shopping mall ashore.  This is useful information given in the ship's lounge.
Walking off the ship to do a day on our own could be an error on a Viking River Cruise.
As Viking longships sail past beautiful iconic landmarks, Program Directors will describe what they see in much the same tone as a US Forest Service ranger might describe passage through environmentally-sensitive glacier land in Alaska.  This is after spending part of the day on a nicely timed, guided tour of wherever they are, a tour that was actually enjoyable and interesting.  That's saying a lot. Before discovering river cruises, I hated tours.  Normally, I would gladly skip every single one and just walk off the ship, considering it merely a mode of transportation, then do something on my own.
I stood corrected after going on our first included Viking tour that gave us more time off the motorcoach than on it.  That's huge.  Not that being on the motorcoach was unpleasant.  The like-new Viking Mercedes-Benz motor coach was a cool and refreshing break from a hot summer day when we last sailed.  On a Christmas Markets cruise, the lovely Viking motorcoaches are a nice warm place to come back to after exploring, c0mplete with onboard restroom.
The Hotel Manager Is Not A Figurehead-
Unlike the Hotel Manager on a giant ocean cruise ship, the hotel manager is not the head of a huge department with several underlings that make it all happen.  This is a very hands-on manager who seems to be everywhere, all the time. Surely, that has to do with the fact that he manages 50 people on a ship that holds just 190 passengers.  When I first wrote about Christmas Markets and the way Viking River Cruises does them several years ago, I mentioned that "big ship ocean cruises would do well to take a good, hard look at how Viking (river cruises) does what they do, enabling the Hotel Manager to have personal time with each and every guest."
A sort of unrelated observation: on the 930-passenger ships of Viking Ocean Cruises, they have done just that. The Viking ocean cruise hotel manager is also highly visible, with an office right in the middle of the ship for easy access.
The Chef- Who knows the executive chef on an ocean cruise?  Nobody.  On a tiny Viking longship we see the chef all over the place.  That he does a market visit tour, taking passengers along for the ride is a big bonus and an experience not to be missed.  Better yet, that he invited me into his kitchen, with my camera, is nearly unbelievable.  Very few do that.
The Crew Is Genuinely Happy And It Shows In Their Work- Selectively sourced from ocean ships, these people appreciate being part of a team that gets the job done.  None of this "Feel sorry for me, I am at sea and left my family behind because it's the best I can do" narrative here.  These are consummate professionals who watch details carefully and anticipate needs like no other I have ever seen on any ship.  That forward-thinking Viking offers a pension plan for crew members is also very impressive. Nobody does that.
The Maitre 'd Is Tip-Worthy- So often rarely seen on big ship cruises, the Maitre 'd on a river cruise sees every passenger, every day.  On Viking Odin, Maitre 'd Palma could be seen helping waiters, talking to passengers and even greeting us as we came aboard after an included shore excursion.
You'll Be Hard Pressed Not To Know Crew Members By Name- They are just that good.  This comes from someone who commonly gets his own kids names mixed up with that of a family pet, current or past.   I remember faces, those I will never forget. Names are another matter that I suppose I will always struggle with.  The names of other guests are easy.  If in doubt, odds are their name is Tom, Bob, Jim, June, Sally or Peg.
Disembarkation From Heaven– On the night before our last night, the Viking Longship program directors expand their 15-minute nightly briefing to 30, allowing time to explain the disembarkation process.
Keep your luggage overnight- Basically, Viking Longship hallways are narrow and all the luggage sitting out overnight does no good; there is no holding area like on big cruise ships.
Disembarkation time is based on flight time- Viking has all the flights on their radar and has each guest scheduled to leave the ship with enough time to get to the airport and make it through security with room to spare.
Gratuities are optional but Viking helps with suggested amounts.  When we last sailed, they gave us two envelopes if we wanted to pay with cash, one for the Program Director and another for the crew.  Frankly?  I can't recall the last time I was on a cruise ship of any kind that so deserved of a generous show of appreciation.
Included, Included, Included-  With few options to buy anything on the Viking longships, their river cruises are far more inclusive than most ocean cruises.  Beer and wine: included.  Internet: Included.  A tour in every port: Included. Bottled water in your stateroom: Included. (Also grab a bottle on the way off the ship on tour, also included).
Well Traveled Fellow Passengers That Share A Similar Curiosity
Also featured on each evening's menu, lively conversation with the other passengers over dinner which will quickly take a starring role in the experience. Discussing everything from what we saw and did during the day to where we live, have lived or want to live; actually communicating with other human beings, in person, happens on the river.
Interestingly, Viking communication efforts actually begin far before we get on the ship. The series of email, printed travel documents, brochures and catalogs we receive at home before sailing start things off.  A suggested reading list supplements those efforts as do a rich video library that compares quite favorably to the actual experience.  One element of a Viking Christmas Markets sailing includes making gingerbread houses and all passengers are invited to join in the fun.
Check Viking's Social Sites too