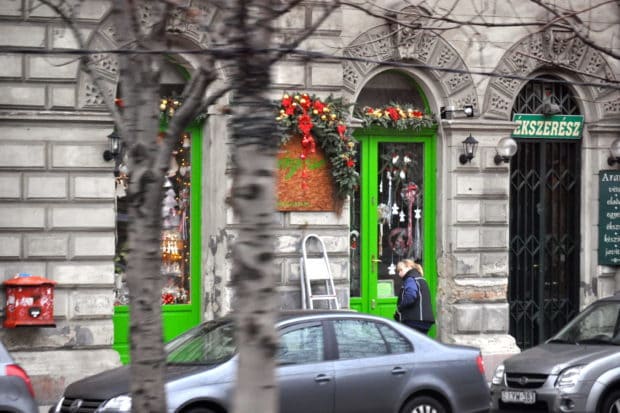 Ten More Hits Of Our Viking Christmas Cruise And The Glue That Makes Them Work
At the end of every cruise, when we have left the ship and are on the way back home I always ask whoever I am sailing what their favorite part of the experience was.  Looking back on our Viking River Cruises Christmas markets sailing, there were a number of those favorite things, as might be appropriate; a great deal of the 7-day sailing was spent Austria, the land of My Favorite Things and the Sound of Music.  In advance of a full scale review on the sailing, here is a list of factors in the running for "the best part".
Onboard Events- One of the big deals about a river cruise is that much of the experience is focused off the ship.  Without big ship amenities, that supposedly leaves nothing to do on the Viking longship but sail from port to port. Not true. Onboard events ranging from culinary demonstrations, enriching lectures, local talent brought on board from time to time for entertainment and more are memorable experiences, done with a comparatively tiny number of people
Nicely-Priced Amazement Options Off Ship- While a tour is included in the price of a Viking River Cruise, some alternatives are offered. On our sailing there were six of them ranging from a Wine Tasting Tour for 29 Euro to a Mozart and Strauss Concert in Vienna that at 49 Euro was a bargain at twice the price.
Live The Sound Of Music– Let's face it, this is the place where the iconic 1965 movie was filmed and it looks very much the same today, even in winter.  While we can watch the film on our stateroom television, we're choosing to wait until we get home.  The "we were there" moments should be spectacular.
Mozart and Strauss Concert In Vienna– Held in one of Vienna's historic venues, I skipped this one on our summer sailing because our day in Vienna was a long one.  That was a mistake. Those returning to the ship after the concert said it was a highlight of the trip.  They were right.
Cooking Demonstrations held on Viking Skadi were a highlight of the experience that were well attended and enjoyed by many passengers.  We learned how to make Gingerbread, Christmas Cookies and a variety of Austrian bakery delights along with Ghluwein, the holiday beverage sold at all the Christmas markets.
Overnights In Port- On both ends of the sailing, beginning in Passau and ending in Budapest, Viking Skadi stayed in port overnight, giving us time to see these wonderful cities after the sun goes down, something I really wish big ships would do.
Free Time- While there is an included orientation tour in the morning at each place we stopped, there was plenty of free time to do what we wanted, by ourselves or with new friends met on the ship. This was a huge factor in the experience during our summer sailing and was equally enjoyed on this winter itinerary as well.
Tipping Is Optional-  I like that tipping is optional and that a big push for tipping is not done towards the end of the cruise.  I hate that part. I don't believe I have ever felt more like tipping than on these Viking longships where 190 passengers interact with 50 employees, both groups learning each others names early in the voyage.
This Is Wine Country- Sailing on the river Danube, vineyards flank the ship on both sides and some of the best wine in the world is made here.  Passengers commonly find a nice bottle of wine in each town and bring it back on board to enjoy in the dining room or in their stateroom.  No problem, corkage fees or attitude about it.
The Silver Spirits package- Beer, wine and soft drinks are included with a Viking River Cruise at lunch and dinner. Included regional beers and wines served are good quality and passed the accuracy test for regional appropriateness. The Silver Spirits package upgrade (€150 per person) was well worth the price, bringing top shelf liquor and a very nice wine menu, expanding availability from during meals to all day.
On my summer sailing (check our Sealogs for details), several of the other passengers on Viking Odin had done a Christmas Markets sailing before and found out that we would be doing this one in December.  They pointed out along the way where the markets would be and what to expect, many with a tone of satisfaction, confidently assuring me that it would be a marvelous experience.
They were right.
The glue that makes them work, the common element that runs between all of them is the people.  The crew on board is consistently efficient, friendly and helpful.  Period.  Without fail. They are a happy lot, sourced from other river cruise lines and/or with an ocean cruise background. These are professionals who don't take themselves too seriously and really have fun doing what they do.
The experience shared with the other like-minded passengers who come from a similar background and always numbering less than 200, is intense.
Can we really ask for more than that?
Miss an episode of this series?  Here is the entire library:
Pre-Event Background Posts-
Live from Viking Skadi-

Facebook Photo Albums-
CruiseAddicts Viking Christmas Review- Inside Cruise Vacations With Chris Owen
Spotify Viking Christmas Cruise Playlists-
Pinterest Boards-
Flickr Photo Sets-

Chris On Examiner.com