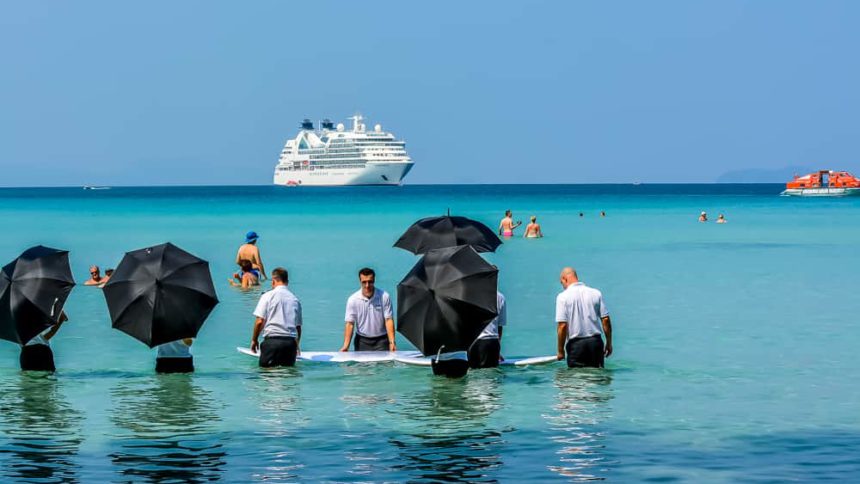 Seabourn Encore Launched, Luxury Ensues
Over the weekend, ultra-luxury Seabourn cruise line, formally introduced Seabourn Encore to the world at a festive evening ceremony pier side in Singapore.   The first of two 600-passenger vessels, Seabourn Encore received a first class send off with invited guests and VIP's on hand for the occasion.   Different than a number of other new ships out lately, Seabourn Encore launched and promised a new era of ultra luxury cruise travel.
English classical crossover soprano, actress, musician, songwriter, and dancer Sarah Brightman presided over the naming ceremony as godmother of the new 600-guest ship, the first of two new all-suite vessels for the company.
Guests and VIPs joined Seabourn staff to enjoy the vibrant, entertainment-filled launch festivities as a projection screen showed the climactic moment when Brightman sent a traditional bottle of champagne smashing against the bow of the ship. A host of local musicians and cultural acts, including lion dancers and stilt walkers, energized the event to send the ship and its guests off in style.
"We are honored that Singapore hosted the christening of Seabourn's crown jewel. This event marks another milestone in our partnership with Seabourn Cruise Line and the Carnival Corporation," added Lionel Yeo, Chief Executive, Singapore Tourism Board. "It is also testament to the growing appeal of Southeast Asia as the destination of choice for discerning travellers. We are confident that Seabourn's guests will enjoy experiencing the rich and diverse offerings of the region, and look forward to welcoming more of Carnival Corporation's ships to Singapore."
Seabourn Encore Launched- New Itineraries
Following the naming ceremony, Seabourn Encore departed on its Inaugural Voyage, an interesting10-day Gems of the Java Sea cruise, bound for Indonesia. The ship will then move on to a 16-day Great Barrier Reef & Gold Coast and back-to-back 16-day Australia & New Zealand voyages. The ship will then reverse the earlier 10-day Gems of the Java Sea cruise to Singapore, proceed on 16-day Jewels of India & Arabia cruise to Dubai, and finish her first season with a 19-day Arabian Gems & Holy Land voyage before ending her winter season at Athens on May 5.
Seabourn Encore will spend summer 2017 along the Mediterranean, offering rich and diverse itineraries including a 7-day Greek & Italian Jewels cruise departing from Piraeus (Athens), Greece on May 6, followed by a 7-day Riviera Allure voyage departing Civitavecchia (Rome), Italy on May 13. She will go on to offer a series of 7-, 10-, and 14-day cruises throughout the region, including a dynamic Mediterranean Moments itinerary that departs Barcelona (Spain) on June 3 and makes stops along the charming cities and coastal villages of France, Monaco, Italy and Greece. In August, the ship will finish summer with a 10- or 20-Day UNESCO Gems of the Western Mediterranean cruise, arriving in Barcelona, Spain, on September 13 for the start of its autumn season.
Seabourn Encore Launched- Learn More
The launch of Seabourn Encore is a story we have been following for quite some time.   Sailing a number of the popular Seabourn Food And Wine Cruise itineraries, we have collected a great amount of data and images, documenting just what Seabourn is all about.
See more of Seabourn Encore via our friends at USAToday
Seabourn Encore is the fourth ultra-luxury vessel to join the Seabourn fleet and the first of two ships to be designed by hospitality design icon Adam D. Tihany. The second, Seabourn Ovation, is currently under construction and is scheduled to launch in spring 2018.
Cover photo- Chris Owen