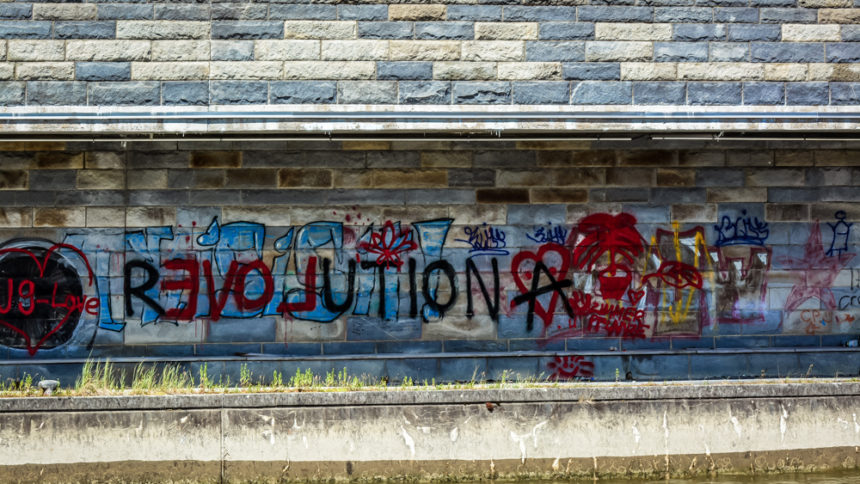 River Graffiti: Art Collected Along The Way
Graffiti artists.  We see their work everywhere we travel.  Looking beyond the destruction of property, graffiti often expresses opinions for which there is no other outlet. Ranging from a single word to colorful murals, these works of art commonly appear under the cover of darkness.  As we travel our graffiti collection has grown; much like the refrigerator magnets of yesteryear. Sailing with Viking River Cruises on a Grand European Tour, we will have over a thousand miles of river and a bunch of river graffiti to share by the time it's all said and done.  Here is a sampling of what we have so far:
Back It Up- Our Graffiti History
When we began our family cruise history, everyone saved everything along the way.  Returning home, our children would try to keep the admission band from a day at the beach tour on their arm as long as possible.  Ticket stubs, menus, coasters, and trinkets picked up along the way all filled scrapbooks to commemorate the cruise.  Magnets from everywhere we went covered the refrigerator. On the way home, rolls of film and disposable cameras were dropped off to be developed in an hour, as though the memory would fade if not reviewed immediately.  That same excitement continues today, updated to a digital world that offers more collectible options.   That same evolution also begs us to reconsider assumptions made in the past.
Travelers commonly dismiss graffiti as just something they see on the way to the iconic landmark. The main attraction is what we came to see and doing just that is the goal of the day. Historically. Today we want more.  Now we want destination immersion.  That desire commonly resolves as attending a local concert, shopping locally with chefs, a home visit or some other shared and engaging experience.  On the horizon for cruise travelers: micro-experiences that are custom-crafted for each individual.  Travelers will discover the concierge desk in hotels, resorts and on cruise lines far-sighted enough to have them.  Through that soon-to-be-elevated source, custom experiences will build on top of an already stellar onboard experience.
One of those made to order experiences might include a graffiti tour.  Imagine the possibilities if that was a night tour where we could see those artists in action, hear their stories and truly connect with a destination as never before.  The very best part of it all?  Our graffiti collection will last forever.  It does not fade, cost anything, require memory space in our brains or have an end.
Not interested in graffiti?  How about other common elements of travel that vary from destination to destination.  Flowers, cats, clocks, manhole covers, police cars, license plates, tour busses and bottle labels come to mind.