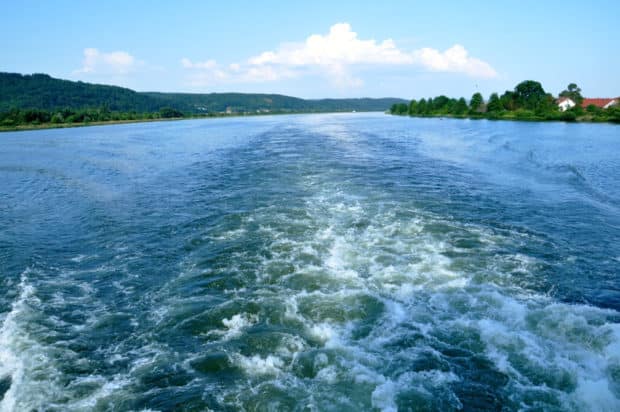 River Cruising: Start With The Itinerary
In preparation for our upcoming Abercrombie & Kent sailing titled  The Great Rivers Of Europe, a good first step when river cruising is to consider the itinerary, a central focus of any sailing.  Where we will go and what we will see defines much of the experience in a variety of ways.  What clothing and shoes will we need?  Will we be able to connect to the Internet?  Are there special dietary considerations that may be difficult to meet?  These and other questions are valid concerns, an entirely different animal than worries; fear-based pseudo assumptions that can skew an upcoming travel experience in a negative way before it even starts.   Interestingly, we have traveled to many of the stops on our A&K itinerary before, via Viking River Cruises Grand European Tour, an epic voyage well-documented in this space.  That's a big plus for us going in, able to focus on the A&K difference using our Viking River Cruise voyage as a base line experience.  To begin, let's take a closer look at what Abercrombie & Kent has in store for us,  day by day.
Thursday, June 26
Travel actually begins with a flight on Delta Airlines from our home in Orlando to Munich, Germany via Atlanta, arriving the next day.  We will have more on the whole process of international air travel later.  For now, let's just assume all went well and we arrived on time.
Friday, June 27-
Munich, Germany  Hotel Torbrau
Our Delta Airlines flight is scheduled to arrive  in Munich at 7:50AM local time.  An A&K river cruising representative will be on hand to meet and transfer me to Hotel Torbrau, the oldest hotel in Munich, where my room will be available right away.  If all goes as planned and I slept on the plane, the plan is to check in to the hotel, get my bearings and explore Munich to get this live event going right away.  Within walking distance of the colorful Marienplatz, as well as many of Munich's other popular sites, the area is also rich in Boingo hotspots (over 400 of them) , something I was able to research in advance of travel.  That will enable live Instagram posting of what I see, as I see it.  More on that later.
Saturday, June 28-
Nuremberg

Today we first travel from our hotel in Munich to Nuremberg, Germany for a private tour of a World War II art bunker, built conserve irreplaceable art treasures for future generations.
Details on the A&K travel documents caution us to bring a jacket or sweater as the art bunker is chilly, even in the summer.  Later in the day, we board our river cruise ship, Amadeus Brilliant which will be home for most of the river cruising journey.  From this point on, Breakfast, Lunch and Dinner are served aboard the ship.
Sunday, June 29-
Bamberg

We arrive in Bamberg in the morning and go off on a walking tour of the old quarter, a favorite stop on previous river cruises.  The afternoon brings the first on-board lecture, this one on the importance of the Main-Danube canal as we sail toward Wurzburg.
That evening, there will be local Barvarian entertainment on board Amadeus Brilliant.
Monday, June 30-
Wurzburg

In the morning, we embark on an A&K exclusive Onshore Connection to Kloster Bronbach, a former Cistercian monastery followed by a wine tasting on site.
We return for lunch on the ship then have the option of another tour, this one to Rothenburg, Germany's oldest walled city.  This evening, we sail to Wertheim overnight.
Tuesday, July 1-
Wertheim/Miltenberg

This morning a walking tour explores the old town center including as stop at a glass museum with a glass-blowing demonstration.  Then, we drive to Miltenberg, to walk the cobbled streets an reboard the ship before lunch and sailing away to Rudesheim.
Wednesday, July 2-
Rudescheim/Koblenz
In Rudescheim we have a choice of a orientation tour the includes a visit to Siegfield's Mechanical Music Museum or staying on the ship.  Later in the day, we sail on the Rhine passing Castles, vineyards and more on the way to Koblenz where we can explore on our own or join an optional walking tour.  The ship sails to Cologne overnight.
Thursday, July 3-
Cologne

Cologne brings the option of an orientation tour or discovery on our own.  Tonight the captain of Amadeus Brilliant hosts a gala dinner, the one reason I will bring a suit.
Friday, July 4-
Amstedam
Our day in Amsterdam includes a walking tour and a canal boat ride through the city's 17th century canal district, another UNESCO World Heritage Site.  We overnight in Amsterdam with a pre-dinner Cocktail party hosted by our A&K Tour Director.
Saturday, July 5-
Volendam & Edam

Today we drive to Volendam to explore windmills, cheese production and all the wonder of the Netherlands.  After lunch, we continue to Edam for a cheese tasting then return to Amsterdam and transfer to Hotel Sofitel Legend, The Grand Amsterdam for the evening.  We gather for a farewell dinner at the hotel that evening.
Sunday, July 6-
Amsterdam
Today is travel day, flying from Amsterdam back to Orlando, Via Atlanta and the end of our river cruising voyage.
Looking Forward To The Journey, Now More Than Ever
Just from detailing the itinerary we already know there will be a lot of walking so comfortable shoes are necessary.  Checking each stop along the way, we find Boingo Hotspots available at every destination, a big improvement since the last time we tested the service when connection received a less than favorable grade.  What we don't know from studying the itinerary is also important.
Questions Remain
What is life like on Amadeus Brilliant?  We know what Viking River Cruises has to offer but how will the experience go on this different river cruise line?  As mentioned, we have been to many of these destinations before, greatly reducing the need for orientation tours.  Lucky for us, we know that these are optional elements that can be adjusted and varied or skipped altogether.  Again though, the A&K difference is an unknown at this point, our main reason for going and one we are hopeful will differentiate what they do from what we have experienced in the past.
We answer many of these questions in advance of sailing in upcoming posts, along with something new; answers to your pre-event questions.  Send those any way you like via our contact information above or a comment added here.  Already we can see this is going to be a unique experience, just from examining the itinerary in detail.