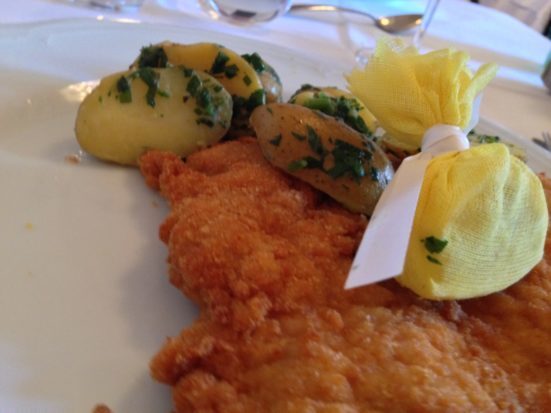 Recipes: Viking Wienerschnitzel To Die For
One of the critical elements of a cruise vacation is to leave our real life behind for a while, allowing it to reset so that when we return we can start anew; perhaps from a bit different perspective.  Cruise vacations enable that reset by taking us places we might have only dreamed of previously; we are physically being removed from our comfort zone. Driving home the experience, Viking River Cruises has destination-specific cuisine and wines that change along the itinerary.  Austria is arguably one of the best places on the planet to enjoy Wienerschnitzel, a very thin, breaded and deep fried Schnitzel made from veal.  As sometimes happens when traveling, I fell into a wonderful place when dining at St Peter, Europe's oldest restaurant, in Salzburg.  Ordering the Turkey,  I got the Wienerschnitzel.
Normally something I would mention to the waiter, I let this 'mistake' go and it turned out to be one of the best dining experiences of our longship cruise.  Later, on Viking Skadi, I would have Wienerschnitzel again, also a nice rendition, expertly prepared.
This classic rendition of Austria's national dish comes to Viking from Austrian Master Chef Toni Mörwald, proprietor of Vienna's Michelin-starred restaurants Relais & Châteaux. Says Viking; "It is traditional, simple to make, and delicious. You can watch a video of Chef Mörwald and Karine Hagen preparing the dish together and then give it a try yourself."  We will.
Viking Wienerschnitzel Ingredients:
Meat
Four veal cutlets, one-half inch thick
Salt and pepper
Light oil (e.g., sunflower oil)
One-quarter cup flour
Two whole medium size beaten eggs
One cup breadcrumbs
Melted butter and/or lard (a mixture of half and half is ideal) sufficient to cover your frying pan to a depth of one-third to half an inch
Potatoes
One and one-half pounds small new potatoes
One-half cup butter
Two tablespoons fresh Italian parsley, finely chopped
Salt
Directions:
Gently pound veal cutlets with a meat mallet to make them very thin and flat, about one-quarter inch thick. (Hint: For ease of cleanup, you can place each cutlet between two sheets of plastic wrap or wax paper first; if you do not have a meat mallet, you can use a heavy pan or flat griddle.) Sprinkle the flattened cutlets with salt and pepper, then rub with light oil or apply cooking spray.
Set up three shallow dishes, one with the flour, one with the beaten eggs and one with the breadcrumbs. Coat each cutlet well first with flour, then eggs, then breadcrumbs.
Heat a sturdy frying pan butter and/or lard until melted; carefully place cutlets in pan. The melted fat must cover the cutlets well. Do not crowd the pan—you will probably want to cook them two at a time. Agitate the pan gently as the meat is cooking to ensure that the cutlets do not stick to the bottom. As the cutlets float in the oil, the breadcrumb coating will form a light, puffy crust around the meat and will not retain too much of the cooking fat. Cook 3 to 4 minutes over medium heat until the cutlets begin to brown, then turn them over and cook another minute or two until both sides are golden brown. Remove from fat and place on a paper towel to drain. Salt the finished cutlets lightly.
To make the potatoes, boil them in their skins in salted water for about 20 minutes or until they can be easily pierced with a fork. Drain the water and place them back on the stove for a minute or two, uncovered, to steam them a bit. Peel the cooked potatoes, slice into small wedges and put them in a serving dish. Melt the butter and pour over potatoes; sprinkle with chopped parsley.
"Serve cutlets with potatoes and garnish with lemon slices. Goes well with a sweet white wine such as a muscatel."
Makes 4 servings.