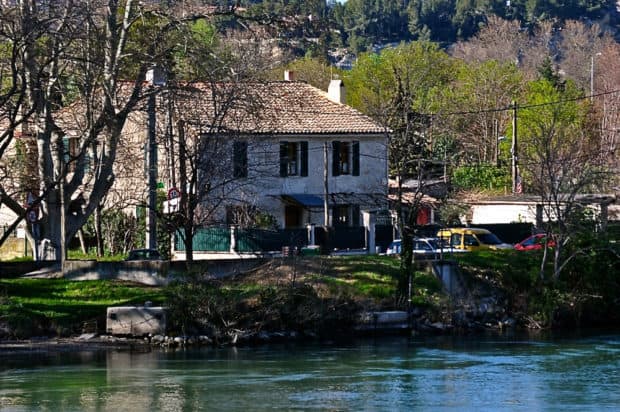 Practice Packing, Itinerary Review All Part Of Pre-Cruise Countdown
Later this week, we fly to France from our home in Orlando to begin a sailing with Viking River Cruises.  Themed Portraits Of Southern France, the itinerary takes us from Avignon to Chalon-Sur-Saone  on the scenic Saône and Rhône Rivers,  past some of the most beautiful vistas the French countryside has to offer.   With just a few days until we are right in the middle of it all, its time to revisit packing and take another look at the itinerary; all part of the pre-cruise countdown.
Practice Packing
Packing for me is now easy.  Once a part of the process defined by how much luggage we could bring with us, packing quickly became a matter of what I can carry with me, after losing luggage on two consecutive flights.  Lisa, however, is another story.  While she buys into the notion of traveling with only carryon luggage,  not having to worry about such matters, we have yet to do it.  So today, we practice pack.
Not really a dress rehearsal but more of a preliminary trial to see if it can be done, she will first set out everything she believes she will need on the trip.  Simply having everything in one place helps define luggage needed.  If that mass of belongings is too much to be carried on and nothing can be taken away from it, checked luggage it is: we'll hope for the best.  But before we make that commitment, it is a good idea to see what it is we're working with.  Maybe, given the choice of carefree carryon-only life, as opposed to worry over luggage making connections, being at the final destination when we are or being lost, she will find that there are items she can do without.  Maybe not.  Stay tuned for results.
Nailing Down The Itinerary
We have been dancing around with the itinerary for quite some time; first covering it step-by-step on a map then going deep with suggested reading from Viking River Cruises.  Upon arrival of our final documents, Viking sent more information specific to the rivers we will be sailing on.  Preparing to cover this for you, I have a day by day spreadsheet prepared with each day's events detailed for inclusion as part of a daily post here, posted live on Instagram, Twitter or Flickr, or made into an article for another publication either while we sail or in the future.  So what's left?
Taking a good look at the itinerary one more time, via the detailed information available to booked guests on the Viking River Cruises website.
Pre-Cruise Day 1
Leave on our flight to Marseille.  We'll arrive a day early then go back to the airport to catch the Viking transfer to the ship the next day.
Day 1 Avignon
Arrival in Avignon. If Viking River Cruises arranged your  transfer, you will be met at the airport and transferred to your river cruise ship in Avignon. Because the crew will be preparing staterooms for arriving guests, you can relax in the ship's lounge
or explore Avignon on your own. You will be given access to your stateroom in the midafternoon, at approximately 3 p.m. If you arrive during lunchtime, a light lunch buffet will be available in the lounge. After boarding, take free time to explore this quaint town on the scenic Rhône River and start getting oriented.
Day 2 Tarascon & Arles
Included Arles Tour. Sail through the early morning hours and arrive in Tarascon this morning. After breakfast drive to Arles and embark on a walking tour of the town beloved by Vincent Van Gogh. In 1888, the artist wrote from Arles to his brother Theo: "Nature here is extraordinarily beautiful…I can't match its beauty in my painting, but I take so much in that I can let myself go without restraint." Some of his finest works were produced here, and his friend, Paul Gauguin, joined him in Arles
for a brief time. Your tour will pass many sites made famous through van Gogh's art, and includes a visit to Espace van Gogh,
the cultural center dedicated in his honor, and whose interior courtyard was the subject of some of his paintings. See the
Romanesque Cathedral of St. Trophime and admire its beautiful façade. Known as "Little Rome of Gaul," Arles was once the richest city of the Roman Empire after Rome, and you will visit the Roman arena during your tour.
Tarascon Leisure Time & Optional Les Baux Tour .After lunch aboard your ship, you have the balance of the day to explore Tarascon on your own. You may want to join an optional excursion to the little village of Les Baux, a beautiful location sethigh on a rocky spur. The village was important during the Middle Ages, as evidenced by its castle and numerous ruins, but it was destroyed during the 17th-century religious wars. The mineral bauxite is mined here and takes its name from this region. On the way to Les Baux de Provence you will stop at the Saint Paul de Mausole hospital near St. Rémy de Provence. It is famous for having accommodated Vincent van Gogh for 1 year. During that short time he produced 150 paintings and over a 100 drawings (cost of the optional tour is 49 euros, which includes motorcoach transportation and a guide). The ship sails around dinnertime, arriving in Avignon later tonight.
Day 3 Avignon & Viviers
Included Avignon Tour. Disembark after breakfast for a walking tour of the town and visit to the fabulous Papal Palace.
Known as the "City of Popes," Avignon is where the Popes of the Holy See resided for much of the 14th century. Rome was in
turmoil, making this the ideal place to build their elegant residences, châteaux, fortified palaces and churches.

Avignon Leisure Time & Optional Tour. Enjoy lunch aboard ship and then take some time to explore Avignon before your
afternoon departure. You may want to stroll through La Balance Quarter, where Gypsies lived during the 19th century. The
elegant old town houses of the district have been largely restored over the past 30 years. Avignon boasts several museums,
including the Musée Lapidaire, which houses a fascinating archeology collection or the Musée Louis-Vouland which has a
glittering collection of 17th- and 18th-century porcelain, chandeliers, tapestries and other antiques.
Optional tour to Châteauneuf du Pape- Two Popes from Avignon had decided on Châteauneuf as their
seat. Only ruins remain of the two papal castles, but the Papal vineyards still deliver their famous red wine. On the tour, you willenjoy a tasting of some of the wines produced in this famous Page 33 region (cost of the optional tour is 49 euros, which includes motorcoach transportation, wine tasting and a guide). Rejoin your ship in Châteauneuf du Pape.
Scenic Cruising & Included Viviers Evening Walk. Return to your ship and sail for Viviers in the late afternoon. Arrive in the
evening; then you can join your Program Director for a nighttime stroll through the old charming country town where you will see buildings dating back to the Middle Ages and beautiful examples of Renaissance architecture. Your ship docks in Viviers
overnight.
Day 4 Tournon & Tain L'Hermitage
Scenic Cruising. Spend the morning enjoying the passing scenery, and dock in the charming Rhône River town of Tournon
after lunch. Included Tain L'Hermitage Excursion. After lunch, disembark for a drive to one of the local wineries near Tain
L'Hermitage, famous for its red wines. Enjoy a local winery tour and tasting. You will also visit the small Musée de Tain
L'Hermitage located in the 16th-century Hotel of the Courbis, with its collection of paintings from the new school of Paris.
Following your visit, you may choose to either take your motorcoach back to the ship, or enjoy a leisurely stroll back through Tournon with your group or perhaps do some shopping on your own. Dinner is aboard your ship this evening. Depart in
the evening, arriving in Vienne at midnight.
Day 5 Vienne & Lyon
Included Vienne Tour. After breakfast, disembark for a short walking tour, including a mini-train ride. See the town's lovely
cathedral and the Cybele Garden. Get a glimpse of Vienne's ancient Roman past at the 1st-century Temple of Emperor
Augustus & Livia. Return to your ship for lunch and a brief afternoon cruise to Lyon.
Lyon Leisure Time. Arriving midafternoon, you have the rest of your day at leisure to explore Lyon on your own. Stroll through
the streets and admire the lovely old Renaissance buildings, art galleries and restaurants. In a country known for its fine cuisine, Lyon is also known as the gastronomic capital of the country. Or visit the Textile Museum chronicling Lyon's past as a silk and fabric center. It was in Lyon that the Jacquard loom, the first automatic loom able to weave complex patterns, was invented. You may want to visit the L'Atelier de Soierie silk factory or do some shopping in the downtown area. Dinner is served aboard. The ship remains docked in Lyon overnight, so you can disembark after dinner for a romantic evening walk.
Day 6 Lyon
Included Lyon Tour. After breakfast, disembark for a tour of beautiful Lyon, a 2,000-year-old city and a UNESCO World
Heritage Site. On your tour, you will see the Old Town with its City Hall and magnificent St. Jean Cathedral, and visit Fourvière Cathedral.
Return to your ship for lunch and enjoy the afternoon cruising. Dock in Mâcon during dinner.
Captain's Farewell Reception & Dinner. Gather this evening to toast your memories and say farewell to your newfound friends
during the Captain's Reception and enjoy the Captain's Farewell Dinner.
Day 7 Chalon-sur-Saône & Beaune
Scenic Cruising. Your ship sails in the early morning. Wake up early to enjoy scenic cruising through lovely Beaujolais and
Burgundy landscapes, passing lush vineyards, farms and quaint villages on your way to Tournus where you dock for an hour this morning.
Optional Cluny Tour . After breakfast, disembark for an optional excursion to the town of Cluny and to see the ruins of
its famous Benedictine Abbey, which was the world's largest church until St. Peter's in Rome was built. After your walking
tour, you will have some free time to explore Cluny on your own (cost of the optional tour is about 41 euros, which includes
motorcoach transportation, entry fees and a guide). You will return to the ship in Chalon-sur-Saône.
Included Beaune & Burgundy Wine Tour . After lunch, join fellow travelers on a motorcoach excursion to Beaune, wine
capital of Burgundy. Many of the region's vineyards are still owned by the Hospices de Beaune, founded in 1443 as a
hospital. The hospital, with its beautiful tile roof, is a magnificent example of Burgundian/Flemish architecture. During your tour, you will enjoy wine tasting at one of Beaune's famous wine cellars. The ship remains docked overnight in Chalon-sur-Saône.
Day 8- We travel back to Orlando
Join Us, Won't You?
Come along with us from leaving home to returning and everything in-between right here.  We'll be posting daily accounts of what happened along the way at ChrisCruises.com right on the front page.  We'll also have links to posts and photos on Facebook, Instagram, Twitter, Flickr, Exposure and more.
In fact, here is a handy guide with links to where we can be found and followed:
Have questions for us before, during or after the event?  Email Chris@ChrisCruises.com.