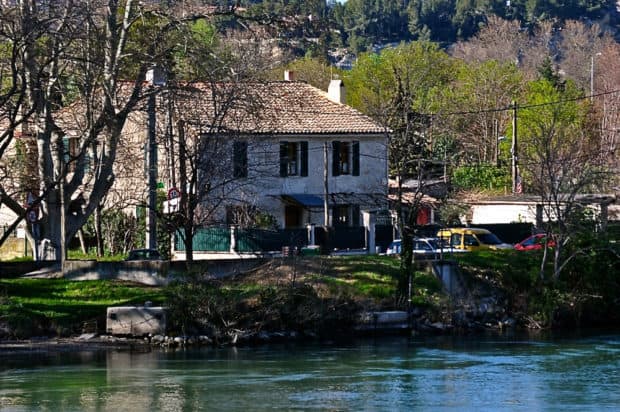 Our Next Epic Trip: Viking Portraits Of Southern France
Our next trip takes Lisa and I back across the pond for an 8-day Viking River Cruise titled Portraits of Southern France,sailing from Avignon to Chalon-Sur-Saône.  We're more excited than ever to share this voyage with you, for a number of reasons. First, we've had a few bites of the Viking candy and just can't get enough of the unique experience that sailing a Viking Longship brings to the table.  It's a seamless package from beginning to end that epitomizes the best of what the cruise industry offers today.  Add that we have the culturally curious target Vikings are aiming for painted squarely on our backs and Viking River Cruises are the right travel product, at the right time, for us.   Judging from your interest in past coverage of all things Viking, sailing along France's scenic Saône and Rhône Rivers looks like a journey you'll enjoy coming along on too.   Engaging the experience as never before, we'll be sharing our journey with you in a number of new ways, some never before attempted.  Let's start right now.
Without fail, we always return from a river cruise enriched with our view of the world a bit different, perhaps expanded.   Viking enables that personal enrichment with a library of first-class video and an extensive website full of resource materials.  Prior to sailing, Viking sends more destination information in guide book form that offers more background on the places we will visit and what we will see along the way.   There's only one catch to it all: we have to digest the information and possess a good working knowledge of it to gain a full appreciation of what we are about to experience.   That's where this first installment of our Viking Portraits Of Southern France journey comes alive.  Rather than thinking about packing, what we will wear, what to do with the dog while we're gone or other commonly addressed issues at this point in the process, we will first focus on each day of the itinerary.  We start today gathering information, links, data, video and more to begin a learning process that will culminate with actually being on board Viking Hermod, experiencing it all first-hand.
Our journey actually begins with a flight from Orlando to Atlanta then on to Amsterdam, briefly, before flying to Marseilles, France where we arrive a day in advance of sailing.  We arrive "over there" a day in advance to adjust to the 6-hour time difference, get a good nights sleep then wake refreshed and ready to go on embarkation day.  We'll be staying at a nice Best Western Hotel at the Marseilles Airport that I have enjoyed in the past and am looking forward to sharing with Lisa too.
Day One- Avignon, France
On embarkation day, we'll shuttle back to the airport to meet a Viking representative who will take us to Avignon, France.  If that city sounds familiar, this is the same place where Viking River Cruises christened 18 Viking Longships in one day last spring, eclipsing their own Guinness World Record.  As is usual and customary on the first day, Viking will have an optional walking tour of the first place on the itinerary to let those with severe jet lag recover and those without stretch their legs and get on with it.  We will be getting on with it.
First, we'll board Viking Hermod, and settle into our room.   Today, we stop right there and pause to consider our Viking Longship and its features:
95 comfortable outside staterooms (2 Explorer Suites, 7 Veranda Suites, 39 Veranda Staterooms, 22 French Balcony Staterooms, 25 Standard Staterooms)
All suites feature two rooms with a veranda off the living room and a French balcony in the bedroom
Sun deck with 360-degree views and shaded sitting area; organic herb garden and solar panels; putting green, and walking track
Aquavit Terrace with a revolutionary indoor/outdoor viewing area at the bow of the ship and grills for al fresco dining
Observation Lounge and bar with floor-to-ceiling glass doors
Restaurant with floor-to-ceiling windows for panoramic views
Library corner and onboard boutique
Elevator
Laundry service
Ecologically friendly hybrid engines producing less vibrations for a smoother ride
40″ flat-panel Sony TV with infotainment system featuring movies on demand plus CNBC, CNN, National Geographic and more
Free shipwide wireless Internet service
It's that last feature, the ship-wide wireless Internet service,  that will partially fuel quite a bit of what you will see of our journey via our live Instagram feed,  Facebook and Flickr Photo Albums, posts right here and via a number of other publications.   New this trip: a buffet of new photo and experience-sharing platforms custom designed with you in mind.  More on that later.
Up next:  We begin the process of deep, but painless, research.
Could we simply walk on the ship with no preparation and have a good time?  You bet; Viking will see to that.   This time though, preparing as never before,  we hope to add a new level of spectacular to an already fabulous ride.
Stay tuned, this event is now In Progress !