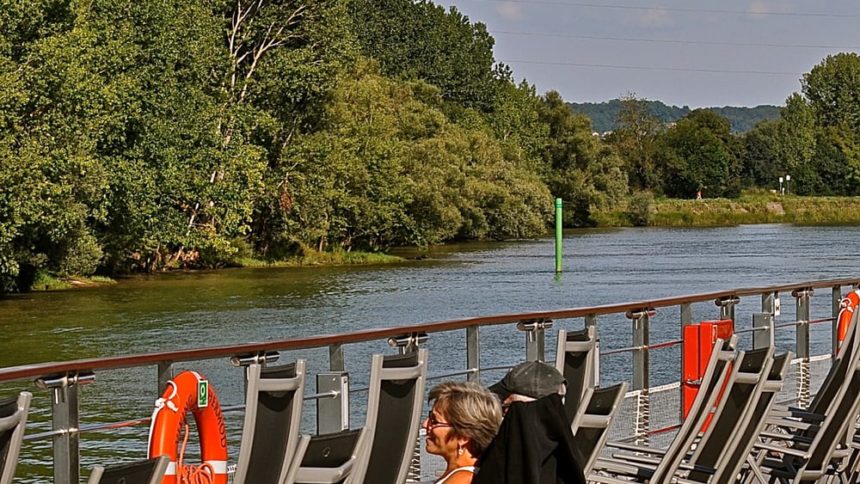 Mom, Apple Pie, The 4th Of July And Viking River Cruises
It's been in the works for a while and only been a matter of time: Viking River Cruises are coming to America. Sailing the Mississippi from a home port in New Orleans, six new river vessels will begin operation over the next three years.  Good news for the state of Louisiana, Viking will bring a number of jobs and economic impact.  Good news for American cruise travelers, simply the notion of Viking operating in the United States is call for celebration.   Think about it for a while and all sorts of marvelous travel dreams can ensue.
Gather more than a couple cruise industry watchers and someone from Viking River Cruises in the same room and eventually the question is asked:  'When are you coming to the United States?'  It seems only a natural move by Viking, the destination-centric river cruise line that revolutionized travel in Europe and Asia. We have been paying close attention to this topic over the last few years, but the general consensus of opinion was that Viking had it's hands full with a rapidly expanding fleet of their revolutionary longships and launch of Viking Oceans with new Viking Star in May.
Still, the timing comes as no surprise from a well-oiled organization that clearly charts its own course.  The announcement has a familiar ring to it too, consistent with the Viking spirit and vision that has served the culturally curious travelers who sail with them so very well.
"We are excited about the prospect of bringing modern river-cruising to the Mississippi, a river that has been traveled by explorers for centuries," said Viking Cruises Chairman Torstein Hagen in a press release from Louisiana Governor Bobby Jindal's office.
While details are few at this time, it appears that the North American Viking fleet will be built in a manner similar to the modified Viking Longships that sail the Douro river in Portugal.  There, to comply with Portuguese maritime regulations, the ships are built in Portugal, owned by entities in the country and leased to Viking.  Plans call for the construction of six new vessels over the next three years, all of which will be built in U.S. shipyards and crewed by U.S. citizens.  The vessels will be owned by an American investment management firm and time-chartered to Viking in compliance with maritime laws.
Said Hagan of the process; "we take great pride in the economic benefit that river-cruising provides to the regions our guests visit, from the shipbuilders to the local businesses."
To be launched on the Mississippi River in late 2017, two of the new Viking river vessels will be deployed each year, for a total of six in the first three years. While details on the ships are few, where they will sail is clear.
Seasonally-adjusted itineraries along the Mississippi River will begin in New Orleans with itinerary stops including St. James, East Baton Rouge and West Feliciana parishes; Memphis, Tennessee; St. Louis; and/or St. Paul, Minnesota.
"We know our passengers will enjoy the rich history, culture and cuisine of all the great cities and towns along the Mississippi River from New Orleans to St. Paul," said Hagan.
The custom Viking ships look to be a different experience than the intimate Viking Longships deployed in Europe and are said to host up to 300 passengers, according to the Gov. Jindal release.  Viking has no more information beyond that statement right now.  Later this year, Viking will announce specifics about the new Mississippi River itineraries and ship design along with an official launch date.
So let's review what we're watching for you on the topic of Viking Cruises
In March, 10 Viking Longships + two modified longships will launch from Amsterdam, continuing to provide much-needed operational capacity on the rivers of Europe.
In May, Vikings continue their spirit of exploration with the launch of Viking Star in Bergen, Norway; the first of three ocean cruise ships as Viking Oceans officially being sailing.
Later this year, we will learn more of Viking's plans for the North American river cruise market.
The Bigger Picture
Interestingly, the few ships currently sailing the waterways of America are a bit reminiscent of what Viking found on the rivers of Europe just a few years ago: not much to get excited about.  The Viking America effort looks to be quite similar, even at these early stages.
Growing up in the midwest, I walked and hiked along the Mississippi as a Boy Scout. The topic of history, culture and attractions along the massive waterway naturally came up but went in one ear and right out the other. Interestingly, now, nearly a half-century later, the topic comes up again, with gusto.
A large part of the enduring value we find in a European Viking River Cruise is the focus on the places visited.  Through traveling with Viking, our personal world has become a bit larger while the planet has become a bit smaller.  We have gained an appreciation for other peoples and cultures. More than once, Lisa and I have agreed "I could live here" after being immersed in areas that line the banks of European rivers via Viking Longships.
To me, more exciting than the mechanics of all of the above; look for Viking to put a crystal clear spotlight on the history and destinations that line the Mississippi as has never been done before. By anyone.  It's part of the success formula that has served them very well, what they are comfortable with and sure to be a big part of their American experience.  Like Mom, Apple Pie and the 4th of July, bet on Viking being a good fit for the American landscape.
Click here to read the full press release from Gov. Bobby Jindal
Chris is not a paid spokesperson or brand ambassador.   Not compensated by cruise lines, what you read here are his observations, thoughts and interpretations, biased only by a positive outlook and appreciation for what cruise vacations have to offer travelers.