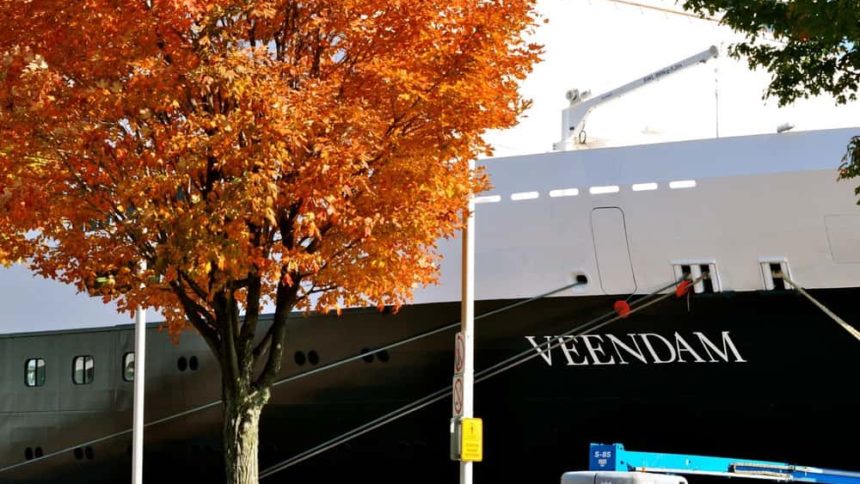 Holland America Tackles Canada/New England Conundrum
Knowing exactly which Summer/Fall Canada and New England cruise to book can be a tricky proposition, or so it seems.  We want to see a riot of color along the way so timing is important.  Sailings that are scheduled for the peak of color fill fast, leaving shoulder season sailings open and often priced quite nicely.  Good to know but first-timers often ask "Why go then?", thinking without the beautiful fall foliage they are settling for second best.  Cruise lines too have a hard time with scheduling. Pinpointing exactly when to reposition ships to the seasonal Canada and New England market is hard for them as well.  Holland America Line has addressed this Canada/New England conundrum quite successfully, taking a different approach.
The Holland America approach is two-fold.  First, put a lot of hardware in the area to satisfy the demand. This year, three Holland America ships will sail a total of 39 cruises from five different turnaround ports. On sailings ranging from 7- to 15-days, ms Eurodam, ms Maasdam or ms Veendam guests will sail the area in elegant comfort.
"We offer an incredible number of Canada and New England cruises because this in-demand region is rich in culture, history and stunning scenery — making it an ideal cruise destination that's close to home," said Orlando Ashford, president of Holland America Line.
A second, equally important part of the Holland America approach is a number of unique itineraries that go far beyond leaf peeping. Sailing from May through October, the cruises depart from Boston, Montréal and Québec City, Fort Lauderdale and New York, visiting some of the region's most iconic destinations.
"There's something for everyone on these itineraries, whether it's exploring nature, trying local cuisine, antique shopping or visiting historical locales," added Ashford.
Mr Ashford makes a good point which reminds me of a particularly important part of planning a Canada/New England sailing:  Check the Shore Excursion offerings.  While there may very well be something for everyone, you'll have to look for it.
Much like planning a trip to Alaska, a Canada/New England sailing is very destination-intensive.  In other words, you'll need to get off the ship to see the good stuff.  Other destinations, like the Caribbean, can make for a good experience with little or no advance preparation.  After all, for those who live in the cold North and will be traveling to the warm Caribbean, about any sandy beach will do.  Not so with Canada/New England sailings.
A quick click over to Holland America Line's Destinations and Excursions web site brings comforting results and is worth a little time considering before buying and a lot of time after to get the most out of the experience.
Lets take a look at these unique offerings:
7 -day Summer Sailings- ms Maasdam
Season Opener- Maasdam begins the season with a 15-day northbound cruise from Fort Lauderdale to Montréal departing May 1, 2015, that includes scenic cruising in the Saguenay Fjord.
7- day Sailings- From May 16 through the Oct. 10 departure, Maasdam offers 22 seven-day sailings between Montréal and Boston, featuring scenic cruising in the Gulf of St. Lawrence and on the St. Lawrence River.
Grand Finale- Maasdam concludes the season with a 13-day coastal sailing departing Oct. 17 from Montréal to Fort Lauderdale. Guests can take in the beautiful landscape at peak fall foliage time on scenic cruising along the St. Lawrence River, Saguenay Fjord and Gaspé Bay. Guests also can choose a 10-day option to sail from Montréal to New York.
Bermuda Collectors' Voyages and between Quebec and Boston- ms Veendam
7- day Sailings- From May 16 through the Oct. 10 departure, Veendam sails 12 seven-day cruises between Québec City and Boston. These sailings include scenic cruising in the Gulf of St. Lawrence and an overnight at Québec City.
14- day Sailings- Veendam kicks off its Canada and New England season with a 14-day Bermuda and Canada/New England Collectors' Voyage departing Boston May 9, 2015. Highlights include three full nights at Hamilton, Bermuda, and an overnight at Quebec City. This itinerary also is offered in June and July, as well as the reverse route from Quebec City to Boston in May and June.
Back To Back Combinations- ms Veendam and ms Maasdam
For seven-day Maasdam and Veendam itineraries, back-to-back sailings on the same ship can be combined for an extended 14-day roundtrip Collectors' Voyage, allowing extra time ashore to get to know each port better with repeating calls.
Fall Foliage Cruises – Choose From Three Ships
In September and October, during the height of the 2015 fall foliage season, Eurodam will sail a 10-day cruise between New York and Québec City, and a 14-day cruise from Québec City to Fort Lauderdale. Both itineraries include scenic cruising in Saguenay Fjord and an overnight at Quebec City.
Veendam kicks off Sept. with a 7-day Historic Coasts roundtrip Boston cruise departing Aug. 29.  Ports feature Portland, Maine, Saint John, New Brunswick and Halifax and Sydney, Nova Scotia. Maasdam and Veendam also continue with seven-day fall foliage cruise options into October.
And Once You Get There…
We like that Holland America Line highlights the places they visit, customizing onboard programming before a port of call with their On Location enrichment activities.  This effort brings local traditions, culinary tastes and cultural experiences to life onboard to deepen guests' appreciation of the region. Ashore, the focus continues with a nice selection of shore tours that bring out the best of the places visited along the way.
Saving one of the best parts for last, these voyage start at $699 per person + tax
What is it like to sail with Holland America Line?  This short video gives us a good idea: