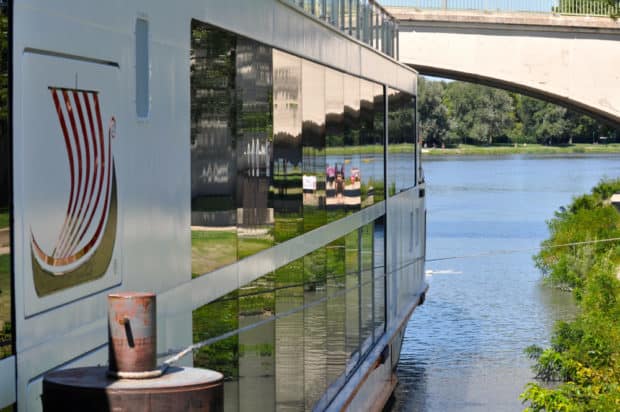 Easy Embarkation Begins Viking River Cruise
The people that work with Viking River Cruises do a whole lot of things right, starting with easy embarkation. As our bus pulled up curbside, stopping between Viking Hermod docked on the Rhone River on one side and the city center of Avignon on the other, on hand to greet us was the ship's Program Director, Matthew Scott. Welcoming us to Avignon, Scott explained the simple embarkation procedure; follow him.
Led to the reception area of their Viking longship, passengers pick up their stateroom cards and are escorted to their home away from home for the voyage. No credit card put on file, no line, no delay. Arriving about lunchtime, a light buffet was served in the ship's Aquavit Terrace, an open-air dining venue located at the front of the ship with a spectacular view of a bustling French riverside. Salads, sandwiches and made-to-order pasta were featured and crewmembers served soft drinks, beer and wine; included with each meal.
On this trip, we chose to try Viking's Silver Spirits Premium Beverage Program.   While all meals are always accompanied by hot tea, iced tea or coffee, regional house wines, beers and soft drinks, the Silver Spirits program offers more. One of the few add-ons available, Silver Spirits brings unlimited premium wines, beers, espresso drinks, juices and mineral water for the entire duration of the cruise plus cocktails and a bottle of sparkling wine. It's a €300 upcharge for both Lisa and I but that charge slip would be the last one I would sign for the entire voyage.
That's actually one of the big reasons I like the Silver Spirit's plan; no signing for beverages outside of mealtime and no limitations on what we can explore in the way of wine. A bonus, bartenders are called "Bar Chef's" and share their knowledge freely. Already we have made a great friend in Hugo the Bar Chef who is leading us on our own journey through the ship's wine list.
Taking a bottle of wine back to our stateroom (another advantage of the Silver Spirits plan), we unpacked and explored our suite, an actual two-room accommodation that was going to be just perfect for our trip. Details to follow on the different cabin categories and distinct advantages of the Viking Longships.
The afternoon provided an opportunity to visit Avignon on a short walking tour, promoted as a good way to 'stretch your legs" after a long flight.  I tried, but was captivated by a Ferris wheel that had been erected between the river and the city center since the last time I was here; for the launch of 18 Viking Longships in one day, last spring. Then, a bit of a chill was in the air and while the Guinness record-breaking event was the hottest ticket in town, there was little time to linger and just take in the day. Today there was and I took advantage of one feature of a Viking River Cruise that you don't see on the TV commercials or in a brochure: you can do whatever you want to do.
That thought was echoed later in the day by Program Director Scott at the first of a nightly briefing that would happen just before dinner each night of the cruise. "You can use the tour as a guided way to get to the city center," Scott explained to the passengers who had gathered in the ship's lounge. "You can stay with your guide for the duration, or just for a while, breaking off from the group if you see something of particular interest," he explained, noting "just let your guide know so they can be sure you know how to get back and won't be counting you as one of those they are looking after."
Scott also explained other housekeeping items of general interest that were already covered in pre-cruise documentation, making more sense of procedures and the daily routine now that we were actually on board Viking Hermod.   Also in attendance was the ship's Hotel Director Stephen Burnham who ran the demographics of our particular sailing with a show of hands on where passengers came from. Overwhelmingly North American other nationalities mimicked previous sailings in kind and number, coming from Great Britain and Australia.   Interestingly, when asked who had sailed with Viking River Cruises before, nearly half the passengers on board had their hands in the air. It was going to be a big group at the past guest party, later in the voyage.
That night, we took advantage of another little-publicized feature of a Viking River Cruise, the ability to dine al fresco in the ship's Aquavit Terrace. The limited menu has a nice selection from which to choose, but the star of the show that night was the fabulous view of the Rhone river and all that was happening around us. Overhead we saw backpackers walking along a bridge on foot with others on bikes or in cars. To either side were couples strolling along the riverside, stopping to enjoy the evening. To the side of Viking Hermod, the Ferris wheel turned into the night as did we after a nearly perfect, relaxing day of embarkation.
Viking Hermod would stay docked overnight in Avignon, allowing those who wished to sample the nightlife to do so without limitation.   Sailing away at 5:30 in the morning, we would make our way to Tarascon and Arles for our first tour of the trip, walking though a town beloved by Vincent Van Gogh as we begin to see what Viking's "Portraits" of Southern France is all about. That's next.
Come along with us from leaving home to returning and everything in-between right here.  We'll be posting live accounts of what happened along the way. Here is a handy guide with links to where we can be found and followed:
ChrisCruises.com- Live Event In Progress daily blog posts and this Day by Day account of our trip (see below)
Facebook- Facebook page daily posts and photo albums
Twitter- Live posts – hashtags to follow: #VikingTravels  #VikingLongships
Instagram– Live photo posts with commentary/captions as they happen- most recent posts here at ChrisCruises.com (on the right)
Flickr- Live photo-only posts and photo albums
Google+ Posts from ChrisCruises.com, all in one place
Spotify- River Cruise Playlists 
Tumblr– Live photo posts, as they happen, from me; like Instagram without captions.
Tumblr Bonus: Lisa's Tumblr, themed "The World As Lisa Sees It" posts one photo each day as it has for years.  Follow along to see how Lisa experiences this trip as well.
Pinterest- Photo boards for each place we visit, Viking Hermod and a roundup of Viking River Cruises Portraits of Southern France itinerary
Exposure- Photo Storybooks for each event
Have questions for us before, during or after the event?
We are Vikings and always in touch
Email Chris@ChrisCruises.com
Chris is on location this week, sponsored by Viking River Cruise touring in Europe by river.  As always, Chris provides the details to let readers decide what resonates (or not) with them in an unbiased, factual manner.