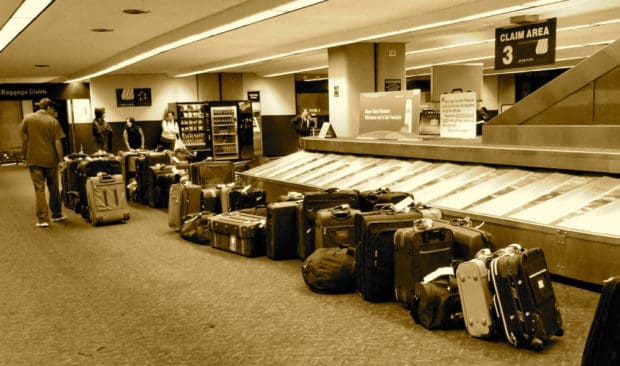 Designing Your European River Cruise Packing List
At about two weeks before sailing, it's time to get serious about your European river cruise packing list.  Taking stock of goals for any trip plays a role; the right tools for the job are needed, wherever that sailing may be.  The time of the year too is important; a summer sailing will require fewer, lighter weight articles of clothing.  Fall and early Winter Christmas markets sailings a different mix.  We can dance around this topic  in a number of ways; consulting suggested packing lists from the cruise line, online sources, past trips and more.  But at two weeks prior to sailing, the time has arrived to make a stand and decide what to bring along.
In the past, that might have meant pulling out the biggest pieces you own.  You might have loaded each of the largest-size-accepted-by-the-airlines sized bags to the brim with every item of clothing and gear imaginable.  After all, on international flights, everyone gets at least one checked bag for free.
Boys And Girls Are Different
Since I already pack her for each trip anyway, I have a good idea of what she needs on her river cruise packing list and what we take just to make her feel girly-secure. To make that process easy we found a great sale at a favorite store and just bought her new clothes for the trip.  Sure, they'll double for work clothes too but almost everything she needs fit nicely in a shopping bag upon leaving the store.  As we shopped, Lisa was watching prices while I was calculating square inches of storage space needed.
Taking lessons learned doing without when luggage was lost we proceeded with one thought in mind:  "If we only put stuff in the checked luggage that we can do without if it gets lost, maybe we don't really need it anyway."
As opposed to my packing needs, there are two significant differences between Lisa and I that will prove challenging for our Viking River Cruises Portraits of France itinerary: she uses a bulky C-pap machine to sleep and the gigantic issue of personal products.
Leveraging Paid VIP Status
Normally luxuriating in the generously-sized checked luggage are her personal products which easily fill two gallon size Ziploc bags or more.  She'll have to whittle that down to meet TSA requirements, not so much for leaving the United States (we have Global Entry and thus TSA Pre✓ which is not as picky) but for coming back in to the United States where French security screeners will limit what we bring.
The easy answer for a number of personal products is to consider what is offered at the destination, be that a hotel or river cruise ship.  At our pre-cruise Best Western Hotel that's not much but we are only there for one night; not a major concern.  On our Viking River Cruises longship, Viking Hermod, we will find lovely L'OCCITANE bath products which should work well.   The C-pap machine is always a carry on item anyway, along with high priority like medications and electronics.
So we take a good hard look at everything we will bring.  For me, that's easy, made easier by having the ship's laundry service as a backup if needed.  Believe me, the price paid for onboard laundry is totally worth the peace of mind it buys not having to be concerned about lost luggage.
Jeans- 2
Slacks for dinner- 2
Shorts- 2
Summer-weight day shirts- 4
T-shirts- 3
Dinner shirts-3
Travel jacket- 1
Underwear- 5
Socks- 5
Backup Plan In Place
A good thought to consider; Viking provides a sample Laundry bill on their website, complete with pricing.  I could wash half of the above for €23.  Worth repeating: that's a small price to pay for having everything with us, all the time.
Shoes, a big space waster, will be limited to one pair of white walking shoes which is just going to have to work for dinner as well.  No tie, no suit, no tux, no multiple shoe selections, belts, overcoats or jackets.  This is basic packing at it's best.  In addition, we'll roll everything and fit all this plus photo gear, two computers and assorted cables for all in carryon luggage. On location, we'll use Downy Wrinkle Releaser to bring clothing back to life.
As always, we encourage each traveler to come up with their own strategy for packing, one that fits their own needs and tolerances.  Still, when traveling from North America to Europe for a river cruise, reducing that list to basics can make the process of getting there and getting home much more enjoyable.