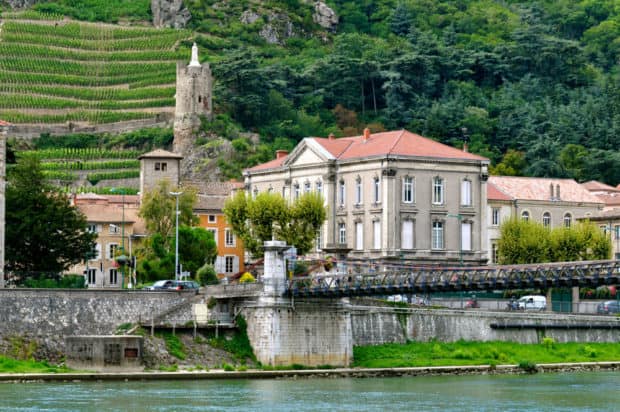 Day Touring France Ends With Brilliant Viking Culinary Event
Viking Hermod's Hotel Director Stephen Burnham was excited about visiting Tournon. "This will be the best day of the cruise," he told me, promising "The weather will be good, the day is full of beautiful places and ends with a great dinner event."  Man, was he ever right about that.
When traveling, I commonly divide days into the events that will occur along the way, just for organizational purposes.  It helps me plan our time and resources so we can bring you along for the ride and enjoy the day ourselves too.  On a Viking River Cruise that usually involves the one included tour of the day as well as some aspect of shipboard life and what it is like to be here, doing this.  Our day in Tournon was indeed a full one as promised with nine distinct events.
Scenic Cruising In The Morning
We began the day and continued into the early afternoon, scenic cruising through some of the most beautiful French countryside seen so far.  Following along on the journey via Viking's Rhone and Saone River Map available for purchase on the ship (2), we passed nuclear power plants, wind turbines, vineyards, farms and small towns.  Some passengers gathered in the ship's lounge while others slept in, taking advantage of our later arrival.
French Lessons
Before arrival in Tournon, Program Director Matthew Scott from the UK, gave us some easy tips on learning a bit of the French language. Along with a cheat sheet of commonly used words and phrases, Scott gave us some easy ways to remember them, focusing on words that were spelled and/or pronounced close to English counterparts like "toilet" and "café".
Cooking Demonstration
One of the most most enjoyable and well-attended events on a Viking River Cruise are the cooking demonstrations.  Today we learned how to make Chocolat Fondant, a French version of what we think of as chocolate cake.  Interesting factoid from that demonstration: Cake batter can be frozen and baked from a frozen state with just a few more minutes in the oven.
France Today
On the Danube and Rhine rivers we learned all about the European Union, its history and current status.  Today we learned about France and gained a great amount of insight into the people who live there and what life is all about for them.  Not so much unlike life in the United States, taxes are a burden for workers and France struggles to meet the drain on financial resources they too have with an aging population that s not sufficiently supported by younger workers.
All of the above occurred before arriving in Tournon.  Once there, our included tour of the day was actually four tours in one.
On Tour: Walking The Streets Of Tournon
We began our included tour of the day walking the streets of Tournon with a great local guide that was both interesting to hear and offered great answers to questions we had along the way.  That she had a wonderful sense of humor went a long way to easing the anxiety a few fellow travelers had about lingering hard feelings from the French to Americans, I suppose dating back to the French Fries thing from the Iraq war.
On Tour:  Tain L' Hermatage Winery
Far more than the standard winery tour that explains the process and ends with a tasting of whatever it is they make on the scene, this was the first of two events today that highlights the advantage of traveling with Viking River Cruises.  On hand was not a guide from the winery to aid our local Viking guide but the owners of the Crozes Hermatage winery, eager to share what they do with us.   We walked the fields of grapevines, posed for photos and got a really good feel for what life is like there after the tour buses and tourists leave.
On Tour: Valrhona's Chocolate Boutique
An amazing part of our Tournon adventure was a visit to the Valrhona Chocolate Factory store where photos were not permitted but sampling chocolate until you died was.  Seriously, there were hundreds of different chocolate products on display for sale and sampling.  Our Viking Program Director had warned us "You can eat all you want, all day if you want to, they don't care" and he was more than right.  The chocolate flowed freely, to the point that after I made a small purchase to take home, I was stopped abruptly.  "Wait in minute!" said the cashier, throwing a bunch more chocolates of different varieties in as a bonus.
On Tour: Musee de Tain L'Hermatage
Again tapping Viking's local connections at the scene, we visited a 16th century hotel that featured a collection of paintings from the new school of Paris.  There, we met the daughter of Pierre Paule, whose paintings are on exhibit and reflect the development of a unique style obviously influenced by many of the impressionists associated with Southern France…which happened to wrap up this day on our Portraits of Southern France and tie it with a bow.  Or so we thought.
Taste Of Province – Viking Culinary Event
Dinner was a unique culinary event only done on this itinerary that I would expect to see rolled out to others on the Viking itinerary menu.  In four different areas of the ship stations were set up reflecting the different areas, regions and cuisine of France.  In the bar was a self serve area with French wine and an assortment of French beers.  On the open-air Aquavit terrace a chef was carving roasted duck.
Going directly into the galley, Executive Chef Jevgeni Passenko and staff were on hand with a roasted chicken, vegetables and other French specialties. In the ship's dining room, Bouillabaisse and other French menu items were featured along with an assortment of desserts. As passengers went from place to place around the ship, serving themselves with the assistance of crewmembers, it was hard not to get into the spirit of it all, and everyone did.
Frankly, the Taste of Province event was much more than an interesting way to eat our way though the destination.  The Viking culinary event also went a long way to bringing passengers together as a group in an intense but enjoyable shared experience.