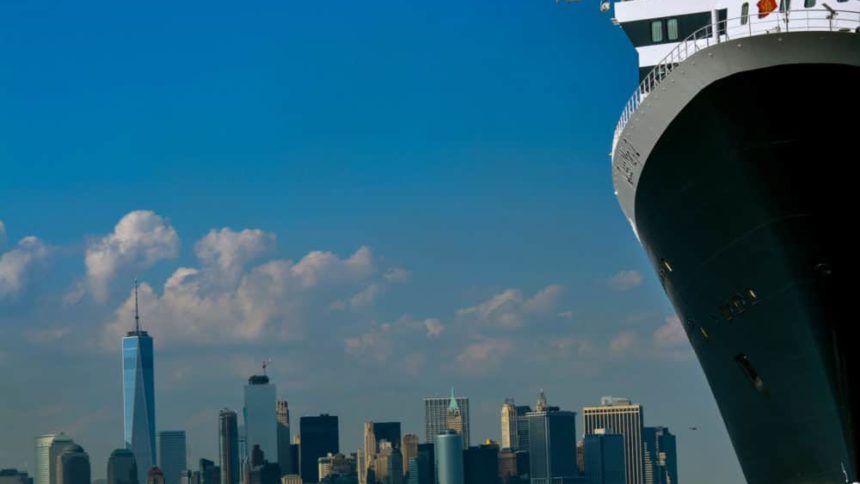 Cunard Line Upgrade Offer Brings New Reason To Book Now
A transatlantic sailing on Cunard Line's iconic liner Queen Mary 2 is a unique experience we think every fan of cruise travel should try at least once.  The ancestors of United States citizens who are not native Americans came from somewhere else; many via ocean liner to the 'new world'.  Sailing back and forth from New York to Southampton, Queen Mary 2 traces those steps, continuing a 175 year old tradition.  Now, a new Cunard Line upgrade offer brings  more reasons to book one of those amazing sailings of Queen Mary 2, as well as other ships in the fleet.
Cunard is offering a savings promotion titled  "Upgrades on Us" to those who book a cruise now through February 28, 2017. The Upgrades on Us promotion is available on select voyages on all three ships: Queen Mary 2, Queen Victoria and Queen Elizabeth; the offer includes:
Free Double Upgrade from an Inside to a Balcony stateroom
Free Upgrade within the Grill Suites
All past guests receive Free Gratuities
All guests in Grill Suites receive Free Drinks
Reduced Deposit requirements of 50% on all categories
The Upgrades on Us offer features iconic Transatlantic voyages on remastered Queen Mary 2, which underwent a $132 million refit in June.  This offer can also be applied to some of the new themed voyages planned for next year and 2018 such as:
Transatlantic Fashion Week (Aug 29-Sept 7, 2017): As Queen Mary 2 sails across the Atlantic, a glamorous array of fashion shows, exhibitions, lectures and hosted dinners will be onboard including guests Julien Macdonald, Colin McDowell, Gail Sackloff and more. Graduates from world famous Fashion College and models from a leading modelling agency will also be on board.
World Space Week (Oct 6-13, 2017), a Transatlantic Crossing on Queen Mary 2 to celebrate the United Nations international World Space Week featuring top space experts – Astronaut, Scientist and former Shuttle Pilot, Dr. Jeffrey Hoffman; Charles Barclay, of the Royal Astronomical Society; Stephen Attenborough, Commercial Director of Virgin Galactic; and Ken Taggart, NASA historian
A Journey of Genealogy (Nov 4-11, 2018) For the first time ever Cunard has collaborated with Ancestry.com, the largest online family history resource in the world, to offer guests the opportunity to trace their family trees on the remastered Queen Mary 2.
LEARN MORE
See more of what it is like to sail with Cunard Line via this recent video outlining one of the most popular topics on any cruise: dining options
Get an idea of what it might be like to sail away from New York City aboard Queen Mary 2 via our exposure photo narrative:

New York City by CHRIS OWEN on Exposure