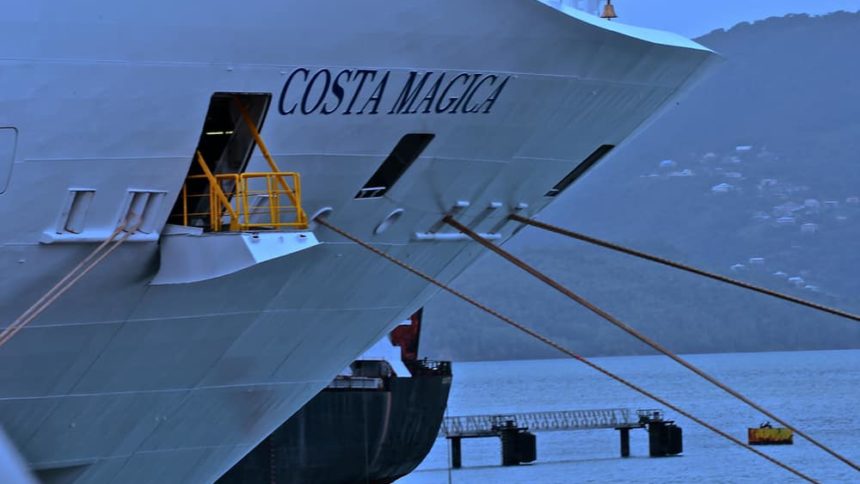 Costa Cruises + Italy's Finest Brands = A Natural Fit
Costa Cruises is Europe's most popular cruise company and has been for more than 66 years.  15 Costa ships sail around the world offering the best in Italian style, hospitality and cuisine, but few come to North American ports.  That's a bit of a shame actually, as our experience with Costa Cruises was one of the more unique on a big full-featured cruise ship. A recent branding announcement from Costa highlights much of what we are missing.
A Quick Look Back
When we sailed Costa Luminosa not long ago, the experience was reminiscent traveling on land in Italy.  Not everyone understood that, thinking Costa would modify what they do for the North American market, appealing to the comparatively coddled masses.  Avoiding that haunting mistake MSC Cruises made years ago and is still trying to get over, Costa stayed true to what they do best.  The result:  Open-minded cruise travelers came out ahead.  Our takeaway: A great intermediary step to traveling in Europe, a sailing on Costa Cruises brings an accurately representational taste of international travel…without the flights if sailing from North America.
Cruising Italian Style Brings Italy's Finest
In line with that focus on their Italian heritage and perhaps an extension of what they know best, Costa Cruises has a branding effort simply titled 'Italy's Finest', that brings even more European cultural immersion without leaving the ship.
'Cruising Italian Style' has long been associated with Costa Cruises North American marketing effort.  Taking that thought a step further brought 'Italy's Finest', a partnership/branding program that has proved successful on a variety of cruise lines including other Carnival Corporation brands.
Italian Brands On Parade
Barilla Pasta
When it comes to dining, Italy is known for creating cuisine that is flavorful, fresh and of high quality. To enhance the onboard culinary experience, Costa has partnered with famed brand Barilla for perfect pasta in dishes at lunch and dinner. Additionally, with help from Costa's Michelin-star Chef Fabio Cucchelli, the line has re-created dining menus to feature more authentic Italian cuisine from different regions of the country.
Pizzaioli
Honoring one of Italy's most beloved culinary creations, Costa is adding pizzerias to its ships that offer 14 different pies. Baked by a pizzaioli, only authentic Italian pies will be served onboard.
Illy Caffé
In the beverage area, Costa has partnered with Illy Caffé to offer an Italian-style coffee break at any time. Ferrari brand wine also is featured onboard, bringing the popular brand from northern Italy's Trentino region to bars across the fleet. Two Costa ships — the line's new flagship Costa Diadema and the recently restyled Costa neoClassica — boast prosecco bars decorated in brand signage featuring the luxury labels.
Italian Vintages
Costa Diadema's Vinoteca Gran Duca di Toscana wine bar boasts a menu of 80 labels from more than 50 Italian wineries selected in collaboration with the Italian Sommeliers Association. In fact, all Costa wine lists have been reworked to feature more Italian vintages.
Aperol
Also in the bars, with "Italy's Finest" guests can enjoy one of the country's favorite traditions:aperitivo. Similar to the American "happy hour," aperitivo features various cocktails like the spritz, made with Italian brand Aperol, as well as delicious antipasti.
Italy's Finest Entertainment
Costa also is revamping its entertainment offerings to showcase more of Italy's best and most exciting traditions. Cruises feature themed parties on the lido deck such as La Notte in Maschera and La Notte Bianca that celebrate two Italian traditions: the masked Venetian carnival and a white night festival. In the onboard theaters, guests will find more Italian-style shows like "Sapori d'Italia" — or "Flavors of Italy" — that highlight Italian music, art, opera, cinema and style.
Italy's Finest Even Better In Italy
Ashore, Costa Cruises showcases "Italy's Finest" through vacation packages offered in partnership with Central Holidays. Costa Cruise Tours, sold exclusively to the North American market, feature Central Holidays as the operator of air, land and Costa Cruises' cruise packages when actually traveling in Italy starting in Civitavecchia (Rome,) and Savona, Italy with programming for Marseille, France; and Barcelona, Spain.
Like the familiar Alaska cruise tour, on a Costa cruise departing from Civitavecchia, guests could book a Costa Cruise Tour and receive air, transfers, first-class hotel accommodations in southern Tuscany for three nights with daily breakfast, a full-day excursion to the Tuscan countryside and towns of Montalcino, Montepulciano and Pienza, a winetasting and a transfer to the port on the day of the cruise departure.  Alternatively, showcasing the diversity of these tours,  guests could choose the Umbria option that includes (in addition to air and transfers) a hotel stay in Orvieto, guided tour, uber-popular cooking class and wine-tasting, all prior to a Costa cruise departing Civitavecchia aboard Costa Diadema or Costa Fascinosa, the line's newest ships.
Costa Cruises Sailing From North America
Costa sails from North American or Caribbean ports year-round but on a seasonal basis which usually brings very nice pricing.
Costa Magica sailing round-trip Martinique starts at $699 per person + tax.
Costa Deliziosa has a number of sailings in December of this year, round-trip Fort Lauderdale.
Costa Deliziosa has an interesting 10-night sailing in February 2016 that includes stops at the new Amber Cove cruise destination in the Dominican Republic, as well as favorite Caribbean/Bahama destinations Freeport, Ocho Rios, Grand Cayman, Roatan and Costa Maya, round trip Fort Lauderdale.
Costa Favolosa sails a unique itinerary in March 2016 that squarely addressed the concerns of Caribbean fans looking for something different.  Sailing round-trip Guadaloupe, check this interesting itinerary:
As eluded to above, cultural immersion is not for everyone.  On board Costa ships, other languages will be spoken and generally domestic-focused North American travelers will notice other differences in how common elements of a cruise vacation plays out.  If that thought makes one uncomfortable, now might not be the time for this unique travel experience that normally requires long, international flights to begin.  But file this thought away for future use; international travel may be of interest one day and a Costa Cruise sailing from North America has been a wonderful first-step in that direction.  Now, with a focus on Italy's finest, a Costa Cruise on the way to full-blown international travel is an even better choice.