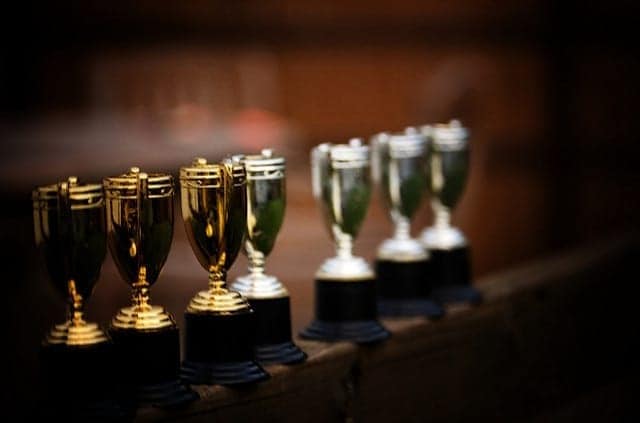 Carnival Corp Award Tally More Than An Impressive Number
Ten different cruise lines make up the Carnival Corporation family of brands.  The 102-ship global fleet visits over 700 ports around the globe. Millions of travelers are delivered safely and efficiently to those gateways eery year.  So popular are the brands of Carnival Corporation that 19 new ships will be delivered between 2017 and 2022. Impressive numbers for sure but not really a big factor in our decision of which cruise to choose.  A few more digits though are indeed worthy of our consideration: the Carnival Corp award tally adds up to nearly 350 awards of one sort or another won by the ten brands.  Still,  it's not the volume of awards that are as significant as the way they were earned.
These Are Not Participation Awards
I can't think of a single cruise line that has not won an award of some sort.  Still, these are not participation awards. Just having a ship in the ocean does not guarantee that everyone goes home with a trophy.  Many boast multiple accolades, some more prestigious than others.   Some honors are relevant to what we will experience on any given ship, others not so much.  Credibility often comes from the familiar names that bestow those awards.  Reader's Digest, Porthole Cruise Magazine, Cruise Critic, Travel + Leisure and more sponsor awards based on the experience of readers, travelers and editors.

Beyond The Great Big Beautiful Cruise Ship
When we see a favorite brand at the top of a list, it confirms our wise decision to choose that cruise line over others, after the fact.  In the buying process, putting much weight on award wins can be risky.  What really counts is what each cruise traveler actually experiences during travel, all things considered.  In that respect, the decision can be as simple as choosing the right tool for the job. That decision is a relatively easy one. Cruise ships have different features that may or may not be of interest. Get that right and we move along to the most important part.
People Make The Difference, Yet Again
Book a cruise line and ship that is a good fit.  Choose a sailing with an itinerary of interest.  Buy that cruise at a price we like. Sail at a time of the year that works. We've done our part so off to travel we go.  We went to the advertised ports, at the price we paid, on our schedule.  Back h0me we think about then answer the big question:
All the dots were there there but did the cruise line connect them? 
Several of Carnival Corporation's leaders received individual recognition that reflects their achievement, leadership and creativity.  Those leaders: Carnival Corporation CEO Arnold Donald,
Holland America Line President Orlando Ashford, Fathom President Tara Russell, Seabourn President Rick Meadows and Carnival Cruise Line Senior Cruise Director John Heald.
Other than Carnival Cruise Line Senior Cruise Director John Heald, most cruise travelers may have never heard of these other people.  So why bring them up? Because much of what cruise travel is all about comes from those who chart the course their line will sail.   That makes knowing something about them important in the long run.  That they won awards is one thing.  That the reason won that award flows throughout the cruise line is quite another.
Not long ago, while covering the launch of Holland America Line's new ms Koningsdam, a quote from president Orlando Ashford, caught my attention. "Watching the ship move so gracefully across the water really brings Koningsdam to life" said Ashford a nod to the elegant and refined profile of the new ship as she sailed smoothly through sea trials. Not all cruise line leaders get that, focusing on each 'floating hotel' as though it were merely an asset of the company.
I liked that.
He got it about the hardware.
In a very global way, Ashford gets it about travel in general.
"Travel changes us, and how we experience the world, from the inside—out."
More specific to cruise travelers,  along with Ashford came a forward thinking focus he calls Collective Intelligence, a process that draws on the capabilities, knowledge and abilities of everyone in the organization to craft new onboard programming. In Holland America Line To Reveal Future we introduced that concept, predicting  "it will be that same Intelligent Collective Effort that will fuel the fire behind the ideas, concepts and partnerships to be announced."
That happened, giving good reason to consider the Carnival Corp award tally just a bit more seriously.
Several of Carnival Corporation's leaders — including Carnival Corporation CEO Arnold Donald (right), Holland America Line President Orlando Ashford (second from left), Fathom President Tara Russell, Seabourn President Rick Meadows and Carnival Cruise Line Senior Cruise Director John Heald — received individual recognition for their outstanding achievement, leadership and creativity.  A complete list of those Carnival Corporation Awards can be found here.
Cover photo: Flickr/Brad.K