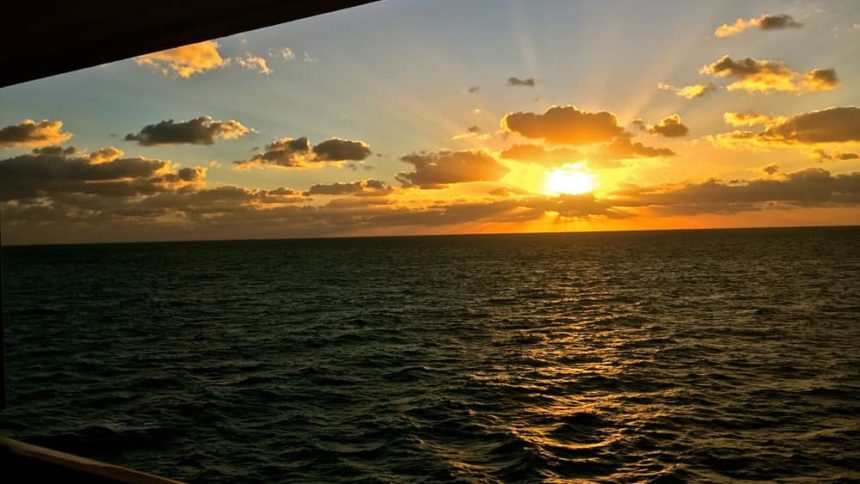 Carnival Continues Evolution Beyond Funship 2.0
Think 'Carnival Cruise Line' these days and odds are their Funship 2.0 initiative comes to mind. Rightfully so, the $multi-million effort brought a fresh experience to the Carnival fleet with a variety of new, branded concepts.  It's a story we have been covering since a 2011 post titled Carnival Funship 2.0 To Blow Away Other Cruise Line Programming, For Free. In many ways, Funship 2.0 has done just that.  Still, evolution of the world's most popular cruise line did not end there. A variety of other initiatives have ensued, as Carnival continues to redefine cruise vacations.
At an October 2011 New York City event, Carnival announced a move to propel the line into a multi-year guest experience transformation and Funship 2.0 was born.  The $500-million effort was far more than a makeover and included more than a standard dry-dock remodeling project.  Carnival brought in heavy hitters and time-tested concepts in an attempt to blow away the competition, at no additional charge to their passengers.
Fueled by Funship 2.0, Carnival has continued their forward motion with a number of new initiatives.
Then President and CEO Gerry Cahill set the stage for the announcement by reviewing the line's mantra of providing a quality vacation for all guests. Continuing the Carnival's unwavering commitment to their trademark "fun" element,  the new Funship 2.0 initiative was introduced first to Carnival Liberty, then on to nearly all ships in the fleet.
"Fun Ship 2.0 is the largest and most ambitious initiative that our company has ever undertaken and it will serve to significantly transform the Carnival vacation experience for our guests" said Cahill at the time, proved absolutely correct in practice as the Funship 2.0 initiative was rolled out.
Highlights of Funship 2.0 included Food Network star Guy Fieri who developed uber-popular Guy's Burger Joint; comedian George Lopez to insure the success of Carnival's fleet wide Punchliner Comedy Clubs and Celebrity song master DK Irie.
Funship 2.0 also brought new complementary venues including the Red Frog Rum Bar, the Blue Iguana Tequila Bar, the Alchemy Bar, an EA Sports Bar and Blue Iguana Cantina.
Standard areas of the ship were re-worked transforming the out-of-fashion Formalities Shop where I once rented tuxedos to Cherry On Top where I now buy candy and other treats.  The library is still there, transformed into the Library Bar which offers by the glass wine tasting, a first for Carnival.
Carnival could very well still be riding the high wave created by Funship 2.0 to this day.  All elements of the initiative have proved to be wise choices.  All were well accepted by Carnival passengers.  All have indeed redefined the worlds most popular cruise line. But they did not rest on their laurels, they continued that forward motion.
Carnival LIVE Comes To Town
Carnival raised the bar on at-sea entertainment, adding top entertainers to it's manifest of fun. Cruise travelers are now able to enjoy artists such as Jennifer Hudson, who kicked off the latest Carnival LIVE program in a January 2014 New York announcement.
In 2014, the Carnival LIVE Concert Series was made up of 49 performance dates, offering Carnival guests the opportunity to enjoy an exclusive onboard performance by a diverse roster of popular music artists while ships are docked at select ports of call.  Artists included 38 Special, Chicago, Daughtry, Foreigner, Gavin DeGraw, Jennifer Hudson, Jewel, Kansas and others. See the full list and details at the Carnival Live Concert Series website.  Extended into 2015, Carnival guests can book online with artists including Styx, Rascal Flatts and Smokey Robinson.
We enjoyed a concert on board Carnival Breeze which seemed a bit out of place in Cozumel, still in port after other ships had departed. We stayed until 1AM for Carnival LIVE and an hour-long show by rock music legends Styx.
New Options In Main Dining Room
Also unrelated to Funship 2.0,  in December 2013 Carnival brought not one but two new dining concepts aimed to be exactly what cruise travelers were looking for. Called the American Table and American Feast concepts, Carnival's culinary team spent time interacting with the leadership at Union Square Hospitality Group, a leading New York-based entertainment, food and hospitality organization, to observe best practices and the organization's approach to culinary excellence.
American Table is offered on Cruise Casual night and is designed to evoke a modern restaurant experience with an emphasis on exceptional American cuisine featuring a mix of familiar regional, fresh and contemporary dishes.
American Feast is offered one or two times per voyage on Cruise Elegant nights.  Designed to create the feel of an elegant elaborate special occasion, American Feast will be celebrated by all guests in the restaurant with courses served table-side.
Carnival Vista Is Coming
In a recent New York City announcement, 133,500 ton Carnival Vista was introduced as the next new ship in the Carnival Cruise Line fleet, set to begin sailing in 2016. Notable features include the first-ever IMAX Theater at sea; a SkyRide open-air cycling experience; a raft-riding water tube Kaleid-O-Slide; some unique stateroom configurations and more. Also included, all the popular elements FunShip 2.0. Still, looking beyond the hoopla of it all, one very clear but unmentioned feature of Carnival Vista will endure, long after that new ship smell is gone.
Look for Carnival Vista to redefine guest/crew interaction beginning with where, when and how crew is sourced, trained and positioned on the ship. We will see crew members that are beyond happy to be there,  eager to be of service and enabled to take good care of their guests more than ever before. The word "no" will be stricken from their vocabulary as just what they do. Better yet, those crew members will anticipate the needs of their guests…much like a cruise line classified a "luxury" brand.
Super-Fast And Efficient Internet Access
Center stage in my most recent Carnival experience: smoking hot Internet connection that is truly as fast as a hotel on land. A bargain at $99 for the week, unlimited use, 24/7, this ultra fast system has passengers Skyping with friends back home, it's that fast. To me, much of my life of the past on board a big ship cruise was spent uploading photos. I would skip dinner, knowing that's the time when the fewest other passengers or crewmembers were on line. They were all eating or working. I have been known to get up at 2AM to work on photos when others are asleep. I'll remember those skills for sailing other ships that do not have the high-speed system of Carnival Freedom (or Carnival Breeze and Sunshine too).
In a way, I have easily became drunken with connectivity. This is the way all cruise ships should be. I know now that it can be done, seen it in use and am hopelessly addicted.  While I may not have enjoyed the usual alcohol-induced love of all things cruising, it was nice to have this new addiction.
Carnival Journeys
Carnival Cruise Line has launched a unique destination-focused program called Carnival Journeys , promoted as "a unique collection of nine- to 15-day seagoing adventures"  that will begin this fall.   At first glance, one might think that Carnival took all their repositioning cruises (sailings that move ships from one part of the world to another on a seasonal basis) corralled them all up and packaged the lot as something different in a clever marketing effort.  But look just a bit deeper and we find some unique travel opportunities not simply for seniors with abundant time on their hands but pretty much anyone who has an appreciation for amazing places.
Normally thought of as the exclusive domain of small ship, luxury lines; Carnival has a challenging job ahead, pairing if not redefining their trademarked FunShip cruise experience to include a more intense focus on destinations as well. Sure, they have a ton of shore excursion offerings available on every sailing of every ship.  But to pull off having a product that is bona fide destination-focused will take a different effort, one Carnival seems to have charted a direct course toward.   In other words, they can't just say they are destination-focused.  A successful effort will include unique new programming that goes beyond  'Yes, we have shore excursions and you can book them in advance online…and while you're there how about a spa treatment or bon voyage gift!?'
Dr Seuss On The Loose
A perennial favorite with family travel,  Carnival Cruise Lines took their time updating the award-winning Camp Carnival program and with good reason:  it was rated tops with both parents and kids for quite some time.  Parents were happy.  Kids were happy.  No need to rush into anything here.  Business as usual.   Still, as family entertainment icon Disney Cruise Lines prepared to double the size of their fleet not long ago, other cruise lines started to sweat.
Bringing onboard b-list cartoon characters and children's programming, other lines tried to ramp up their position with families with mixed success.  All are better off than they were a few years ago but still don't come close to winning a race with Mickey, Minnie, Donald and the gang their at-sea persona's fueled by Disney's rich heritage of laser-focused family programming.  Carnival chose not to enter the popularity contest, going a different direction entirely.
In much the same interesting way that Carnival Cruise Lines revolutionized the sleepy cruise industry decades ago, they waited until the timing was right, bouyed by their still-successful Camp Carnival program and happy kids from tots to teens.  I know, our "kids" were some of those.  When the time came for Carnival to revolutionize onboard programming for children, they turned to a different icon, a tried, true, tested and trusted source:  Dr Seuss.  Brilliant.
Adding Cigar City Craft Beers
Already pairing their own custom brew with a chef-designed burger, Carnival Cruise Line added a local craft beer to ships sailing from Florida ports.  It was yet another move by the cruise giant to establish and promote a mutual long term relationship with the ports their ships call home.
Resonating with the Carnival passenger demographic, "Guy Burgers" as we have come to call them, have made for a great, new reason to sail Carnival ships with Guys Burger Joint rolled out nearly fleetwide now.
On most Carnival ships, steps away from the Food Network star's signature eatery, is the Red Frog Rum Bar which already serves a custom brew on tap, Thirsty Frog Red.  Continuing to design experiences available on no other line, Carnival will feature Florida brewer Cigar City beers, again a display of the worlds most popular cruise line making ties to the ports and part of the world from which they sail.
Onboard Experience Chronicled With New Video Series
The people that promote cruise lines, hoping we choose one of their ships over someone else's, go about their business in a number of ways.  Some focus their efforts on value-oriented promotions that offer attractive pricing.  Others sell the notion that a cruise vacation with them is a better fit, for reasons ranging from culinary efforts to top-deck active lifestyle features, fellow passengers, itineraries and more.  Seeking unique insights on many features of newly-refurbished Carnival Freedom, Carnival Cruise Lines launched the Carnival Chronicles video series featuring a number of popular travel bloggers, each with their own unique take on the ship.
During a recent remodeling, 110,000-ton Carnival Freedom went through a $70 million makeover, adding many elements of Carnival's Fun Ship 2.0 initiative.  To promote the new ship along with her new FunShip 2.0 look and feel, five bloggers were given hand-held, water-resistant video cameras to document their onboard experience; family style.
Of particular interest to us, husband-and-wife team of Stefanie and Rick Fauquet (MommyMusings, RickOnTheRocks) and their (adorable) daughter Paris enjoyed a variety of experiences both on and off the ship. In addition to snorkeling in crystal-clear Caribbean waters, the Fauquets took in a family-friendly comedy performance at the Punchliner Comedy Club presented by George Lopez and hit the links for a round of miniature golf up in the fresh sea air. Rick even got up on stage as part of SuperStar Live – a karaoke activity with a four-piece band and backup singers.
New Carnival App, Access Bring Fun Connectivity
Staying connected while on a cruise vacation has come a long way in a very short time.  Go back a dozen years and the cellular telephone message 'NO SERVICE' was common to the dismay (or joy) of passengers, regardless of the cruise line, ship or part of the world they were sailing.  Today, it seems everyone has a smartphone or device of some sort that performs well on ever-improving communication systems, making staying in touch easier all the time.  Now, Carnival Cruise Line has an app for that and is releasing it in a unique, typically Fun way .
Look hard enough in cruise ship gift shops and there might be a display of walkie-talkies for sale, once the only way mom and dad could keep track of the kids.  Years ago, cruise lines commonly rented the devices for families who felt the need to stay connected.  We tried that one time and ended up turning the cumbersome boxes back in before the end of the first day.Their limited range and technology made communicating an annoying proposition and occupied a hand that could be better used filled with an umbrella drink.
Fast forward to right now.  Nearly everyone has a smartphone that works well on land but still finds 'being at sea' the kryptonite of connectivity…unless they pay, dearly, for access to the ship's limited bandwidth satellite connectivity.
On The Horizon
So what's next for Carnival Cruise Line?  Hard to say but we can bet it will include an element of fun, whatever it is.   A new video series titled "Start The Day With Carnival" might bring some clues that will answer the "What's next?" question.