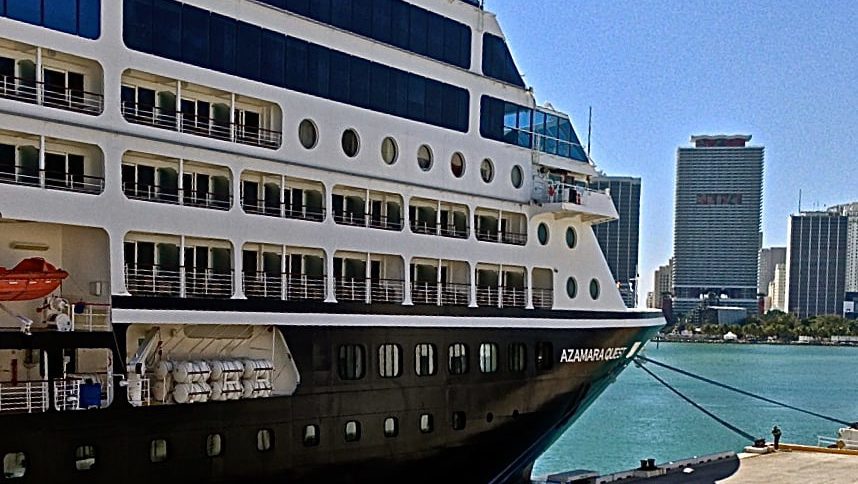 Azamara Video Defines Good Reason To #LoveTravel
Azamara Club Cruises defined, packaged and promoted the idea of destination immersion well ahead of other cruise lines. Sure, to many travelers, the ports of call visited on their cruise vacation are of primary importance; regardless of the cruise line sailed.  But visiting a place and connecting with it are two entirely different experiences, as I discovered sailing Azamara Journey in 2012 on an itinerary themed Castles, Pubs and Distilleries.  That one single sailing redefined the way I looked at cruise vacations from that point forward.   Frankly, that enlightened perspective was both a blessing and a curse that I continue to wrestle with today.  A series of short new Azamara video very closely emulates the experience I remember and provides good reason to be excited about sailing with them again this summer.
Land, It's The Reason We Cruise
 Prior to sailing with Azamara, my thoughts about destinations were more along the lines of  "who cares where it goes, it's a cruise!" and the exact ports of call were not all that important.  Give me a beach, a bucket of beer and a lounge chair and I was happy.  With a cruise history heavily weighted with
Caribbean
,
Mexico
and
Alaska
sailings, we had been to most ports, multiple times and enjoyed the familiarity that came along with those repeated calls. Then came that jump to flying 'across the pond', arriving in
Edinburgh, Scotland
for the Castles, Pubs and Distilleries sailing.  The world became a bit smaller.
Night.  It's The Best Time Of Day
  Cruise ship
overnight stays
in port are becoming more popular all the time. Breaking away from port-intensive itineraries, long-time
cruise ship
travelers appreciate the
extra time
at iconic destinations. Those new to cruise vacations like being able to explore strange, new worlds but have the convenience and security of that
cruise ship
waiting for them at the end of the day.
Azamara Club Cruises features voyages with overnight stays at events such as Carnaval in Rio de Janeiro, the Monaco Grand Prix and the British Open. The focus towards events brings what Azamara calls a "destination-immersive" travel experience.
Want To Take Better Vacation Photos?
 "If you're looking to take better photos on your vacations, maybe it's time to start thinking about the vacations you're taking. With Azamara, the backdrops are so breathtaking, the photos practically take themselves," says Azamara of this video.  I think they're right about that.
Azamara's two intimate, 694-guest ships, Azamara Journey and Azamara Quest, with a combination of 347 suites and staterooms, offer a European-boutique hotel ambiance with extraordinary service, fine cuisine and wines from around the world, and wellness and vitality programs, all while sailing to a host of destinations larger ships cannot reach, often staying overnight.
Destination Immersion: Your Own Mini Vacation
 Our Castles, Pubs and Distilleries ended in 
Rouen, France
, a gateway to
Paris
aboard
Azamara Journey
.  Rather than being the end of the experience, we parked there for three days, allowing up close and personal time with the iconic destination.
On of those days we did a shore exploration called a Taste of Normandy.  Exploring Normandy's lush green pastures and apple orchards we visited Fromagerie Graindorge and Chateau Breuil calvados distillery.  Also that day, we stopped by the seaside town of Deauville and Troville for a lunch and free time to explore on our own before heading to Hornfleur to visit that charming town.
Choices: The Offer For Those Who Love Travel
  One of the best parts of any cruise vacation are the options available to each of us.  Regardless of what defines a quality travel experience, odds are there is a cruise line and/or particular ship that offers it.  For those who love to travel, just 'travel' in general; the act of going from one place to another, Azamara has us covered, every step of the way.
The Castles, Pubs and Distilleries sailing mentioned here was a top travel experience, but it did not start out that way.
To get an idea of just how badly things can go wrong just before embarkation, I give you the example of our spent United Airlines flight from Orlando through Newark to Edinburgh, Scotland.  Man, what a mess.  It was no fault of Azamara Club Cruises that airline maintenance issues combined with a rare form of stupidity not often seen in today's business world, created a delay that caused us to miss sail away.
But as is commonly the mark of excellence for a service organization, Azamara smelled trouble, found it, dealt with it and came up with a plan that would get us to the ship as quickly as possible.
Initially, the people at Azamara thought it was just me who might, literally 'miss the boat', due to a worsening air situation beyond their control.  It was one of those moments when the moon and the stars aligned in a very bad way that could have had a domino effect, cursing other experiences if not the whole cruise as well.
Brilliantly, Azamara saw it happening and made a plan for us to get to the ship, just hours into the delay.  Later, as the situation on the ground deteriorated further, Azamara came back with an updated plan.
Good. Appropriate.  Well done.  The story could have ended there and Azamara would surely have gone beyond their duty.
But wait, there's more.
At the time, Azamara was fond of using a self-created word, "Azamazing", to describe much of what they do on a ground-level operational basis.  A cute play on words, "Azamazing" could be overused quite easily and become a meaningless buzzword rather quickly.
When we finally arrived at Azamara Journey for embarkation, the nearly full motor coach was parked right in front of the ship for easy access and unloading.  "Great, we finally made it.  Now we can put this experience behind us and move along," was the unanimous feeling of the group, simply looking to close that chapter of travel and move along.
But then the Hotel Manager and Guest Services Manager of the ship came on to the tour bus to welcome us along with Azamara Journey Captain Johannes Tysse who calmly and reassuringly stated what we would find to be an undeniable fact "You are with us now and everything will be good from this point on."   He was right.
Join me June 23rd as we return to destination-focused Azamara Club Cruises for a 12-night sailing themed Venice, Greece and The Isles Of Croatia on Azamara Journey.
Chris is not a paid spokesperson or brand ambassador.   Not compensated by cruise lines, what you read here are his observations, thoughts and interpretations, biased only by a positive outlook and appreciation for what cruise vacations have to offer travelers.