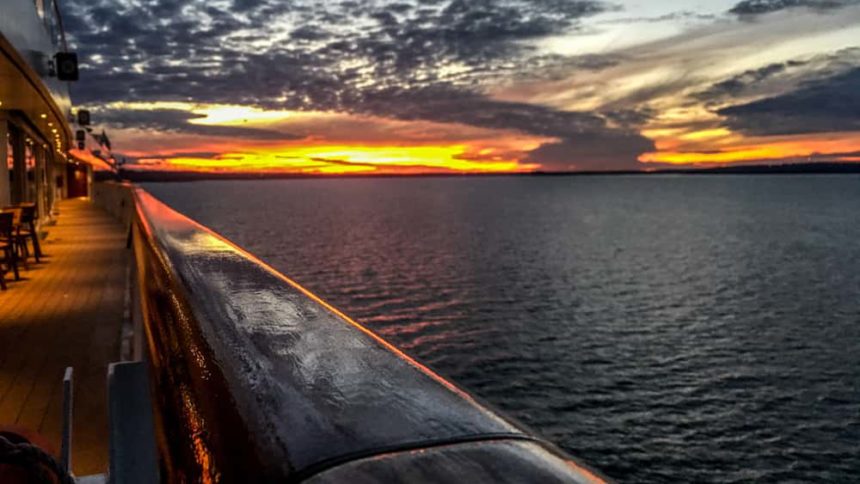 Actually, Viking Star Is Designed For Caribbean Cruising
I suppose the same could be said about a number of cruise ships; 'It's like they had me in mind' when being designed. Indeed, we have used this space to highlight features on a number of ships we believe are of interest to readers. Walking around Viking Star on our recent In The Wake Of Vikings sailing, talking with other passengers and examining interesting features; we felt right at home. That was not surprising; we knew in advance that Viking Star's design had come from the same flavor palette as the popular Viking Longships and had sailed the ship before. What took a couple days on board to sink in was how very nicely Viking Star is designed for Caribbean cruising.
On many other ships we have sailed, there have been features or attractions that went unused. I never really thought all that much about it. We just have not cared for some of the areas and activities. Don't get me wrong, many cruise travelers do enjoy climbing a rock wall, surfing on board, navigating a ropes course, playing roulette and having drinks mixed by robots. We briefly used an onboard children's program, but our kids did not really care all that much about it.  Nightly entertainment I can skip with ease. Late dinnertime has no place in my world.
In reality there was an increasing percentage of many other cruise ship features that we do not need, use or enjoy.
I have no negative feelings about those features others find popular; they are just not of interest to us. Sailing Viking Star multiple times, I have come to realize that there is no part of the ship that we did not use.  There is no element of the onboard experience we did not enjoy either.
We feel like Viking Star was designed for us…and perhaps you…or maybe not. Families with tiny children are out; there is little to do here for them. Those who need to be amused too, forget it; no one is going to hold your hand and deliver enjoyment on a silver platter. Your brain will be required here, at least to determine what you will and will not be interested in; choosing from a variety of enriching options on board and off.
Like to read a good book in a comfortable space? Viking Star has that along with a library that weaves its way through the ship. That's as opposed to a library that is secluded in one tiny space.   Enjoy the art of conversation with other people like yourself? This ship is the place to do that, in comfort, where a well-run hotel operation will have someone anticipating your needs.
Looking forward to Caribbean cruising with Viking Star, the ship is very much designed for this part of the world.  All staterooms have generously sized balconies, multiple dining venues connect with the (hopefully) pleasant weather of the Caribbean.  If the weather turns ugly, a sliding roof maintains an outdoor pool grill, pool bar and main pool area as usable space.  A covered, wraparound promenade deck makes 360 degree views possible in any kind of weather too.
If travel via comfortable cruise ship to see interesting destinations with other like-minded people with makes for a good experience, Viking Star is the ship for you…and me. We would have a good time together here.
See some other unique features of Viking Star that will prove quite popular in the Caribbean:
[espro-slider id=65562]
Facebook Photo Albums