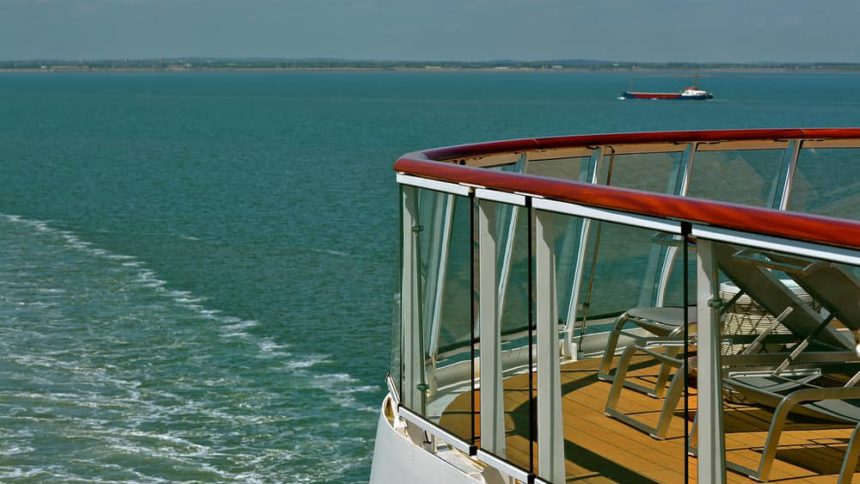 A Few Favorite Viking Star Features
Viking Cruises interesting new ocean cruise ship was officially named at a Bergen, Norway ceremony yesterday and we were on hand to witness the making of maritime history.  It was also the launch of a new ocean cruise line, bringing cruise travelers even more options than ever before. Among the unique features of a Viking ocean cruise, those who have sailed with Viking River Cruises will feel right at home.  The decor and feel of the ship is quite familiar as is the onboard ambiance.  On board, mature cruise travelers will find abundant fellow passengers with similar backgrounds, hailing from North America, the United Kingdom and Australia. There are a number of unique features on Viking Star that set it apart from all other ships sailing, making the new ship a solid choice worthy of consideration.  Let's take a look at some of the more memorable Viking Star features.
The Aft Pool seems to go on forever when in port and its water spills over the side.  The attached whirlpool tub also makes for a great place to watch the wake of the ship when in motion or relax, steps away from the ship's Aquavit Terrace and World Cafe.
Books, Books And More Books are scattered throughout the ship, begging passengers to grab one and relax in a number of comfortable chairs also plentiful throughout the vessel.
The Winter Garden is an enclosed sunroom that with huge doors that can be opened on nice days or kept shut to allow use any time.
Plentiful Lounge Chairs and uncrowded open deck space bring a place for everyone with no reserving of chairs needed, ever.
Exercise Equipment on deck makes for a unique workout featuring a number of machines, a putting green and absolutely the full extent of top deck attractions which is just fine by me.
Living Room Furniture on deck supplements those abundant lounge chairs noted above.  Arranged in conversational-style groupings, it is not uncommon to see passengers lingering to do just that: talk to each other.  Ancient activity revived.
Outdoor Dining opportunities are Viking Star features, plentiful and include restaurants with the capability of opening their giant floor to ceiling windows with every table gaining a window-view.
A High Top Table at the Pool Bar makes for a great place to play with your computer (work not really allowed) or enjoy the company of other guests.  I think this is my favorite place on the ship and not just because it is 4 feet away from the bar which also makes fabulous coffee drinks.
There are a number of other features of sailing Viking Star too, including
Wine and Beer included with meals
Complimentary Internet Access
Optional Airfare that includes transfers
A Professional Crew for whom this is a career, not just a job
An Orientation Tour included at each port of call
Complimentary Use of the ship's intensive spa facilities
Learn more about Viking Star here:
See more of Viking Star in our Facebook Photo Albums