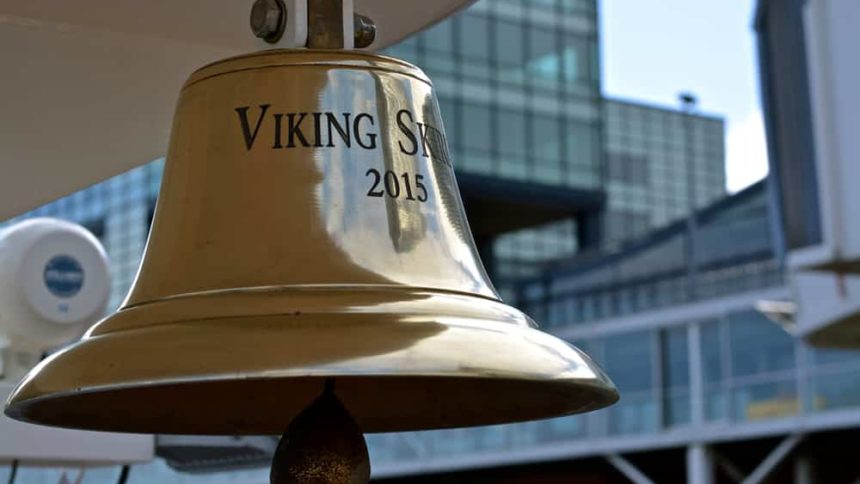 2015 Viking Longship Godmothers An Appropriate, Typically Thoughtful Choice
Lined up and ready to go, eight more of Viking River Cruises popular longships will be christened in Amsterdam this week. Another four will be added remotely from the shipyard in Rostock, Germany as Viking just seems to get better at producing these vessels all the time.  Rightfully so, last year's launch of 18 ships on one day set a Guinness record not likely to be challenged. Interestingly, the 2015 Viking Longships christening is shaping up to have a subtly different focus and one of particular interest to cruise travelers.
It would be very easy for Viking Cruises, soon to have ships in the ocean as well as on an increasing number of rivers around the world, to focus singly on growth.  Simply launching 30 ships in the last two years could justify significant consumption of resources weighted heavily in that area.  At this stage in the game, that focus alone would surely be a win for consumers often surprised by the comparatively longer booking process as opposed to ocean cruising. Viking River Cruises continue to sell out farther in advance.
"May your passengers and crew always be safe, and may you always have a hand's width of water beneath your keel"
A good indicator of passenger-focused forward thinking by a cruise line though is what happens on the ships themselves. The real experience.  To nail that essential component nearly always takes a focused effort that results in happy, productive personnel.  Viking's phenomenal growth is surely in part due to highly-visible marketing efforts we see everywhere from public television to our mail boxes at home.  Still, what happens to us from the time we start thinking about any cruise option is what counts.  Throughout the booking process, on the ship and back home remembering the experience- that's what we value and Viking ranks highly in all areas.
Appropriately, Godmothers of the 2015 Viking Longships are Viking employees who have made notable contributions to the company.  Tbe whole dozen of them.
There is Program Director Henrieta Balislova who taught us to say "Guten Morgen", Good Morning in German on last year's Christmas Markets cruise, Julie Rosoff from Viking's Los Angeles headquarters who has worked for the company from its beginning and Miriam Kajuchova who is now head houskeeper on Viking Ve.  Viking staff members ranging from helpful onboard Concierges for whom special requests are no problem, Hotel Managers who run a ship shape operation every day and Chief Receptionists, the river cruise equivalent of ocean ship pursers.  They make up a talented bunch who Viking has chosen to be the ceremonial Godmothers of the 2015 Viking Longships.  We'll have more on them tomorrow during and after the dockside Amsterdam christening.
Driving Home The Destination Focus
Pre-inaugural events are focused on Amsterdam, the destination; one of our favorite European cities.
As a pre-cruise option, Amsterdam is much like Budapest and Nuremberg, both detailed in this space; a diverse cosmopolitan city rich with history and a unique character of its own.  Our pre-inaugural schedule includes a selection of destination immersive activities typical to Viking's commitment of bringing a local connection to our travel experience.  It's a major differentiating element of river cruising that can not be duplicated in any ocean and primary reason why the Viking Longships have been so very successful.
Still, the Viking Longships are just the hardware, the vehicle that gets us from place to place.  Nice as they are, without the personnel in place to do something grand with them, that's all they would be; a bunch of lovely new ships.  That Viking has chosen to honor those company employees who helped bring them as they have come so far is appropriate.  Better yet, it's a good sign for cruise travelers that their onboard experience will continue to include the undivided focus of dedicated employees.  That so very often makes the difference between a good and a great cruise vacation.
Stay tuned for more about the 2015 Viking Longships Christening.
Chris is not a paid spokesperson or brand ambassador.   Not compensated by cruise lines, what you read here are his observations, thoughts and interpretations, biased only by a positive outlook and appreciation for what cruise vacations have to offer travelers.