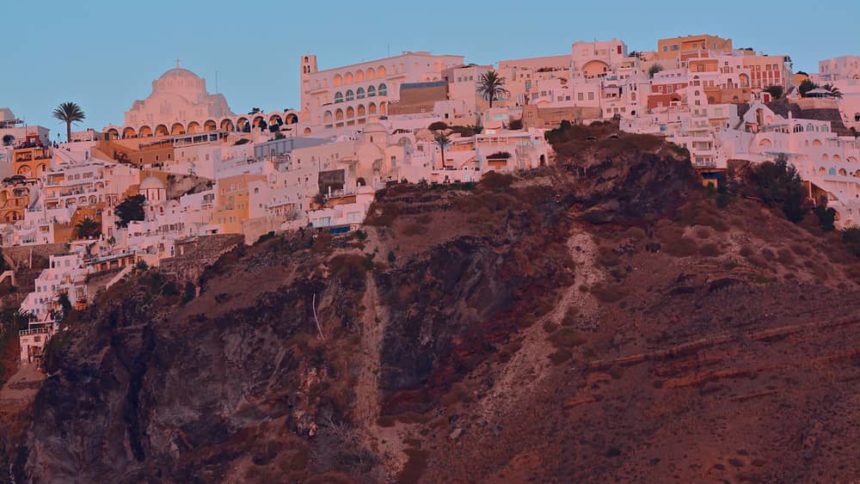 Viking Sisters Meet, Papa Pleased
Viking Ocean Cruises saw the two Viking sisters together for the first time yesterday as Viking Star and Viking Sea met in Santorini.  It's a rare event when the ships of cruise lines with small fleets are at the same place.  That's something we have talked about here before.  When the Queens of Cunard Line meet, that makes headlines.  Bring two of Star Clippers tall masted ships together and it's an international party. This meeting of is significant as well, for those reasons and few more of their own.
Amazing: Two years ago Viking Ocean Cruises did not exist
Unique: Both ships are currently deployed on the same itinerary, sailing in opposite directions.
Noteworthy: Viking Star is no longer the new kid on the block
Remarkable: Viking Sea was on her way to Istanbul where the first guests will board on April 3
Exciting: We are some of those guests
Let's take each of those points one by one to discover they are far more than synonyms of unusual.  First, a quote integral to the flavor of this post:
"It is hard to believe that less than one year ago, we were just setting sail with our first ship, and now we have two sister ships together," said Torstein Hagen, Chairman of Viking Cruises. "It is a proud day, and I am already looking forward to next year when we will have three ships to cross paths."
Amazing Viking Sisters
Two years ago Viking Ocean Cruises did not exist
Viking Star launched on April 11, 2015, confirming a promise made by Viking Chairman Torstein Hagen at a gala Hollywood event we attended in May of 2013.  It was then that the Viking Age Of Ocean Cruising officially began.  It was a bold step forward, as Viking River Cruises threw its hat in ring, promising a unique ocean cruising experience like no other.
"There is a hole in the market somebody should fill,' observed plainspoken Hagen at the time, promising "I feel we invented modern river cruising. Now I hope we can revive the destination part of ocean cruising."  And so it was.  When Viking Star was launched that promise was fulfilled, bringing to the world of cruise travel a unique experience like no other.
Lisa and I experienced the result of Hagen's commitment to destinations last year aboard Viking Star.  At the very first port of call, on the first included tour it was quite apparent; there was no other existing ocean cruise experience to compare what Viking was doing.  Also true, attempting to do so would unfair to both sides.  This was different.  Perhaps intelligently different, in a curious sort of way.
Unique  Viking Sisters
Both ships are deployed on the same itinerary, sailing opposite directions.
The meeting of 930-passenger Viking isters Star and Sea in Santorini did not come by chance. Both Viking sisters are sailing the same popular Empires of the Mediterranean itinerary, only in opposite directions.  There are a number of good reasons for this deployment.  Each highlights the bold but careful, take-no-prisoners focus of Viking.  These are not the stuff of press releases but bona fide, documentable promises fulfilled in a familiar way.
Occasionally we compare the expectations set by parent Viking River Cruises to the actual experience. Every single time we have found nearly no disparity between nicely produced Viking video found online to what actually happens.  That extremely close match between promise and reality is the fuel that propelled Viking to a well deserved and hard earned leadership position in the world of river cruising.  Other river cruise lines have tried just about everything else to compete with Viking but they miss that part.  I'll save going further down that road for another post except to ask "Do you really expect your actual experience on board a cruise ship to be almost exactly what you see on TV ?"  Odds are, deep down inside, the answer is no.
Noteworthy  Viking Sisters
Viking Star is no longer the new kid on the block
Briefly let's go back to 2013 when the Viking Age Of Ocean Cruising began.  Shortly after that May declaration of something new on the way, it did not take long for the promise to blossom.  In December of that year, Viking Doubled The Size of the fleet. That was primarily due to rabid interest by fans of Viking River Cruises.  Sales were off the charts.  The first season of Viking Star was filling up fast and has continued at a high pace ever since.  Passing in Santorini, it was probably difficult to tell the two Viking ocean sisters apart.  Except for the name on each vessel's hull they are virtually identical.  Now looking to a fleet of ten Viking ocean ships, count on that trend to continue as it has on rivers around the world.  Viking Longships are nearly identical. That takes a huge burden of pressure off each ship to create a separate identity. Instead, they focus on the reason travelers are there in the first place: To explore the world in comfort.
Remarkable Viking Sisters
Viking Sea was on her way to Istanbul where the first guests will board on April 3
Viking Sea's official christening happens May 5 on London's Thames River in Greenwich. At that point, the 47,800-ton near twin sister to Viking Star will also spend the summer sailing itineraries in Scandinavia and the Baltic.  First, a few sailings of Empires of the Mediterranean, the itinerary first ship Viking Star cut her teeth on as well.  The third ship, Viking Sky, will be delivered in early 2017; the three remaining yet-to-be-named ships will be delivered in late 2017, 2018 and 2020, respectively. My bet on the name for #4: Viking Sun, also the name of the 4th ship of the 1980's Royal Viking Line of which Viking Chairman Hagen was a driving force also.
Exciting  Viking Sisters
We are some of those first guests
Whitney and I are on board that first sailing.  We fly to Istanbul later today, making this the official first post of what will be an amazing adventure.   It's a new experience for me. I've been on inaugural year sailings before, fully understanding why to fans of any given cruise line, that's a prized ticket they pay a premium price for.   But this is an experience Whitney is quite familiar with in her role with the Disney company.  That took her to Disney Cruise Line for the opening cast of Disney Fantasy, bringing the ship out from Meyer Werft shipyards in Germany, through sea trials and on to her North American debut.  But regular readers here probably remember Whitney best for the person who got normally-stoic palace guards to pose for selfie.
Viking Sisters Inclusive Cruising
And so we jump right in to our coverage of new Viking Sea with some background information on what is called Viking Inclusive Cruising.  In a nutshell, it's a small ship experience at a big ship value.  Believe that and the big wide wonderful world of small ship sailing comes clearly within the grasp of many cruise travel fans.  Viking Inclusive Cruising is a rather simple concept actually that begins a cruise fare that includes all onboard meals, port charges and government fees.  Nothing really spectacular about that, most cruise lines do with the exception of those lines with 'alternative' dining venues that carry a cover charge.  None of Viking's do.
The Big Three qualities that separate Viking from other lines
All Balconies- Every stateroom has a verandah
Included Tours- An Included Excursion In Each Port
Included Beverages- Beer and Wine Included With Lunch and Dinner Service
Also significant
Free Wi-Fi throughout the ships
Free self-service laundry with supplies provided
Free access to luxury elements of the spa that usually require an additional fee
Free premium dining reservations
Still, the big wide wonderful world of small ship cruising is not for everyone, and that's exactly how Chairman Hagen wants it.  "We can't be everything to everyone", Hagen is often quoted as saying, tagging river cruising as a 'thinking man's cruise'.  Viking brings that same concept to the world of ocean cruising sailing ships without casinos, top deck attractions, children's programming or other features in high demand elsewhere.  That's further real world proof that this is different and one of the topics we will fully explore on our sailing of Viking Sea.  I hope you will follow along as usual, a variety of ways:
Bookmark our In Progress page for a complete listing of all posts related to our Viking Sea sailing.
Better yet, subscribe to ChrisCruises and get notified every time a new post goes up, usually once a day.
Or check at the bottom of each post like this one for a complete list of what we experienced, in blog form
Pre-Cruise
Viking Sisters Meet For The First Time: Papa Pleased (this post)
Follow along socially too:
Instagram
ChrisCruises will have a post each day
Whitney brings a new perspective to our photo efforts
Facebook
Whitney is focusing on a number of interesting ways to share our experience.  You'll find them here.
Chris has Photo Albums created along the way, like these from our Viking Star sailing

Twitter
ChrisCruises will have posts along the way as well as refreshed links to previous posts
Whitney Cruises brings an interesting new perspective
Google+ users will find similar information as we sail
Pinterest will have one board for each port of call, links posted here
Flickr members see auto loaded photo albums, like these from our last Empires of the Mediterranean sailing
Note- to see these you need to register with Flickr.  Do that here.
Exposure Photo Story Books as bandwidth and time permit while sailing, after sailing this is the place to look, like this one from Viking Star