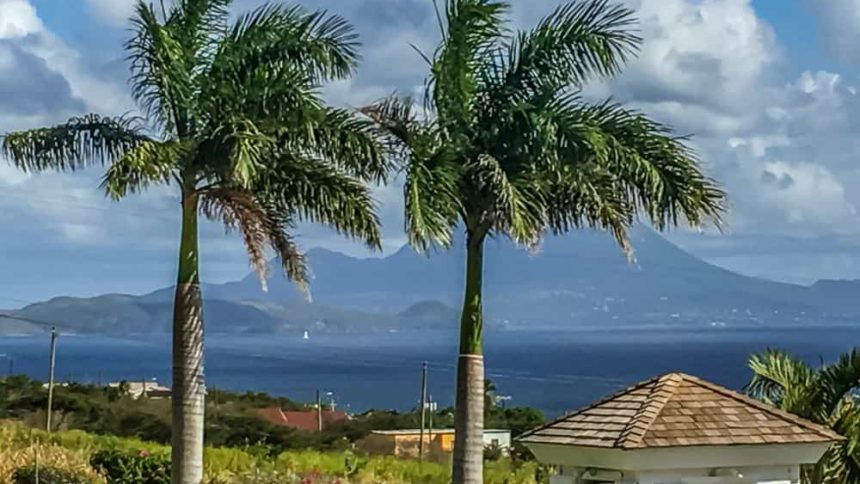 Viking Quality A Hit In The Caribbean
Quality is a significant factor in any travel experience.  Experience it once on any given cruise line and we expect it again, the next time.   We like a number of travel brands for that very reason: we know what to expect and they deliver it.  Then there is the world of Viking Cruises. This is a universe where few other travel companies dare tread. It's not because they lack the financial resources, commitment to their clients or the ability to navigate the same waters of the world.  It's because Viking aims and delivers more than they promise at every opportunity.   Today we have specific examples of Viking quality, unique to Caribbean cruising.
Viking Quality Brings Included Tours
Our included tour in St Kitts was a general overview of the area around the Port Zante Cruise Pier, a place we have visited a number of times.  Different this time, we would be in port late with a departure time of 10:30pm.  We have done an included tour in every port of call and found them all to be a good overview of the place we had stopped at that particular day.  One of the questions asked after every tour in a probing questionnaire: "Did you learn anything new today?" to which the answer is always yes.

Still, at this early point in Viking's first Caribbean season, it's not so much the answers to those questions but that Viking is asking them in the first place.  Every one of the tours we did was as good or better than a standard cruise line overview tour.  The Viking Quality focus will bring more to future travelers on tour with Viking.  Lisa asked me an enlightening question "I wonder what the tours will be like when Viking has been in the Caribbean for five years".  Experiencing the Viking hunger for treating guests well, I'd bet on the quality of those tours to increase over time.
Viking Quality Brings Destinations Onboard
While the included tour element of Viking Ocean Cruises is a star of the show, it's not the only star.  As opposed to other parts of the world we have sailed with Viking, the onboard programming and physical layout of the ship have taken a far larger role than in the past.  Probably because the Caribbean is not as interesting as other parts of the world.  Sorry Caribbean, that's kind of the flip slide the laid back island style of travel.
Onboard lectures and enrichment programming, dining menus in all but the specialty restaurants have local elements that change along the way.  Brought onboard for all to enjoy who care about such things: local Caribbean brews from islands we have visited.  That's very viable documentation of Viking's commitment to reflecting the itineraries in the onboard product.  Not all do.  Unlike sailing past vineyard on the rivers of Europe, beer is the name of the game here.
Shape-Shifting Viking Quality Evolves As Needed, When Needed
Addition of the Caribbean beers noted above is a good example of the flexible Viking experience.  That was not part of the original plan.  Added with cat like reflexes when the idea came up, Viking figured out how to do it on the fly.  This is another advantage of traveling with a company organized in such a way as to enable such changes.  Viking does this a lot too.
On the first four days of our New York to the West Indies sailing, a lot of travel professionals were on board, checking out the ship as well as Viking Ocean Cruises in general.  Detecting that those visitors might have disrupted the sailing pleasure of regular Viking travelers, we all received a bag full of travel accessories and gifts in consideration of our experience.
Staterooms You Want To Spend Time In
All-balcony stateroom Viking Star is a solid hit in the Caribbean, as though custom built to sail here. Every day, we use our balcony to enjoy sunrise, sunset and everything in-between.  Nicely equipped with plenty of plug-ins, USB ports and a luxurious bathroom, we enjoy being here and will be sorry to see this space go.  But that's been true of different cabin locations we have had around Viking Star and sister Viking Sea.  There's really not a bad seat in the house.
That complimentary internet is accessible in our stateroom along with a Viking intranet that delivers high speed-like access to local programming and onboard features is all the better.  I think Viking has figured out how to satisfy most internet users without spending the $millions it takes to bring true high speed to sea.  Great.  Save that $ and keep that inclusivity coming.
Follow Along On Our Viking Ocean Cruises West Indies Explorer sailing:
Viking Ocean Cruises In The Caribbean
Facebook Photo Albums-
Flickr Photo Galleries
Viking Caribbean: Pre-Cruise Countdown
Facebook Photo Albums