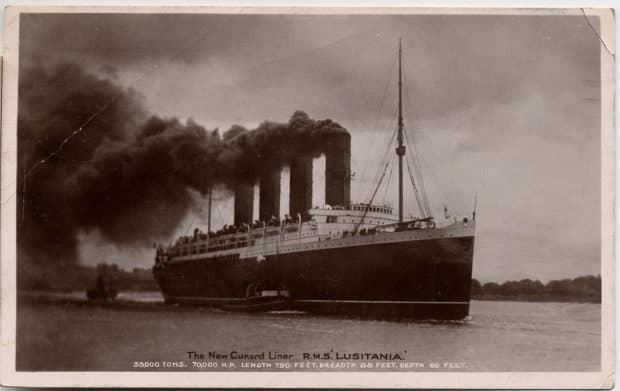 Unique Sailing Honors Lusitania, 100 Years Later
RMS Lusitania was a British ocean liner launched by Cunard Line in 1906, at a time of fierce competition for the North Atlantic trade. In 1915 she was torpedoed and sunk by a German U-boat, the first of 22 Cunard ships that would be lost in the First World War, causing the deaths of 1,198 passengers and crew.  Now closing in on 100 years later, Cunard Line is commemorating the occasion with a  temporary exhibition of Lusitania memorabilia that will be displayed on board Queen Victoria during her May 3, 2015 voyage
"The sinking of Lusitania was a tragedy and we intend to mark the anniversary of her sinking on 7 May 2015 in a fitting and respectful way," said David Dingle, CEO of Cunard Line in a statement.
Cunard has commissioned historian Eric Sauder to produce the exhibition, and for good reason. Sauder has been interested in ocean liners, particularly Lusitania, for more than 30 years, with his first job being a tour guide on Queen Mary in Long Beach, California. He has dived on the wreck of Lusitania and has authored two books on the subject: RMS Lusitania: The Ship and Her Record and upcoming The Unseen Lusitania: The Ship in Rare Illustrations, to be released for the 100th anniversary of the sinking.
On 7 May 2015 it will be exactly 100 years since the Cunard flagship was torpedoed while en route from New York to Liverpool, sinking approximately 11 miles off the old Head of Kinsale in Ireland.
This seven-night Lusitania Remembered sailing by Queen Victoria will commemorate the loss of Lusitania and the other Cunard ships in World War One.   But the special themed voyage will also pay tribute to the technical achievement of the  construction Lusitania, briefly the largest cruise ship in the world and holder of the Blue Riband, an accolade given to the passenger liner crossing the Atlantic Ocean in regular service with the record highest speed.
All passengers aboard Queen Victoria will be invited to attend a special service ashore as well as witness a number of other tributes occurring that day, and a Commemorative Dinner will be held for them that night on board the ship.  Also featureed onboard; china, silver, brochures, postcards, memorabilia and souvenirs that will bring to life the story of Cunard's flagship.
Sailing from and back to Southampton, the Lusitania Remembered voyage will call at St. Peter Port (Guernsey), Le Havre, Cobh and Dublin. Cunard fares start from $1399 per person for an inside cabin and from $2099 for a balcony cabin.
For more information about Queen Victoria, or to book a voyage, contact your travel agent, call Cunard Line toll-free at 1-800-728-6273, or visit www.cunard.com.
Flickr photo by  The Loud 1