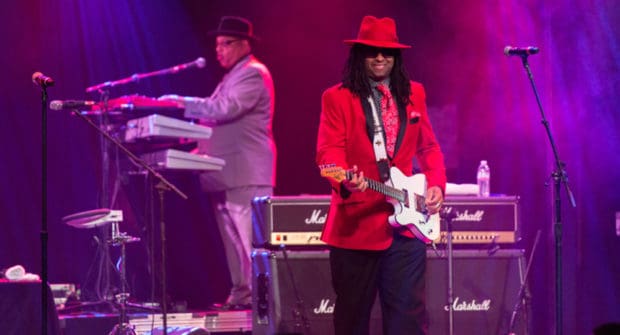 The Souuuuuul Train Is Back, At Sea
Editors Note: If the spelling of the first word of the title of this post resonates with you, read on.  If not, what follows will be meaningless, mainly because you are not cool enough to understand it.
Ocean cruises on big, beautiful ships packed with features have something for everyone.  Take a bite of the on-board programming candy and a fabulous travel experience can ensue.  Better yet, find a sailing themed to a personal interest, something one might consider anything from a hobby to a reason for living, and the odds of having a good time can easily double.  It's the whole 'closed environment' of a cruise ship working to our advantage in a wonderful way. We've seen sailings themed to everything from boy bands to country music stars, classic films, food & wine, nudists and more.   Some get a lot of press coverage, others not so much.  Theme your cruise to Soul Train, TV's American musical variety program of the 70's and there is no telling what might come of it.
The fourth Soul Train Cruise sets sail for seven days beginning February 22, 2015 on Holland America Line's Eurodam from Florida's Port Everglades.  On board, a star-studded lineup with more than 30 R&B superstars performing nightly concerts and interacting with cruise guests during over 25 special events. A few names to drop: Gladys Knight,  KC & The Sunshine Band, The Spinners, the 5th Dimension, the Delfonics and cruise host Tony Cornelius.
Got your interest?  Read on
More Than A TV Show At Sea
As with other themed voyages, the Soul Train Cruise not only offers more than 30 concerts throughout the seven-day voyage, but also invites travelers to meet the stars during over 25 special events, ranging from cooking demonstrations to dance lessons, Q&A panel discussions to tribute shows, a gospel hour, musician seminars, wine tasting and personal meet and greet sessions.

The cruise will also film interviews with artists in front of a live audience, airing on television on a future date.  And Soul Train Cruise partner XM Sirius will be aboard once again, recording exclusive radio shows with the artists and giving fans a backstage view into the excitement and the music that fill the ship while CENTRIC television also returns as title sponsor, hosting a number of the cruise's most popular onboard activities.
The Train Races On
Soul Train has been an integral part of popular culture since its debut in 1970, for the next 35 years, and continues be a vital force in entertainment with its all-star Soul Train Awards shows.  Soul Train is also one of the most successful shows ever created, holding the record for the longest, first-run, nationally syndicated television show ever and remains popular to this day.  Vintage episodes have aired on CENTRIC in recent years, nearly 500,000 DVDs have been sold, and the Soul Train Awards draw international superstars to its annual ceremony.
The Complete Lineup
The fourth sailing of the hippest trip at sea will star Maze featuring Frankie Beverly, Gladys Knight, James Ingram, KC & The Sunshine Band, The Spinners, Russell Thompkins, Jr. & The New Stylistics, Harold Melvin's Blue Notes, Regina Belle, Marilyn McCoo & Billy Davis, Jr., original 5th Dimension stars, Valerie Simpson of Ashford and Simpson, Will Hart of the original Delfonics and comedian Alonzo Bodden.  Also joining the cruise are Hitzville: Las Vegas Style Motown Revue, Chicago's  legendary R&B record store merchant "Uncle George" Daniels and cruise host Tony Cornelius son of the legendary Don Cornelius (1936-2012).
How To Book It
Reservations for cabins on this cruise may be made now by visiting the SoulTrainCruise web site or by calling (toll free) (855) SOUL TRAIN (855-768-5872). Cabin rates start at just $1975 per person and include all meals, concerts, entertainment and onboard activities.
The Soul Train Cruise sails to Grand Turk, San Juan , St. Thomas, Nassau and Half Moon Cay
Photos- Soul Train Cruise