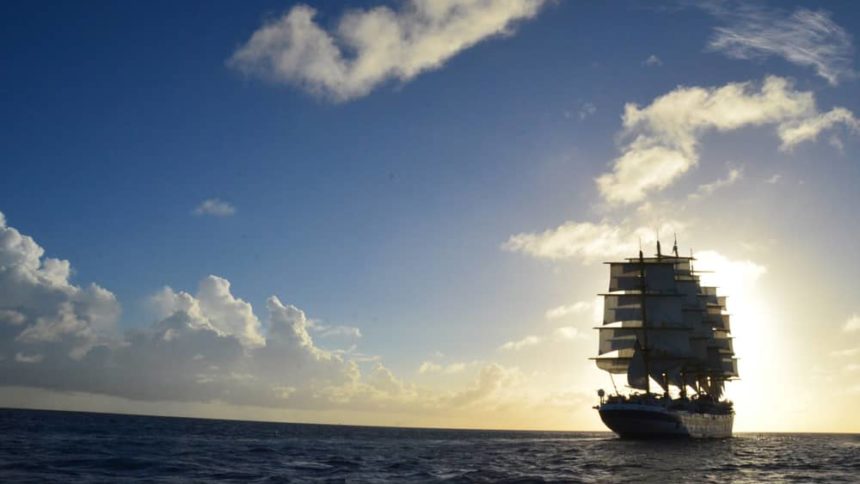 Star Clippers To Host Unique Themed Voyages
When we sailed with Star Clippers on a Windward Islands sailing of Royal Clipper, the largest masted ship in the world, it was with an impressive number of past guests along for the ride.  Enjoying an average 50% return guests on most sailings, reasons became clear rather quickly.  Front and center; the experience is like no other and harkens back to the seafaring days of yesteryear.  There is simply no other line like Star Clippers.  Right in line with a focus on maritime history, Star Clippers recently announced a special guest speaker on three sailings this summer.
Stories of the sea are many and flow as freely as included wine with dinner on Star Clippers.  We were lucky enough to dine with the Captain one evening and heard a number of the captivating, real life tales.  Knowing the keen interest fans of tall ship sailing have in such matters, retired Star Clippers Captain Klaus Muller will be along for three Mediterranean sailings this summer.
One of the company's best-loved characters, Captain Muller has taken Star Clippers' ships all over the world during a long and illustrious career at sea. Muller will give talks to guests, many of whom will have sailed with him in the past, on subjects close to his heart: Tall ships, celestial navigation, the history of sailing, the Vikings; rounding Cape Horn, waves and tsunamis; the legendary Clippers of the 19th century; and the challenges of sailing big ships today.
Star Clippers Themed Sailings
The sailing with Captain Muller is just one of a series of themed voyages for Star Clippers.  Here are some others that also look to be a good fit for the unique Star Clippers sailing experience.
Christopher Columbus: History, Legacy and Atlantic Journeys
22-night ocean crossing
Talks by Columbus specialist Dr Walter 'Joe' Shaw, who lectures on the history, legacy and Atlantic journeys of the great explorer. Walter is a retired professor from the University of Colorado with a specialism in cultural anthropology.
This special voyage is October 17 on Star Flyer sailing from Malaga to Bridgetown. Prices start at $7,918 per person double occupancy includes full board on the ship, all entertainment and talks. Port charges and flights are extra.
Yoga Themed Cruises
Seven yoga-themed cruises escorted by highly respected teachers, each of whom will offer two daily complimentary yoga and meditation classes on board. All classes take place on deck in the fresh air, early morning and just before sunset and all are suitable for any level of experience and conducted in English.
May 16 and 23

: Raphaella Rose, sailing on Royal Clipper from Rome

May 30 and June 6

: Melanie Camp, sailing on Star Clipper from Athens

October 31

: Melanie Camp, sailing Malaga to St Maarten on Star Clipper, 21 nights

August 1 and 8

: Christel Vollmer, sailing on Star Flyer from Palma
Prices start at $3,160 per person + port charges, double occupancy
Archaeology Themed Sailings
Two archaeology-themed cruises, departing August 15 and 22, accompanied by renowned historian and author Renata Scheiper, who will offer lectures on ancient Greece and the archaeology of the Mediterranean on board Star Clipper, sailing from Athens.
Prices start at $2,860 per person + port charges, double occupancy
Find Out More About Star Clippers
See our library of information gathered during our Windward Islands sailing of Royal Clipper
Facebook Photo Albums
Pinterest Photo Boards
Flickr Photo Sets
Spotify Sailing Playlists
We Will Be Back In December
Actually it will be just Chris this time without photographer Whitney Owen on a December sailing of the Grenadine Islands, also round-trip Barbados, doing this itinerary: