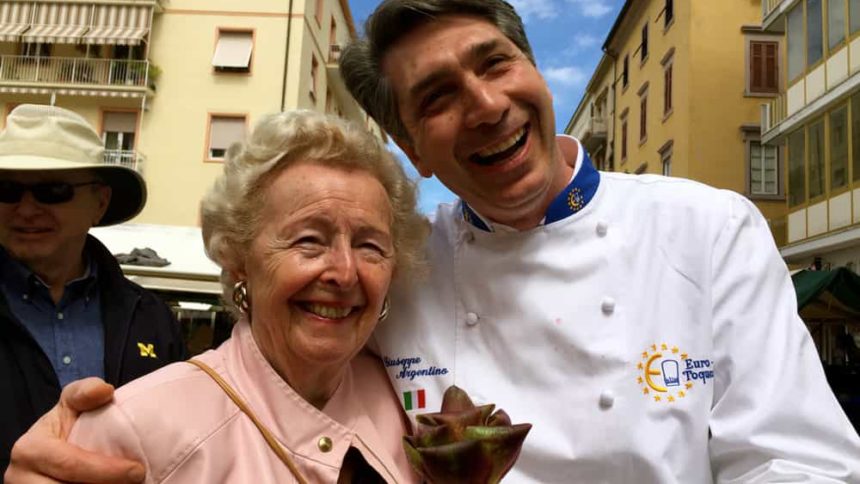 Shopping With The Chefs Seabourn Style: Chefs On Tour
One of the most popular events for Seabourn Guests on any Seabourn cruise is Shopping With The Chefs, going ashore with the ship's Executive Chef to source local ingredients to be featured on the evening's menu. On a Seabourn Food and Wine Cruise, that opportunity expands ten fold, offering multiple opportunities to do that at a variety of ports along the way.
On hand for this edition of the Seabourn Food And Wine Cruise, Italian chef Guiseppe Argentino, French chef Jean-Claude Cavalera, Seabourn's manager of restaurants and bars Luca DiMatteo and Seabourn Sojourn Corporate Executive Chefs Pascal De Portemont and Franck Sollazo as well as consulting chef Tony Egger. That's one heck of a stable of culinary stars for one voyage.
But that made sense, Seabourn Sense that brought a rich experience for Seabourn Guests, anxious to enjoy a day in the markets of the Mediterranean with culinary experts that knew the lay of the land.
Just going to these marvelous open-air markets would have been a fabulous experience for us. The visual opportunities, to see these highly-skilled culinary artists interact with local merchants, would have made for some great memories.
But taking the experience to a Seabourn-quality event, all our senses were bombarded with stimulation as we tasted, smelled and felt the fruits, vegetables and meats along side world class chefs.
Standing beside the chefs as they selected products and bartered for the best price was about as close to being next to a rock star or other famous celebrity as one might hope for in a lifetime.
Crowds gathered around as our chefs went from vendor to vendor, posing for photos with Seabourn guests and random strangers who happened by. At one point or another local police were on hand with a watchful eye, insuring our safety as though we were the entourage of chefs on tour.
In the photos you see here, we watched local merchants vying for their attention, wanting celebrity chefs to buy their wares. All along the way, Seabourn guests were front and center, right in the middle of it all.
Initially, the scene reminded me of visiting the city market in Vienna with Viking River Cruises Chef Loan on a sailing of Viking Odin a couple summers ago. That was a highlight of the experience for me that I will never forget. This was like that, many times over.
Once back on land with dynamite speed internet connectivity, I'll post a gallery of full size images as well as an exposure storybook that will better emulate the experience. (
(So bookmark this page) For now, let's take a look at some other scenes from this marvelous experience, one done Seabourn style with Chefs On Tour.
Catch up with what we have experiences so far with these resources, already published during the event:
Here At ChrisCruises:
Facebook Photo Albums:
Our Live Twitter Feed while in progress
Also coming up, after sailing:
Our Pinterest Seabourn Food And Wine Cruise 2015 board
A Seabourn Food And Wine Cruise @exposure Photo Storybook