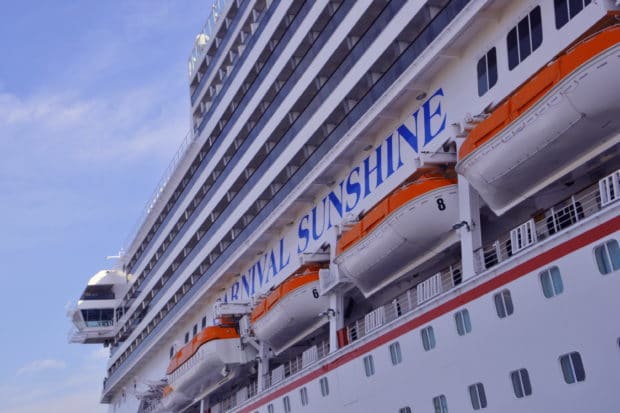 Secret Bonus Extras On Carnival Sunshine
When Carnival Cruise Lines applied every element of their Funship 2.0 initiative to Carnival Destiny, they promised a new, energized onboard experience.  They delivered every bit of that and more.  In the process of turning the vintage 1996 vessel into the definition of all Carnival has to offer today's cruise travelers, something unusual happened.   Along the way, some unadvertised if not unplanned synergy developed, creating some secret bonus extras in the culinary department.
Bonus Asian Lunchtime option-

An extremely popular lunchtime option on Carnival ships has been the Mongolian Wok, a healthy stir-fry pick-your-ingredients toss that had passengers lined up when it was offered.  Now, just steps away from the buffet area lies Ji Ji Asian Kitchen.
A cover charge dining venue by night,  the place is open for your stir fry pleasure at lunchtime and complementary.   Diners select their favorite vegetable and noodle ingredients, one of two chefs on duty tosses them with a choice of meats and sauces.
Like the buffet version, its all done right before your eyes and moves along quite quickly, even during peak lunch times.
Bonus Value Cover Charge Dining Venues

Speaking of the lunchtime use of this space, the dinner version is entirely different and offers an outstanding value.  At just $12 per person, diners select their choice of Appetizers and Soups; Entrée's; Sides, Noodles and Rice; and Desserts.   Served family style, guests are encouraged to try multiple selections from each section of the menu.
A big part of the dining experience involves a well-choreographed process that begins with an explanation of the menu. Telling the story of how Ji Ji was created, the menu includes a map of Asia highlighted into regions.  Numbered region (1- Indonesia, 2- Nanjing, 3- Singapore, etc) are assigned to menu items in an interesting way that promotes learning more about the authentic cuisine.
Attentive service keeps things moving along quickly, starting with a selection of sauces and a unique, crispy fried noodle to dip in them.  Next comes what diners selected from the appetizer and soup menu ahead of chosen entrée's and sides followed by dessert.  A nice selection of Asian beers is offered in addition to specialty cocktails and teas, all themed appropriately for the venue, priced separately.
The $12 cover charge is a bargain not likely to stay priced that low.  At $20 per person this would still be a great value.  Open for dinner at 5:30 makes the place a great option for early diners, families and people  who check out the dining room menu in advance to see if they want to go or not.
Read more at CruiseAddicts.com