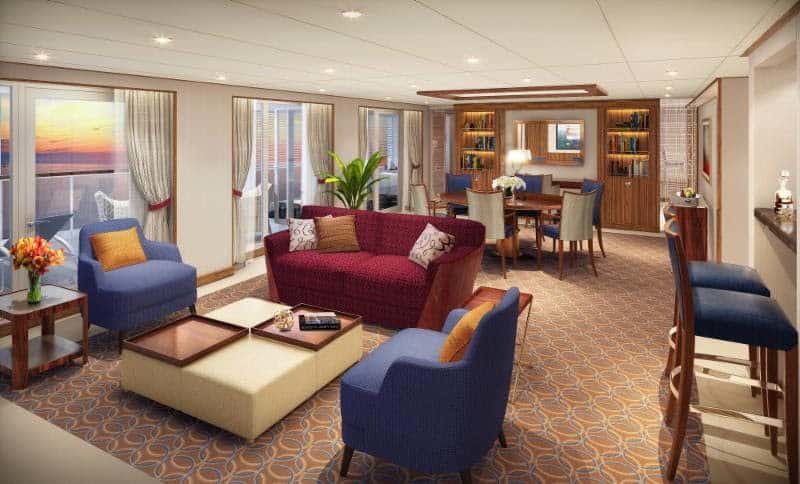 Seabourn Encore Wintergarden Suites Detailed
The world of luxury cruise travel is anxiously awaiting the arrival of Seabourn Encore, designed to expand and build on the line's award-winning and highly acclaimed Odyssey-class ships.  Set to launch late this year, Seab0urn Encore will host a variety of accommodations including two Grand Wintergarden Suites.
One of the most unique features of the suites will be a glass-enclosed solarium with soaking tub and daybed, an ideal spot for guests to relax and enjoy the sunset. Two generous verandahs outfitted with all-weather table and chairs will provide nearly 250 square feet of private space, making it an ideal setting for al fresco dining. The suite bathrooms radiate elegance, with a separate whirlpool tub and shower, polished stone, gleaming hardware and mirrors, as well as exclusive bath products from Molton Brown.
"Seabourn Encore's Grand Wintergarden Suites will be two of the most beautiful and striking suites in ultra-luxury travel" – Christopher Prelog, Seabourn Vice President of Hotel Operations.
The Lap Of Luxury Defined
Presented as the lap of luxury for guests who desire exquisite comfort and room to entertain, the two Grand Wintergarden Suites will offer a variety of in-suite amenities and features that encourage guests to make themselves at home.
Located on deck 8, each of the Grand Wintergarden suites will provide
Nearly 1,550 square feet of indoor and outdoor space.
Large windows for picture-perfect ocean and shore views,
Two bedrooms,
Two and a half bathrooms,
Two private verandas,
Dining for six,
Convertible sofa-bed,
Pantry with wet bar and espresso machine
Three flat-screen televisions.
Seabourn Encore — Home
Seabourn Encore · Ship Updates · Maiden Season · Deck Plans · contact us. seabourn Encore. Maiden Season now open for sale. Explore the Ship …
Bonus Amenities
Guests residing in the Grand Wintergarden suites, as well as other premium suites, will receive an array of added amenities, including personalized service by the Guest Service Manager, private car transfers on embarkation and disembarkation, complimentary Internet service, daily newspaper delivered to the suite, plush bathrobes, large tropical fruit basket, beautiful fresh flowers, an extended in-suite reference library, and more.
Thoughtful Details
All of the suites on board Seabourn Encore will offer a number thoughtful details to delight guests, from a welcoming bottle of chilled Champagne with canapés to the personalized services of an attentive Personal Suite Stewardess. Delivering unobtrusive care, the Stewardess can provide guest preference of designer soaps, draw Pure Pampering baths, replenish ice and bar set-up, manage laundry service needs, and assist with any special requests.
Additional in-suite amenities and features will include ample storage and walk-in closets complete with plush bathrobes and slippers; an in-suite bar stocked daily with preferred beverages; and a choice of pillows to suit guests' preferences. Entertainment options will feature flat-screen televisions with an extensive array of movies, music, broadcast television and radio channels.
The 40,350 ton ship all-veranda ship will be configured with one additional deck and new expanded public areas, and is expected to carry just 600 guests, based on double occupancy.
More Information On Seabourn Encore
Seabourn will continue to reveal renderings and updates about Seabourn Encore via the dedicated microsite: http://encore.seabourn.com. Filled with imagery, details and news of the ship's continuing progress, including "sunsets until launch," the microsite offers an inside look at the most exciting Seabourn launch in years.
For more details about the award-winning Seabourn fleet, or to explore the worldwide selection of Seabourn cruising options, contact a professional travel advisor, call Seabourn at 1-800-929-9391 or visit www.seabourn.com.