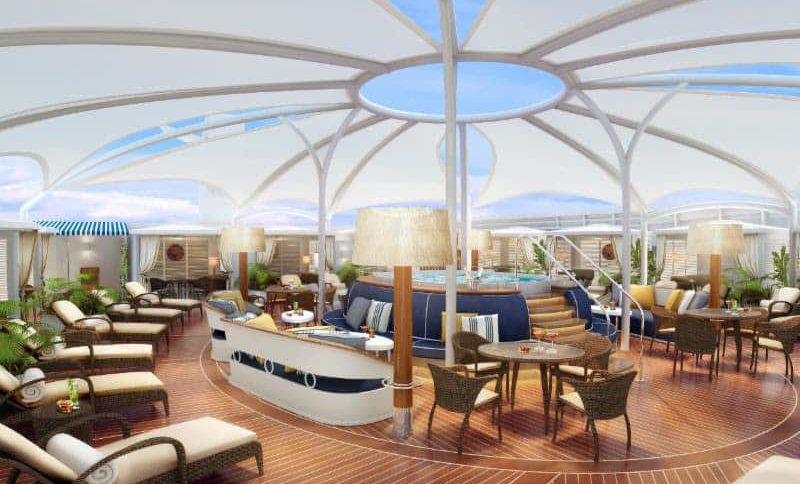 Seabourn Encore Retreat: UltraLux Rooftop Recharge
When Seabourn Encore debuts later this year, the 600-guest ultra luxury cruise ship will feature modern design elements and innovations consistent with the line's reputation for understated elegance. Configured with one additional deck and new expanded public areas, Seabourn recently revealed some of what we will see in those new spaces: the Seabourn Encore Retreat.
Perched high up on deck 12, The Retreat is a new sanctuary that will debut on Seabourn Encore this December.  Custom designed to create the ultimate serene space, The Retreat features 15 private cabanas designed as individual luxury living rooms.  Step inside these pleasant spaces to find a large HD flat screen television, a refrigerator stocked with a personalized selection of beverages, all circled around a central whirlpool with step-up access to water maintained at an optimal temperature to encourage relaxation.
"The Retreat is the perfect environment for guests to experience pure relaxation and rejuvenation, from your own private cabana or shared spaces," said Chris Prelog, Seabourn's vice president of marine hotel operations. "As a perfect rooftop getaway, The Retreat is sure to be among the most popular destinations onboard our vessels."
Seabourn Encore Retreat
Seabourn Encore Retreat highlight: Shielded from the sun and wind by a flower-shaped canopy, up to 28 guests will enjoy comfortable sun loungers, enjoy custom cocktails crafted by Seabourn mixologists or a little something from a healthy spa menu.
OK,  stop right there.
You sold me on the private cabanas.
But there's more, of course.
This is Seabourn after all.
Seabourn Encore Retreat highlight: A selection of amenities include fresh fruit baskets, premium sun lotions, Evian mist spray, plush towels and personalized bathrobes, while a dedicated Retreat Concierge will be available to satisfy guest requests.
Cabanas at The Retreat will be available daily, reserved for a full day via the Guest Service Specialists at Seabourn Square, and priced at $350 per couple per day.