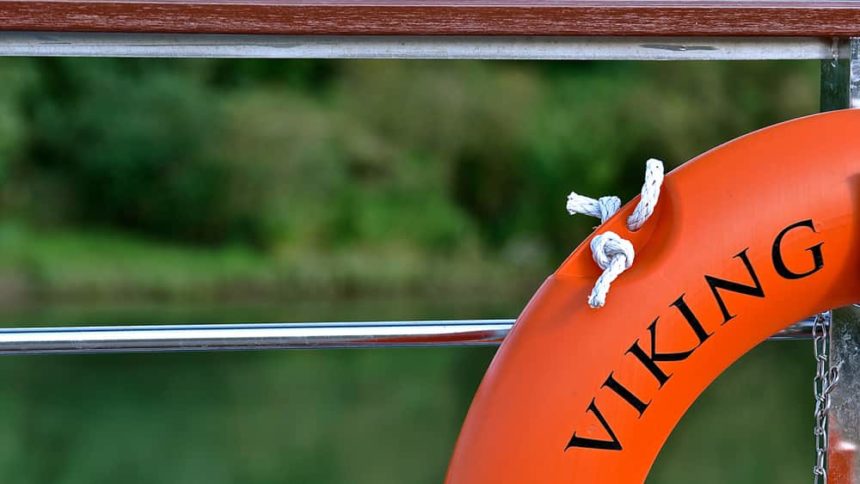 Sailing Viking: We've Been Modified
It's easy to look at travel plans like decisions.  Once made, we live with them.  Items on a list to check off one at a time. And why not?  We do that with other goods and services we buy. Shoes? Bought. Groceries? Bought. Cell phone bill? Paid. Planning a cruise vacation we might consult a travel agent to match us with the right cruise line, ship and itinerary at a time and price we are comfortable with. Done.  Now flights to and from. Done.  But unlike shoes, groceries and the cell phone bill, travel services are subject to change at any time, for a number of reasons.  Mechanical issues, schedule disruptions and weather related issues top the list. Three days prior to the beginning of our Viking River Cruise we received an email from the cruise line with a very important message: our ship will not be sailing.  Interestingly, this is of little concern.
It came as no surprise really; we have been watching the weather in Germany where our Elegant Elbe Itinerary would take us for quite some time.  As a bit of a travel habit, I add cities on upcoming itineraries to the weather app on my smartphone. Far in advance, I'm looking at general weather trends out of curiosity.  Closer to sailing, the information might help craft my packing list. Just another little thing to watch, like our selected seats on flights.  Within a week of travel, I check both every day. But unlike airline seats which can be changed right up until the day of travel, weather is a variable in the equation that we have little control over.  More accurately, we have no control over the weather at all.  We have some say in how we react to it, like bringing a warm coat when in a cold climate, but that's about it.  In the case of cruise vacations, on rivers or in oceans, it's the cruise line that calls the shots when itineraries are modified or cancelled due to weather related factors.  Such is the case with our upcoming Viking River Cruise
"We wanted to alert you that the Elbe River is currently experiencing unusually low water levels and unfortunately rain is not forecasted in the coming week. Our nautical department, a team of professionals that monitors all of Viking's rivers on a daily basis, currently believes that it is unlikely that your ship will be able to sail and as a result it will be necessary to make some changes to your itinerary."
The New Plan
Simply put, the new plan will cover the same geographic area but by motorcoach, using one Viking Longship as the base then switching ships to one further down the Elbe about half way through the journey.
"In order to stay as close to the original program as possible we will likely execute a "ship swap" part way through the itinerary. In this case you will first embark Viking Astrild – identical sister ship to Viking Beyla. On Day 5 you will disembark Viking Astrild, travel from Dresden to Wittenberg, and there you will embark your original ship, Viking Beyla. Both ships are currently docked in cities that make it easy to operate daily excursions via motorcoach rides that are relatively short – and we are confident that we will provide you with a great experience."
An interesting element about sailing with Viking River Cruises is that the ships are identical and the "I had a great time on (insert ship name)" thought that is of such importance in the ocean becomes less important on a river sailing.  That was hard for me to absorb when we first started river cruising.  To this day, when a ship I have sailed passes us on a river that still turns my head, hoping to see a crew member I might remember…which really speaks to the care we are shown onboard.
A Viking Advantage
A strategic advantage of sailing with Viking River Cruises comes from the size of their fleet.   The Elbe is a river not all river cruise lines sail and those that do have one ship.  Their ship can't sail either but they don't have the luxury of a ship swap.  Instead, they will use hotels.
Different on the Elbe river in Germany as on the Douro river in Portugal, these are modified Viking Longships, designed exclusively to be able to sail under all but the shallowest of water levels , on a river that is comparatively shallow under normal conditions.
Admittedly, there are plusses and minuses to the plan.

Scenic Cruising Is Out, replaced by bus tours which bring different gear requirements.  We'll want to bring the big backup batteries if not computers too for the ride in our go to plan of 'expecting the best but preparing for the worst'.  Still, looking at the modified itinerary, the longest distance we travel by motorcoach is 72 miles. All added up, we will travel a bit over 300 miles by coach if the ships never move.
On the plus side, there are no worries about the top deck being open, something that happens quite a bit when water levels are high.  Actually, that's one of the reasons we prefer Viking Longships and the panoramic views available from places other than the top deck of the ship.

One More Time To Pack And Unpack– Switching ships will mean packing and unpacking again.  One of the big selling points of cruising in general is the whole 'unpack once, see multiple places' element, a solid differentiating factor between cruising and land vacations.  On this itinerary though, we already bought into the notion of packing and unpacking multiple times as it begins and ends with hotel overnights in Berlin and Prague.  One more time is not a big deal but might push packing strategy in a different direction.
I am always packed and ready to go because travel is a big part of what I do.  Lisa does it twice a year so I pack her, the day of travel.  We talk about the weather at the destination and what each of us is planning on bringing to wear as we do before any trip.  On this one we had also pre-planned not to fully unload luggage at the pre- or post-cruise hotel but work from the top down, packing frequent use items on top for easy access.
But We Still See Marvelous Places – That we see basically the same places we were planning on seeing is good.  We would not want to miss any of them.  Interestingly, we will cover the same ground in about the same amount of time using (faster) motorcoaches over (slower) river cruise ships.  The idea "oh, I'll be spending a lot of time on a bus" is really a flawed concern.  We spend a lot of time on a bus anyway. While Viking does a marvelous job of commanding prime docking positions at cities along rivers, not every attraction is right on the river.  Some we walk to and others we drive to.  Either way takes time.  Vienna is a good example as covering the geographic area of the ringstrasse is far more efficiently done by motorcoach but takes a long time.  There is no way one could walk this distance in a day but long bus rides are a thing that annoys some people.  Well that's part of the deal.  Get over it

But What About Free Time
The significant concern here is that we are allowed an adequate amount of the coveted 'free time' after each day's included orientation tour.  This is where our previous experience will come in handy.  We may end up picking and choosing our own experiences along the way, aligning with Vikings motion plans for us; where we need to be at a certain time.
For those not familiar with the term "Motion Plans" think of it like you are a cab driver hired to take us wherever we need to go on an itinerary.  We're not going to worry about that part, you will.  Our focus will be on what we do when we get there.  You don't care what we do when we get there, you just know you need to move us from point A to point B at certain times.  That's oversimplifying what  Viking has in store for us quite a bit but it speaks to the customizable nature of a river cruise.  On much of the experience and in the true Viking spirit, travelers have choices.
No Ugly Americans Please, Ever
The very first thing I respectfully ask of every tour guide is where the pick up point is for the return.  I say "respectfully" because these are well-trained local guides who are passionate about showing us their home.  While they do know where we need to be and by when, their job is far from that of a taxi driver with a motion plan.  I then ask if I need to tell them if we see something that will take us off the tour, because we quite commonly do.
Out of common courtesy, I don't want them to be concerned about us and I don't want or need to be sneaking off.  I might even ask them to point out a recommended place for lunch.  The point is, we like lingering at a destination sometimes longer than available time allows and still lets us see everything we wanted to see.  In that case we choose quality time at the destination over quantity of places almost every time.
Comparing Itineraries And The Modified Experience
Shortly, I'll break down the original itinerary and compare it to the modified itinerary, just to establish where we are right now on the proposed experience.  Still, things can and probably will change that will affect the modified itinerary as well.  It's the nature of travel, one of the very best parts if your head is in the right place and can have a dramatically positive effect on the experience if not ourselves as well.
This is going to be good.
Worst case scenario: We fill ourselves with German beer, pretzels and sausages every day and never leave the hotel or ship.  There are worse things that can happen in life.
Stick around and follow along.
In Journal Form-See the post stuck to the top of the list here at ChrisCruises.com, I'll add more to it every day
Story By Story- Don't want to follow along day by day or just want more on a particular experience? We will add a short post right here tagged Sailing Viking:
Follow Chris and Lisa on their Viking River Cruise, right here and any or all of these engaging ways: