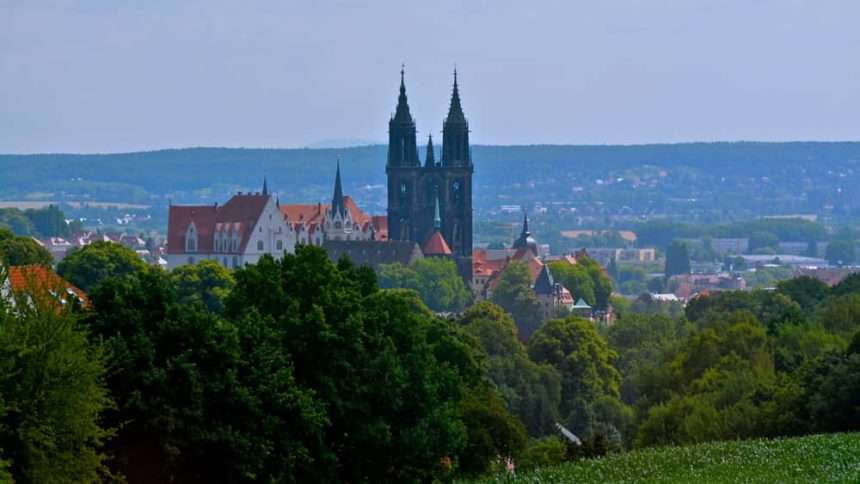 Sailing Viking: The Magical Ship Swap
Sailing with Viking River Cruises brings their culturally curious travelers to interesting places around the world on carefully curated tours.  On themed voyages, we have traced the steps of master artists on Viking's Portraits of Southern France itinerary, traveled through history on their Grand European Tour, explored regional heritage via Christmas Markets and more.  Just past the halfway mark on our Elegant Elbe itinerary, we are coming to appreciate the theme of this adventure as well.  Our day in the east German town of Meissen serves as a wonderful example of this aptly titled trip.
This was the day of our ship swap when we said goodbye to Viking Astrild, driving off on the road to Meissen, on the way to Wittenberg where we would check in on twin sister ship, Viking Beyla.  While we did not have a lot of time on Viking Astrild, the crew went far out of their way to make us feel at home, complete with a clever send off message.

Arriving in Meissen we began with a tour of the Meissen Porcelain factory, dating back to 1710. Taking us through the process of porcelain making from beginning to end, an interactive demonstration workshop was quite interesting.
On display, pieces of Meissen porcelain from throughout its long history as well as a shop selling some of their wares directly.  Here are some images captured during our tour:
[gm album=11 module=afflux]
Staying right on track with our particular interest anywhere we go, Lisa and I enjoyed a nice cappuccino served in Meissen porcelain before a walking tour from high above the town.
That tour ended in the city market where abundant shopping opportunities took us to a local grocery where we found some German spices to bring back home.
Locally-sourced spices are quickly becoming a favorite souvenir that brings back destinations later when we are cooking back home in Orlando.  Spices don't take up much space in luggage either and are pretty hard to break in transit.

We also spent a bit of free time at a tiny restaurant recommended by our Viking guide where we found a good bratwurst and local beer…something to tide us over until lunch at local eatery Ratskeller, provided by Viking.

The afternoon brought a nice drive through the German countryside and our arrival at Wittenberg and Viking Beyla.
As promised, our luggage had been delivered to the same exact stateroom we left behind on Viking Astrild and a new bunch of cheery Viking crew members greeted us upon arrival. Different to this location though, the ship faced the opposite direction, giving us a river view as opposed to the port view we had previously.
And what a nice view it is of a nearly deserted opposite shoreline in a very quiet location.  Bonus: A shoreside biergarten about 12 steps from the ship with a full menu of local fare.

Interestingly, this was a long day on tour but time seemed to go by rather quickly.  More significant, the pace of our adventure has been a very enjoyable one, allowing abundant free time and a nice mix of touring and onboard events.
We have yet to turn on the TV but Lisa has found plenty of time to read books and I have enjoyed taking my time with photos and the destinations we have visited.
This evening's briefing by Program Director Emma brought the parade of officers, a bunch as similarly likable as those on Viking Astrild who welcomed us on board just days ago.  Frankly, stacking up the positives against the negatives of being on a ship that does not sail, the positives are coming out far ahead.
But that's the topic of another post that I am saving for the end.  Still, when the counting is done and the votes are in, this one will go down as a lifetime quality memory difficult to reproduce in the future.  I don't know that we could ask for more than that.
The Magical Ship Swap
Moving from one ship to another sounds like a lot of work.  It reality, it is not.  In the morning we left on tour for the day.  On a normal river cruise, the ship would move further up (or down) the river while we were off touring.  When we came back, the ship would be in a different place. The only difference here is that the ship was already in that position and had a different name on the side.  We had to pack and unpack too and found our luggage waiting for us upon arrival.
Here are more images from our day in Meissen, Germany
Follow Chris and Lisa on their Viking River Cruise, right here and any or all of these engaging ways: