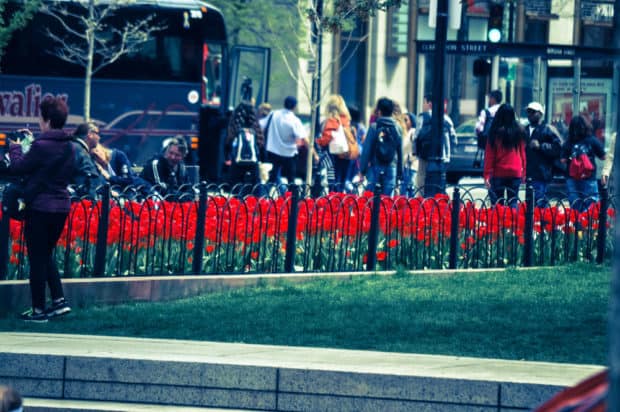 New Crystal Adventures Highlight East Coast Then, Now
This September, we will sail with Crystal Cruises for the first time on a 10-night fall foliage itinerary from Boston to Quebec City.  Along the way on the Autumn's Palette sailing, the colors of fall should provide a stunning backdrop to historic landmarks.  Making our maiden calls to a number of interesting ports, choosing what to do off the ship is a priority and we have already started doing our homework.  Thankfully, Crystal Cruises makes that easy with a unique offering of Crystal Adventures shore excursions that highlight the best of the places we will visit.
Our itinerary is diverse, beginning and staying overnight in Boston which we visited not long ago for the American Association of Retired Persons (AARP) Life@50+ conference, enjoying a day tour by trolley that barely scratched the surface of the destination, about as rich in history and culture as it gets in North America.  Staying overnight will bring even more opportunity to explore Boston.  But that's just the first place we visit on ultra-luxury Crystal Serenity.  From Boston we continue to Bar Harbor, Maine the on to Canada and Saint John, New Brunswick before a long day in Halifax, Nova Scotia.  After cruising the Cabot Strait, we stop by Canada's isolated Magdalen islands before a call at two gems in the Canadian Province of Quebec, Harve-Saint-Pierre ahead of Baie-Comeau, ending in Quebec City where the ship also stays overnight.
"The experiences we've crafted for the 2014 New England/Canada season are designed to highlight the region's historic traditions and modern culture, both of which are extremely compelling," – John Stoll, vice president of land programs.
And that is just one of the east coast voyages offered by Crystal Cruises.  Other sailings have itineraries that are round-trip Quebec City, Quebec City or Halifax to New York City (and the reverse) and a 24-day Quebec City to Miami.  Along the way, Crystal Adventures Ashore range from a quick orientation tour of the area to an ultra-luxe private full day tour.  Let's take a look at some of those:
New and "Now"
Limited-availability Boutique Adventures provide a birds-eye view of the kitchen action at Chef Daniel Boulud's New York City three Michelin-Starred DANIEL. While suspended in the glass-enclosed Skybox above the main dining room, savor an eight-course tasting menu of contemporary French cuisine;
A reflective tour of New York City's 9/11 Memorial and Museum will be personally guided by a survivor, rescue worker, volunteer, or other veteran of the 2001 attacks, with remembrances like the survival tree that was pulled from the rubble and cascading 30-foot waterfalls where the Twin Towers stood; and
A nighttime adventure highlights New York's iconic sights, such as the illuminated skyline from beneath the Brooklyn Bridge, the 86th floor of the Empire State Building and the heart of Times Square.
New and "Then"
Participate in a "milling frolic": a hands-on textile-working experience with singing of Gaelic songs, drinking and eating oatcakes – a happy tradition of Cape Breton Island, Nova Scotia's early Scottish settlers;
Dine at Brooklyn's Michelin-starred Peter Luger Steak House, consistently rated one of the nation's top steakhouses and renowned for its prime cuts for discerning diners since 1887; and
Visit the personal Québec City workshop of renowned 19th-Century copper artist Albert Gilles to learn how subjects were brought to life by his technique of copper repoussé, or embossment
New and "Active"
Take a 5k run along the carriage roads of the 35,000-acre Acadia National Park in Bar Harbor, built by John D. Rockefeller and closed to all motorized traffic;
Take an urban hike through the quintessentially "Brooklyn" brownstones, trendy boutiques and orthodox Jewish community within the borough, followed by exploration of the revitalized industrial cityscape-turned thriving arts district of Williamsburg;
Zip-line over Saint John's Reversing Falls, for adrenalin-filled views of the Saint John River and Bay of Fundy;
Bicycle a 10k bike ride from Old Québec to Québec Harbor, along the Saint Charles River, and to the bustling Old Port Market; and
Hike the forest-shrouded Beddeck's Uisage Ban Falls, located outside of Sydney, Nova Scotia, passing views of the Great Bras d'Or Channel, Kelly's Mountain and St. Anne's Bay along the way.
"Guests can glean a real sense of life more than 200 years ago in the exact spot where they stand, then venture right into the active, modern lifestyles that exist there today."
The seven- and 10-day cruises sail from Boston, New York City and Québec September 19 and 29; October 6, 16 and 26, calling in Baie-Comeau, and Havre-Saint-Pierre, P.Q., Canada; Magdalen Islands, Canada; Saint John, New Brunswick, Canada; Halifax, Nova Scotia, Canada; Sept-Ĩles, Canada; Saint-Pierre & Miquelon, France; Bar Harbor and Portland, Maine; Boston, Massachusetts; Newport, Rhode Island; and a maiden call in Sydney, Nova Scotia, Canada. Until June 30, all-inclusive "Book Now" cruise fares for the 2014 season start at just $2,830 per person, with shorter, five- and six-day "Getaway" segment cruises also available.