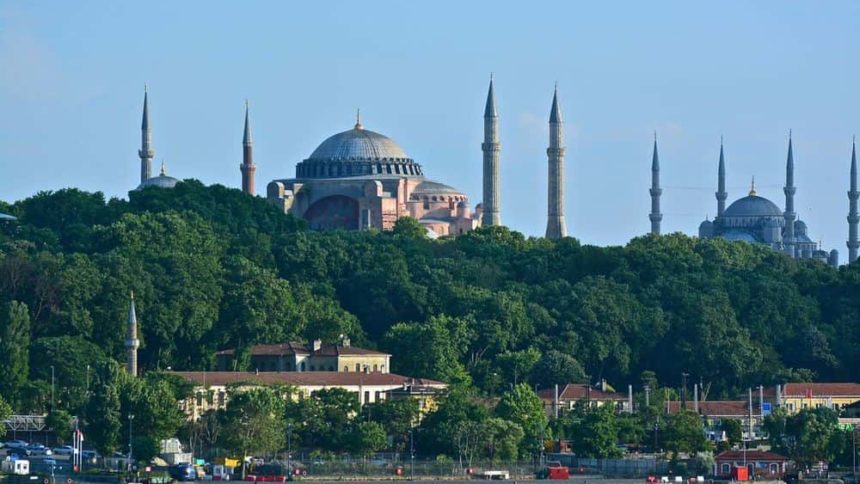 My Viking Journey: One Week Out
At one week before we sail with Viking Cruises again, this time on new Viking Sea, we're getting serious about packing and running travel-related errands we won't have time to do before our Saturday departure.  That means taking a closer look at the weather, forecast to be 66 °F when we begin in Istanbul and varying between the 60's and 70's for the high and between the high 40's and 50's for the low during the trip.  A lightweight jacket should do it on clothing adjustments.
No suits or formal wear is needed so we'll leave that at home, instead bringing a few items suggested by Viking in the Frequently Asked Questions section of their website
During the day on board and ashore, dress is casual including shorts, jeans and comfortable shoes for walking tours. Swimsuits, brief shorts, cover-ups and exercise attire should be reserved for the pool and Sports Deck. For evenings, while there are no 'formal nights,' the recommended dress is elegant casual for most restaurants, performances or other special events. Suggested attire for ladies includes a dress, or a sweater or blouse worn with a skirt or slacks; for gentlemen, trousers and a collared shirt. A tie and jacket are optional, but not required. Dinner in The Restaurant remains casual, with daytime dress deemed appropriate.
Along with comfortable walking shoes and dressier shoes, we suggest that you pack a collapsible umbrella/lightweight rain gear, a lightweight jacket or warm sweater; sunglasses, a sun hat or visor, and sunscreen; and toiletries. And depending on the season, you may also want to add a warm coat, gloves and water-resistant footwear.
That out of the way, we also know that Viking Sea will have a handy laundry on premises that we can use at our convenience, complete with automatically dispensed laundry products.  An ironing board is available but we will bring along a hand steamer and Downy Wrinkle Releaser, two standard items we never leave home without.
New Product Testing
A few new products we'll be testing on this trip:
The Zagg Pocket Keyboard ($69) is about the size of a pencil box folded up unfolds to reveal a slightly smaller keyboard, stand for my phone, and kickstand to hold it at an angle. Bluetooth connected to to my iPhone 6S Plus, I hope to be able to type on aircraft, motorcoach tours and other places where a computer is just too big.
Drip Drop Hydration ($9.99) is a dozen little packets of flavor for bottled water that promises to hydrate travelers more than water itself.  Handy in the economy section of aircraft on long flights when keeping hydrated is a chore.  This is actually take two on DripDrop Hydration which was scheduled to be tested on a trip last year…but I forgot all about it.  Found in the "product test rejects" box, this one deserves a hearty trial.
T-Mobile International Cellular Service.   Sold on the idea by our friend Ben (CruiseFever), we dumped AT&T after 32 years and three back to back international trips where we were afraid to turn on our phones at all… in an attempt to avoid roaming charges… we should not have had in the first place due to our AT&T International Calling Plan.  The final insult: a attempted $975 charge for 'having the ability to use our phones internationally"…even though we didn't. If all goes as planned, you will be reading a whole lot more about T-Mobile for travel in this space as well as take-no-prisoners T-mobile Sr. Account Exec Jesse Dunbar (@jessedunbar) who did not blink at the considerable hurdles our former carrier threw in the way of leaving.  #DitchAndSwitch baby.
Of significant note: We are not paid to test these products nor did we receive them for free.   
Moving along, our itinerary, day by day.
Viking Empires Of The Mediterranean 
Travel Day
SATURDAY, APRIL 2, 2016
Today we fly via American Airlines to New York then on to Istanbul with Turkish Airlines
Day 1 Istanbul
SUNDAY, APRIL 3 2016

We begin in Istanbul, our port of embarkation. Originally scheduled to overnight here, our itinerary was modified due to security concerns just past the two weeks out point.  We received notification of the itinerary disruption via email from Viking:
"As you may be aware, an attack occurred in Istanbul on Saturday. In the weeks that follow, city officials will certainly be facing some challenges, with responders and investigators working throughout Istanbul," began the timely email received from Viking Cruises at the 12 days to go mark on our countdown.  "After considerable deliberation, we have decided to modify our schedule so that you may continue to comfortably explore this part of the Mediterranean."
Good, we don't want to go someplace where it might not seem safe.  After all, that's one of the big benefits of cruise travel in general; those ships can be moved and itineraries changed when security concerns warrant.  Much like when ships are sent in the opposite direction of a hurricane, this was a good call, in an abundance of caution.  Frankly, security has been a concern in that part of the world for quite some time.  While we have indeed sailed from Istanbul on five different occasions in the last 14 months, I appreciate Viking's diligence.  Also appreciated, the opportunity to stop at a port of call we have never been to before on day 2.
Sailing with Viking Cruises, there is a wonderful tour included with the cruise fare in every port.  I did this same itinerary, just backwards, with Lisa last year and enjoyed every one of them.  Still, there are some optional tours available that get a bit deeper into the destination.   We'll do one of those instead in most ports of call.
Day 2 Troy (Çanakkale), Turkey
MONDAY, APRIL 4 2016



Çanakkale, is a city and seaport in Turkey, in Çanakkale Province, on the southern coast of the Dardanelles at their narrowest point.  Once onboard Viking Sea, we will be able to choose optional tours but odds are we will take the included tour, for one very good reason.  The included Viking tours give a good overview of the places we visit, as well as help from the from local guides along on tour; guidance for places we might return to during free time on our own.  Still, I've never been here before so a look at Viking's description of the place is in order:
A thriving city on the Dardanelles, the narrow strait dividing Europe and Asia, Çanakkale grew around an Ottoman fortress and evolved into a center for pottery. Its location on the key waterway linking the Sea of Marmara to the Aegean Sea long made it an object of desire: Alexander the Great and the Kingdom of Pergamon both laid claim here. In modern times, the epic Battle of Gallipoli unfolded for eight months on the peninsula opposite the strait. But the Trojan Horse is most prominent here. In Homer's Iliad, the wooden steed gave ancient Greeks entry to nearby Troy during the Trojan War, and it is depicted throughout the city among bustling cafés and shops.
Day 3 Ephesus (Kuşadası), Turkey
TUESDAY, APRIL 5 2016


In Ephesus (not really a great place to wander on our own), we will do an optional Ancient Ephesus tour ($69),  described as:
Explore one of the best preserved cities of antiquity as you walk the length of ancient Kuretes Street from Ephesus's upper gate to its lower gate. Join your guide for a scenic drive through the stunning countryside of Selçuk to the Magnesian Gate, the ancient city entrance at the top of Kuretes Street. Then follow a gently descending route through one of the Roman Empire's most powerful outposts. You'll navigate some steps along the way, passing the finely crafted, 2nd-century Temple of Hadrian and the spectacular Great Theater, able to host 25,000 spectators. You'll also marvel at the most recognizable building in the city, the Library of Celsus, built to house 12,000 scrolls. Its colonnaded facade is an outstanding example of the typical Roman public building. You will have free time to browse the crafts stalls at the lower gate before returning to your ship.
Day 4 Athens (Piraeus), Greece
WEDNESDAY, APRIL 6 2016

The Elegance And Style Of The Ancients ($49) is the optional tour we selected in Athens, described as:
Trace the history of Athens by coach and by "road train" on this unique, wide-ranging excursion. From your ship, travel with your guide past the small harbor of Zea, where an ancient dock dates to the 5th century BC, and the elegant promenade at Mikrolimano. At the legendary Acropolis, you will have free time to marvel at the iconic sight's exterior and perhaps enjoy a coffee at one of the nearby cafés. Board a small "road train" for a unique tour into the historical center, passing the new Acropolis Museum, Hellenic Parliament and Syntagma (Constitution) Square. You will also see the Tomb of the Unknown Soldier, the Presidential Palace, the Panathenaic Stadium, Temple of Olympian Zeus, the Plaka District and the Arch of Hadrian. En route back to your ship, enjoy a panoramic drive to the southern suburb of Glyfada and along the scenic coastline of the Attic Peninsula.
Day 5 Santorini (Thíra), Greece
THURSDAY, APRIL 7 2016
In Santorini, we will do a tour titled Santorini Home Visit
See the highlights of this breathtaking island and get acquainted with some locals in their home. You'll tender to the main port and join your local guide for a drive up Mount Profitis Ilias. From here, the island's highest peak, you'll take in spectacular vistas of land and sea. You can also view the monastery that perches atop the summit. In the village of Pyrgos, the former capital of the island, stroll among traditional homes built around the ruins of a Venetian fortress. Enjoy a short walk with your guide through these medieval labyrinthine streets. You're also invited into a traditional island home to meet locals who will share what island life is really like. After your visit, you'll have time to explore hillside Fira, the island capital. You can linger here a while and return to the tender pier by cable car using the ticket we've provided.
Day 6 At Sea
FRIDAY, APRIL 8 2016

A day at sea with Viking Cruises brings a chance to catch our breath on an itinerary that is otherwise non-stop ports of call.  Interestingly, it was one of the parts of our sailing last year on Viking Star that we simply could not get enough of.
Day 7 Kotor, Montenegro
SATURDAY, APRIL 9 2016
Kotor, Montenegro brings an interesting Baroque Buildings and Scenic Treasures tour ($59 per person)
Witness some of Montenegro's baroque treasures and cruise beautiful Kotor Bay on this scenic excursion. Take a panoramic drive with your guide to nearby Perast. This town enjoyed its heyday during the 17th century and boasts some impressive baroque homes built by wealthy sea captains. On a short walking tour, you can learn about the town's maritime history at the small Museum of Perast. There'll be free time here to explore. Embark a boat for the island of Gospa od Škrpjela, or Our Lady of the Rocks. This tiny manmade islet was created over centuries by sailors who placed rocks here in thanks for a safe return from sea. In the Church of Our Lady of the Rocks, admire the 17th-century paintings of Tripo Kokolja. A scenic cruise across the bay returns you to Kotor, where you can enjoy a walk with your guide and explore on your own.
Day 8 Dubrovnik, Croatia
SUNDAY, APRIL 10 2016
In Dubrovnik, Croatia we go beyond the walled city to see Vineyards and Vistas ($99 per person)
Outside Dubrovnik, Croatia is a rich patchwork of charming stone villages, rolling hills and fertile vineyards, as you'll witness during this enchanting excursion. Join your local guide on a scenic drive into the lush and beautiful Konavle Valley. Near the village of Komaji, you will stop at the Crvik family vineyard and winery. Andro, the family patriarch, will show you how he produces his wine, share some of Croatia's wine history and offer some samples. You will also stop by a traditional home, where you'll meet families that have produced their own grape brandy and olive oil for generations. As you get to know your gracious hosts and hear about their rich and enduring traditions over snacks and drinks, you'll enjoy time-honored music performed by a Dalmatian music troupe. This excursion also features a short walking tour of Dubrovnik's Old Town and some free time to explore.
Day 9 Pula, Croatia
MONDAY, APRIL 11 2016

Pula is our last port of call before we disembark in Venice the next day.  We'll do the included tour today which is an easy walk around town before relaxing on Viking Sea and enjoying the ship one more time.
Day 10 Venice, Italy
TUESDAY, APRIL 12 2016

Today we say goodbye to Viking Sea and fly back home to Orlando.  First stop London Gatwick then direct to Orlando on British Airways.
Join Us Please
Follow along right here where we will feature links to everything we do along the way.  When we have time.  Sailing with Viking Cruises is quite a unique experience.
Bookmark our In Progress page for a complete listing of all posts related to our Viking Sea sailing.
Better yet, subscribe to ChrisCruises and get notified every time a new post goes up, usually once a day.
Follow along socially too:
Instagram
ChrisCruises will have a post each day
Whitney is probably not nearly as annoying as I am
Facebook
Chris has Photo Albums created along the way
Whitney has lots more friends so this is the place for that

Twitter
ChrisCruises will have posts along the way as well as refreshed links to previous posts for those who bore easily
Whitney Cruises brings an interesting new perspective
Google+ I usually forget all about but am going to try harder
Pinterest this is where those food photos I rudely take at dinner go
Flickr members see auto loaded photo albums, eventually.
Exposure Photo Story Books happen once back on land, in the office with 150mps Internet speed.  Trying this elsewhere on the planet is nuts.