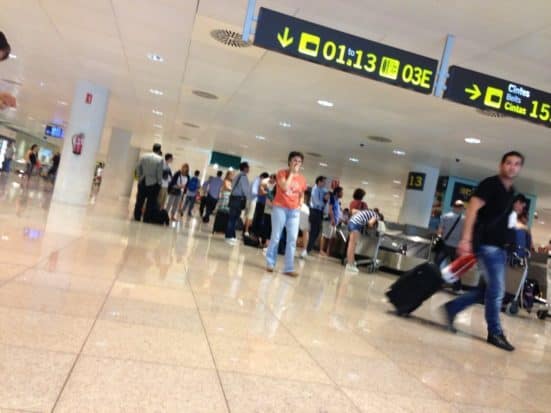 Lost Luggage: Getting There Is Half The Fun, Sometimes
On one hand, it would be nice if we could transport to destinations via Star Trek technology that some future generation might enjoy, skipping the airports, flights, transfers and meals along the way.  Just right to the place we want to visit, without jet lag, expense or time.  On the other hand, getting there is half the fun to many travelers. Researching and planning in advance of travel, then the unexpected surprises that come up along the way make for some great stories later.  Here is one of those.
My entire life I had never lost luggage one time, until the last two trips; one was for a marvelous round-trip Barbados sailing of Star Clippers' Royal Clipper and the other a trip to Europe for to report Viking River Cruises 2014 Christening of 20 ships in a day.   Both events were lifetime quality experiences and both started out less than smoothly due to lost luggage, resulting in the following  personal rule for travel:
Never Check Luggage Ever Again
I see people who travel all the time, million-milers who have probably earned the ability to check their house if needed, with two pieces of luggage: A carry on that maximizes the amount of overhead storage available and a personal item that maximizes the amount of space under the seat.  This is how I will travel in the future, completely eliminating the possibility of losing my luggage ever again.
The above pretty much takes care of the potential problem but could prove difficult for those who require the space gained by checking luggage.   To those people, we suggest:
Use your smartphone to capture an image of your luggage- At the lost luggage counter in Barbados then again far away in Marseilles, France, they use the same 'identify your luggage' mugshots, asking those afflicted to choose one that most closely matches the look of their wayward luggage.  None of them ever matched our luggage.
'Many Bags Look Alike', we're told at luggage carousels around the world.  Want yours to stand out?  Take a can of spray paint to it, tagging all sides so you can be 15 feet back in a line of people looking for their luggage and see yours.  This should also help eliminate the fear of  'Did someone else take my bag?'. Those colorful do dads we see at airports around the world are more common that one might imagine.  Gang-style tagging; not so much.   Make your fashion statement elsewhere, luggage is all about having it.
Initially, The Cruise Line Will Be Absolutely No Help- However airfare was purchased, independently via a travel agent or through the cruise line, once that first flight takes off, we're on our own. Know  how to file a claim for lost luggage and appropriate phone numbers or contact information.  You will be dealing with the airline, not the cruise line, to locate your luggage.
Later, The Cruise Line Jumps In To Help- Once lost luggage is located, if not readily available, the cruise line gets involved, coordinating with the airline to deliver luggage at a future port. Cruise lines commonly try to do what they can to minimize the disruption to travel once they have you on board.  The Hotel Manager on Royal Clipper had a personal items kit delivered to our stateroom and invited us to pick something to wear from the ship's gift shop.
Buy Travel Insurance that has flight delay and lost luggage coverage. Lost luggage is one solid reason for some sort of travel protection.  I have an annual plan with TravelGuard which includes a Concierge Service that I would have turned to in both cases if  going through normal channels did not work.
Cross Pack between checked and carry-on, thinking "If I never see this checked luggage again, what will I lose that I can not do without".  Other than items that can not be brought into the passenger cabin of an aircraft, try to have at least a sampling of other necessities;  a change of clothes comes to mind.  This is something we have done for years but came from a time when luggage took a long time to get delivered to cabins on embarkation day.  Then, we included a swim suit and something to wear to dinner, just in case luggage did not arrive until late.
Consider Connection Time Between Flights- On our trip to Barbados, we flew from Orlando to Miami first.  Our original flight delayed, arrival was late in Miami.  Running to the gate to make that flight to Barbados, we barely made it.  Our luggage did not.  We suggest at least two hours between connecting domestic flights, 3 hours for international flights, keeping in mind its not just you that has to make it to the next flight but also your luggage.
In our case, we did not let lost luggage incidents ruin travel.  We've seen that happen too.  Lost luggage, delayed flights, itinerary changes, that jerk ahead of you in line, lines in general; all could be hard to shake incidents that ruin travel for us.  Don't let that happen.  Isolate those incidents, compartmentalize them as separate events; deal with them and move along.   Getting there can indeed be half the fun when we realize and accept that not everything is going to go as planned.