Holland America Christening Highlights Broader Focus
One by one they added new features, re-designed existing ones and went about the business of reinventing themselves.  It was more than the occasional effort cruise lines make to update their offerings and stay relevant. There was new energy at Holland America Line, driving change that strengthened ties to the past rather than trying to move beyond it.  Collectively, the organization began to go down a path that other big ship cruise lines did not even see.  In a process that continues throughout the Holland America fleet, this is a cruise line with it's eye on the ball and a winning game on deck.
Holland America's launch of new ms Koningsdam, the latest ship and a new class of vessel for the 147 year old line was actually the icing on a cake that began baking long ago. To appreciate where Holland America Line is right now, we need to take a bit of a focused look back in that history.
Holland America Line's connection with the Netherlands runs deep.  Imagine the connection Central Florida has with theme parks.  Those playgrounds support a great amount of the local economy and touch the lives of most everyone who lives in the area.  The same could be said for a major local industry anywhere.  Think Detroit and cars, Texas and oil, the midwest U.S. and farmland, etc.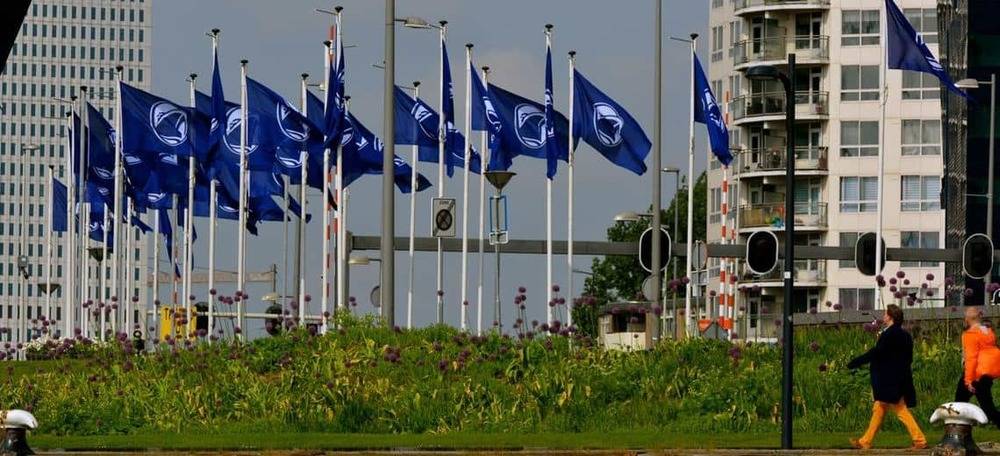 Rotterdam has ties that run deeper than all of the above and go back further in time.  Visiting Rotterdam in advance of the Koningsdam christening, I stayed at the Hotel New York, formerly the headquarters of Holland America Line.  A major junction for emigrants to America, millions began their journey on a Holland America ship sailing from Rotterdam.
While Rotterdam does not have a museum specific to this immigration effort, they do have the restored Hotel New York which served as the place where many leaving for the new world began their journey. Like so many concerns in this part of the world, the past and what they used to be are a thing in constant transition, easier to see when compared to our relatively short history in North America. On display at the Hotel New York: an entire building that takes us back more than a century, just walking around the place.
[URIS id=61277]
In On Similarly Different Paths: Rotterdam, Koningsdam And Holland America, we went explored Holland America's connection to the local economy, stopping by ship-turned-hotel ss Rotterdam, a lesson in history in and of itself.  We dropped by the Rotterdam Yacht Club to look deeper into that local connection and found an organization that dates way back but remains relevant by reinventing itself from time to time.   The Hotel New York too has undergone change throughout the years, but still provides a perfect place to stay either before or after a cruise, to the new world or not.
With 75 rooms, each differently decorated, the Hotel New York too as respected its past while offering a relevant travel option to the world of today.  Take a look at some of the public spaces of Hotel New York as well as a number of rooms we toured.
[URIS id=61288]
Let's fast forward now to the Holland America Line of today and a number of initiatives that caught our attention as moves made by a cruise line with their eye on the ball. In a previous post we tagged Holland America as a cruise line in transition, crediting new President Orlando Ashford and his fresh set of eyes for a smooth move from the past and into the future.  Introducing the concept of Collective Intelligence, a process that draws on the capabilities, knowledge and abilities of everyone in the organization to craft new onboard programming, we saw the result of that effort touring Eurodam not long ago.
Under the Collective Intelligence banner, we experienced Holland America Line's Sip-Savor-Sail programming that advanced the line's focus on all things culinary.  In part driven by the Holland America Culinary Council, that effort opened a new world of possibilities and began to establish a pattern of making consistently smart decisions.  Rather than associating the Holland America brand with one celebrity chef, they chose five and gained not only the diversity five highly-skilled chefs can bring to the table but a synergy of effort that would equal more than the sum of its parts.
Holland America Christening Highlights
We saw the culmination of all things Holland America Line at the christening of new ms Koningsdam. It was all there.
Deep-seeded ties to a community brought that community out to line the path as ms Koningsdam headed out to sea.
Netherlands Queen Maxima, on hand for the event, arrived and departed in royal style but paused to connect with her subjects after the ceremony.
Parent Carnival Corporation and Holland America Line executives on hand to celebrate the event.
The line's long time Mariner club members included as part of the festivities, a Gala dinner followed the ship's naming as did fireworks that lit up the evening sky.  It was all there.  All the hoopla, pomp and circumstance we expect at such events.  Speeches?  There were a few but none more on point than the words of Holland America Line President Orlando Ashford.
Starting off the proceedings with an announcement in advance of naming ms Koningsdam, Ashford gave us the name of twin sister being built right now.
"Holland America Line is writing the next chapter in our evolving story, yet we are a company with a deep history, and the name ms Nieuw Statendam perfectly blends our past, present and future," said Orlando Ashford, Holland America Line's president. "The previous Statendam ships have been among the most beloved in our history, and we eagerly anticipate sharing this beautiful new ship with our guests in 2018."
Also on hand, long time Holland America Line leader Stein Kruse put things in perspective, noting the evolved direction of the cruise line.
But it was what came next that sealed the deal as Holland America President Ashford wrapped it all up and tied it with a bow.  That's next along with a look inside the new ms Koningsdam.